Opening the door to pathways for students
By Alex Demedeiros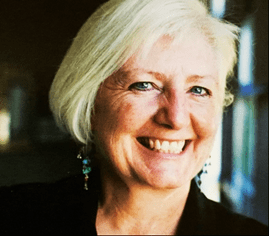 As a longtime supporter of Sheridan students, Mary Jane (MJ) Carroll, an Associate Dean in the Faculty of Animation, Arts & Design has been giving back for 11 of her 29-year teaching career, though she has been donating to Sheridan in a variety of ways since 1994.
Carroll says she was inspired to support Academic Awards because she believes Sheridan is all about helping students and providing them with opportunities to further their postsecondary education. Since 2018, she's been supporting the Pathways Award, presented to students who have graduated and are pursuing another program in a similar field of study (for example a graduate of interior decorating who then goes into interior design). This also means the recipients are not necessarily just the highest achiever in a course.
"For me the Pathway Awards are just a nice way of acknowledging students and saying that we're glad that they're here, we want to keep them here, and we want to help them get to that next step."
Carroll also recognizes that education can be expensive for students and any way to financially assist them is a "big win" for her. That's especially true when she considers the challenges they have faced adjusting to learning remotely during the pandemic, something she felt was especially difficult for those in the arts programs who found themselves behind a screen learning subjects that would usually be taught in the studio.
Carroll kept her support strong during the Covid-19 pandemic, a time in which it was difficult for some donors to continue their support due to financial hardships. For her, the pandemic was "exactly the time that you should be donating," and she felt the Pathway Awards were an opportunity to remind students that they were not alone.
Whether a student is going into the Interior Design, Musical Theatre, or Technical Production program, Carroll says the Pathway Awards acknowledge and celebrate the success and potential of students as they continue their education. She adds that the awards give students an opportunity to explore their interests and possibly change directions in their education and career, if they wish to do so, allowing them to think about what "next" looks like for them. She adds that watching the recipients succeed and flourish has been a "huge reward" and very gratifying, especially when the awards can help students in financial need.
Carroll says she wants students to know that there is a community at Sheridan supporting their success, and that community fully believes in students as both the next generation and as her "colleagues of the future."
"Sheridan's been great, not only as an educational opportunity, but Sheridan's a wonderful employer and I think that whatever I can do to help students realize their goals, I'd like to do that," she says.