What are Dual Credit Programs?
Ministry-approved Dual Credit programs allow you - while you're still in high school - to take college or apprenticeship courses that count towards both:
your high school diploma (Ontario Secondary School Diploma, or OSSD), and
a postsecondary certificate, diploma, degree, or Certificate of Apprenticeship.
Benefits of participating in a Dual Credit program
Earn up to four college-delivered credits towards your high school diploma.
Make friends and experience college life - setting yourself up for a successful transition to college.
Explore educational pathways and career opportunities.
It's FREE!
What courses can I take through Dual Credit at Sheridan?
Dual Credit course offerings change often. Visit sheridandualcredit.ca for a list of courses that are currently available.
How do I apply for a Dual Credit program at Sheridan?
Your Dual Credit application must be submitted by the designated staff person at your school. It may be a guidance counsellor, student success leader, co-op teacher or a vice principal.
For more information on the Dual Credit application process, speak to your high school guidance counsellor or contact us:
905-874-4440
dual.credit@sheridancollege.ca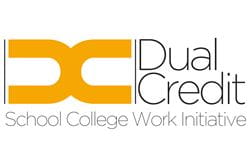 Dual Credit is part of the School College Work Initiative (SCWI). Funded by the Government of Ontario, the SCWI's goal is to increase the number of Ontario students who earn their OSSD and to support those students as they move into education or training beyond high school.