Mission statement
The mission of the Sheridan Campus Safety Department is to ensure a safe environment to the Sheridan community and foster feelings of safety and personal comfort in which to learn, live, work and grow. We accomplish our mission by collaborating with the faculty, staff and students of the college and by partnering with other groups and organizations in the community to provide services in a professional and courteous manner. We ensure that all who we serve are treated with dignity and respect. We do this by following our core values.
Professionalism
We aspire to the concepts of trust, integrity, and respect in the performance of our responsibilities.
Accountability
We meet high standards. Work with positive attitudes, assume responsibility, and be accountable for our behaviours, decisions and actions.
Teamwork
We achieve success through cooperation, partnership, and teamwork. Only through internal and external cooperation can we accomplish our mission.
Communication
We encourage involvement at all levels and provide information through clear and open communication. We encourage feedback and active participation in problem solving and resolution.
Training
State of the art training is integral to a well-functioning professional organization. Learning and advancing competency are essential to our growth as individuals and as an organization.
Decision-making
We make decisions based upon objective research, analysis, and thorough investigation.
Download the Sheridan Alert app
Sheridan Alert is the official safety app of Sheridan College. The app features emergency contacts, safety tips, personal safety tools, maps, and more.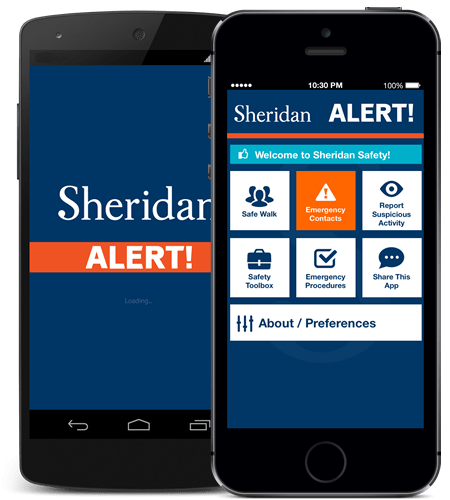 Contact Us
905-815-4044
Campus Safety Offices
Davis Campus – Room: C216
Hazel McCallion Campus – Room: B192
Trafalgar Road Campus – Room: B100
Building Hours
Monday–Friday: 6 a.m.–11 p.m.
Saturday & Sunday: 7 a.m.–5 p.m.