The Brampton Charter for Improving the International Student Experience presents a concrete action plan that will make a positive difference in the lives of international students who choose to study and stay in Brampton. The Charter includes shared principles, recommended actions and mechanisms for accountability.
The Charter builds on what we learned from research on accountability measures and their impact, other postsecondary charters, legislative instruments, and the many compelling ideas that emerged from the International Student Summit held in July 2022.
We hope that our work will inspire other jurisdictions to adopt similar community charters of their own, creating a national network of organizations that choose to hold themselves and one another accountable to provide a seamless and successful international student experience.
Above: Dr. Janet Morrison, Sheridan's President and Vice Chancellor discusses the Brampton Charter for Improving the International Student Experience during an interview on YourTV Halton's Diverse Perspectives.
Guiding Principles
Appreciate that international student experiences are complex, multifaceted, distinctive, and as heterogeneous as the students themselves.
Respect that international students contribute diverse perspectives that enrich the learning experience for all students and are not competing with domestic students for postsecondary spaces.
Recognize the distinct stressors, atypical obstacles and macro- and micro-level factors that influence the lives of international students.
Acknowledge the need to view the international student experience holistically beginning from when a student considers studying in Canada to beyond graduation.
Define the international student experience to encompass physical, mental, social, cultural, financial, and academic well-being, which includes immigration, employment, housing, health, racism, food security, language and belonging.
Respond through multi-stakeholder engagement to fill the gaps and bridge the silos that challenge a smooth and seamless international student experience.
GOAL 1: Upholding ethical recruitment standards and practices

Recognizing that financial stability is at the heart of the safety and well-being of the international student experience, postsecondary institutions and Charter signatories commit to the following:

Inform international applicants early and comprehensively about all related expenses, not just tuition and fees.
Encourage and streamline direct application processes. Where agents are involved, ensure processes are in place to only partner with trustworthy and vetted enrolment agents.
Create a public database of unethical agents.
Provide consistency in tuition and fee policy and protection against substantial increases in international student tuition and fees.
Commit to shared data collection on the international student population, including mapping of changing demographics, enrolment patterns, and international student needs.

GOAL 2: Creating academic and wrap-around supports for learners

Recognizing that academic standards and pedagogical relationships vary considerably across cultures, and that international students need accessible guidance on how to navigate the Canadian academic and social environment, postsecondary institutions and Charter signatories commit to the following:

Create a hub where students can access accurate, trusted information throughout their journey.
Call on all levels of government to adequately fund community-based non-profits that offer mental health and other supports.
Partner with/advocate to other levels of government/the province for collaboration and funding.
Undertake periodic assessments of available health insurance plans and coverage for international students.
Provide culturally appropriate and multilingual health care and supports.
Create trauma-informed best practices for the more severe cases of international students needing urgent help (suicides or attempted suicides, unexpected pregnancies, homelessness, justice system).
Facilitate the integration of domestic and international students, promote connections to alumni and create positive engagement opportunities between international students and the community, supported by cross-cultural training.
Work to positively shape the messaging and narratives on the international student experience.

GOAL 3: Promoting safe and affordable housing and financial stability

Recognizing that postsecondary institutions and all levels of government should work with local partners, the development industry and government to ensure access to safe, affordable and accessible housing both on and off campus, Charter signatories commit to the following:

Consider housing and transportation opportunities for international students as part of municipal planning.
Support the delivery of affordable student housing through streamlined approvals.
Advocate for and promote safe and legal rental accommodation that is subject to inspection and reporting.
Educate property owners on registration of rental units with the municipality to help meet safety standards.
Educate international students on rights and responsibilities under the Landlord and Tenant Act and facilitating access to affordable legal counsel.
Recognize food insecurity as a growing issue among international students and provide targeted support and resources so that learners can afford both rent and groceries.
Allocate a percentage of international student tuition and fees revenue to financial scholarships and supports for international students.

GOAL 4: Providing opportunities for legal and reliable work

Recognizing that many international students work to support their families back home and pay for their tuition/living expenses, Charter signatories commit to the following:

Develop targeted experiential education and co-op opportunities for international students, keeping in mind their unique challenges when accessing careers and employability support.
Prevent and reduce exploitation of international students through stronger enforcement of provincial labour laws, especially as they relate to temporary work and the gig economy that many international students rely on during their studies.
Inform international students of their rights as workers and offer provision to connect with appropriate legal complaint and advocacy support services.
Educate employers about the benefits of hiring international students and graduates and the immigration regulations that facilitate their employment.
Engage in advocacy with employers, relevant community organizations and all levels of government to improve employment outcomes for international students and graduates.

GOAL 5: Championing well-defined and transparent pathways to citizenship for international students

Recognizing the intergovernmental nature of immigration- and settlement-related issues to improving the international student experience, each level of government should commit to the following:

Request that the federal government provide timely, accurate and plain-language information on immigration-related matters including student visas and applications, arrival information, entitlements and responsibilities, work regulations during and post study, and application for permanent residency and citizenship.
Request that the provincial government provide clarity to postsecondary graduates on dates and application procedures through the Ontario Immigrant Nominee Program (ONIP) program.
Partner with the regional/municipal government to provide increased access to and awareness of recreational, community safety/well-being and public health opportunities to ensure a safe and successful transition to permanent residency.
Accountability Measures
Invest in regular data collection from signatories to encourage consistency in data governance and data sharing. Develop systematic reporting of international student profiles in Brampton and Peel Region.
Embed the implementation, monitoring and accountability of this Charter within existing structures.
Develop a self-reporting system for signatories to share the investment, implementation, and monitoring of progress toward the calls to action annually.
Introduce recognition measures to celebrate, reinforce and share best-practice models.
Commit to promoting continued conversations, fostering constructive dialogue, and advancing mutual learning by sharing insights, good practices, and data-driven reporting on the implementation of the Charter by all signatories. Sharing is envisioned through summits, workshops and other efforts to strengthen inter-institutional communities of practice.
Publish the Charter and associated links on the websites of all signatories.
Add your voice: Provide feedback on the Charter
Now that you've had the opportunity to consider the Charter, we would love to hear from you.
Background
International students enrich the culture and vibrancy of our communities. Many begin their studies as a pathway to citizenship in Canada, often carrying the burden of expectations of their families, while facing additional obstacles that are atypical of the domestic learner experience.
Recognizing these challenges, the City of Brampton and Sheridan College convened a Roundtable in fall 2021. Using a collective impact approach, it brought together a wide range of community leaders interested in developing an integrated strategy to help international students thrive.
Over the course of six months, this planning committee worked to define the problems being faced, identify gaps and barriers, share existing research, knowledge and lived experiences, and propose ideas and solutions.
The Roundtable's efforts were inspired by the Collective Impact model, published in the Stanford Social Innovation Review, which provides a framework for tackling complex social-change efforts. The model is based on cross-sector coordination, not the sum of isolated interventions by individual organizations. It brings stakeholders together around a common agenda, a unified vision for change, a shared understanding of the problem and a collective approach to actions, reporting and accountability.

The organizers wish to thank the following individuals whose collective efforts built the foundation for the summit:

Co-chairs

Gurpreet Malhotra, CEO, Indus Community Services
Bill Boyes, Fire Chief, City of Brampton

Members at large

Baldev Mutta, Chief Executive Officer, Punjabi Community Health Services
Dr. Janet Morrison, President & Vice-Chancellor, Sheridan College
Rowena Santos, Councillor, City of Brampton
Janice Sheehy, Former Commissioner, Region of Peel
Sean Baird, Commissioner, Region of Peel
Dr. Kate Bingham, Acting Medical Officer of Health, Region of Peel
Chief Nishan Duraiappah, Peel Regional Police
Dr. Rardi van Heest, Vice President Medical Affairs, Research & Academics at William Osler Health System
Sharanjeet Kaur, Director, Executive Projects and Operations. William Osler Health System
Todd Letts, CEO, Brampton Board of Trade
Jaspreet Kaur Bal, Ontario Vice President, World Sikh Organization
Sinthusha Panchalingam, Clinical Director, Canadian Mental Health Association, Peel Dufferin
Jaspreet Singh, Founder, International Students' Association
Dr. Amira El Masri, Director, Center for Global Education and Internationalization

Secretariat

Rajan Sandhu, VP Strategic Alignment and General Counsel, Sheridan College
Christine Szustaczek, VP External Relations, Sheridan College
Nauman Khan, AVP Government Relations, Sheridan College
Keera Smiechowicz, Executive Assistant, Sheridan College
Jaskaran Sandhu, Principal, State Strategy

The following resources may help to further your understanding of the challenges faced by international students:
International Student Summit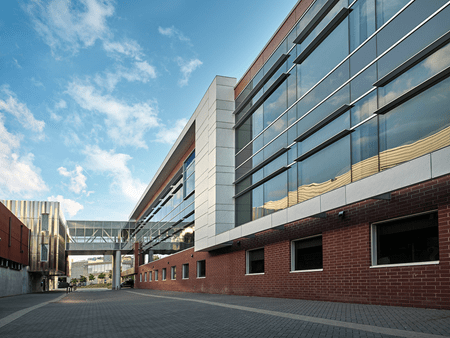 The two-day summit that took place at Sheridan College's Davis Campus (July 25–26, 2022) was filled with collaboration, dialogue and a sincere desire to improve student outcomes.
Organized by Sheridan and the City of Brampton and based on the work of the community Roundtable that was convened in fall 2021, the summit brought together more than 200 participants, including members of the federal, provincial and municipal governments, international students, academic researchers, postsecondary administrators, private and public colleges and community agency leaders.
Participants were inspired by the challenge to build a brighter tomorrow for international students by identifying the role that all stakeholders play in providing seamless support to enhance their experience across all stages of the student journey — as prospective students, current students, temporary workers, and, for some, even as future residents or citizens.
The work of the summit laid the foundation for the co-creation of the Brampton Charter for Improving the International Student Experience — a roadmap for making Brampton a best-practice leader in supporting international students.
Roopa Desai Trilokekar is an Associate Professor (Postsecondary Education) in the Faculty of Education at York University. She comes to an academic career after 20 years of experience as a professional in the field of international education in Canada, India and the United States. Her research focuses on government policy on international education, its links/impact on higher education and the international student experience.
Most recently, she has completed a project with Immigration, Refugees and Citizenship Canada (IRCC) titled "What distinguishes the international student experience in the Canadian labour market? A comparison of Two Provinces." She is also working on a Social Sciences and Humanities Research Council of Canada (SSHRC) funded project looking at the "international students as ideal immigrants" global policy discourse across Australia, Germany and Canada.
Summit materials and recap
*If you require this document in an accessible format please contact summit@sheridancollege.ca
Stories from the summit
News releases from the City of Brampton and Sheridan
Media coverage
Quotes from our Speaker's corner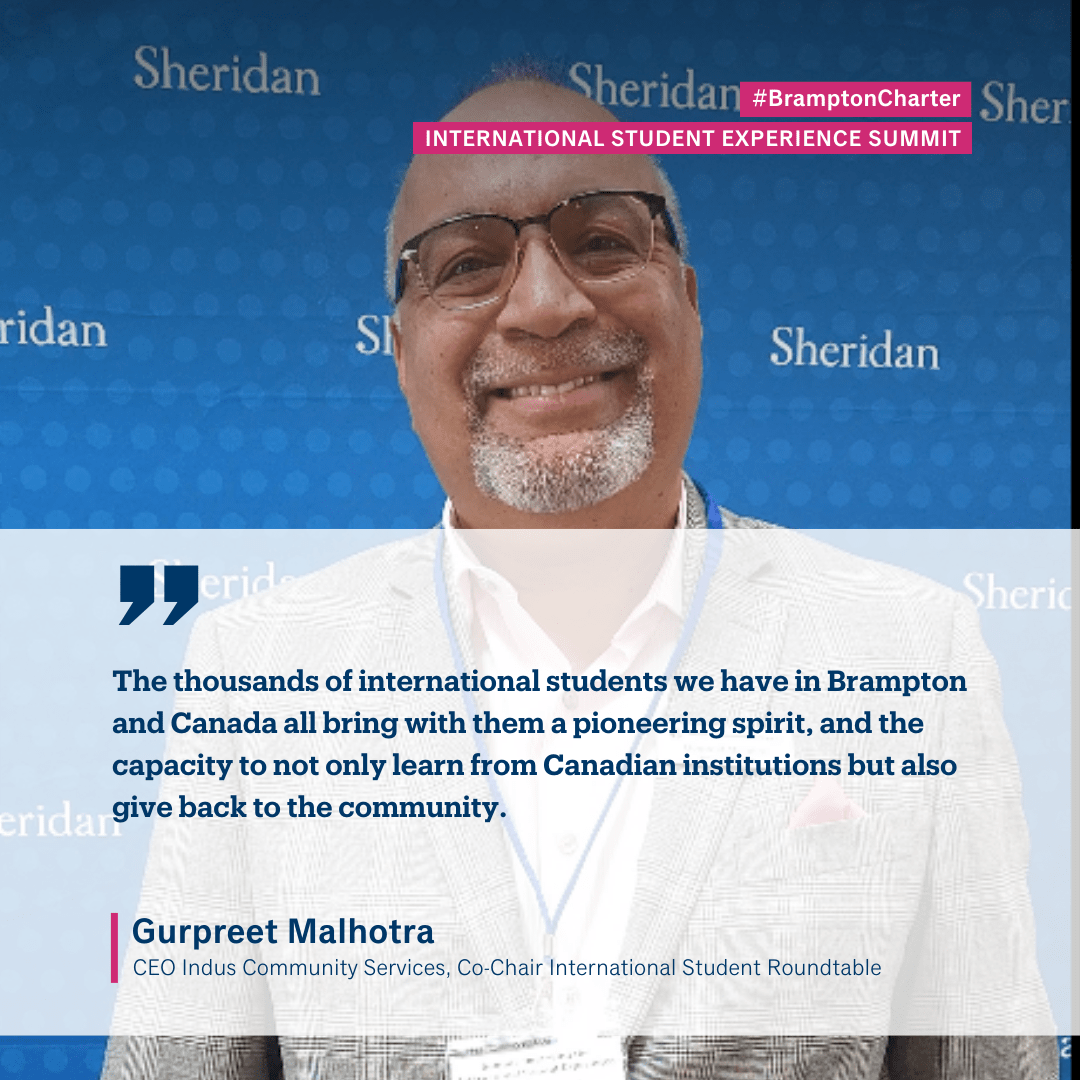 "The thousands of international students we have in Brampton and Canada all bring with them a pioneering spirit, and the capacity to not only learn from Canadian institutions but also give back to the community."
– Gurpreet Malhotra, CEO Indus Community Services, Co-Chair International Student Roundtable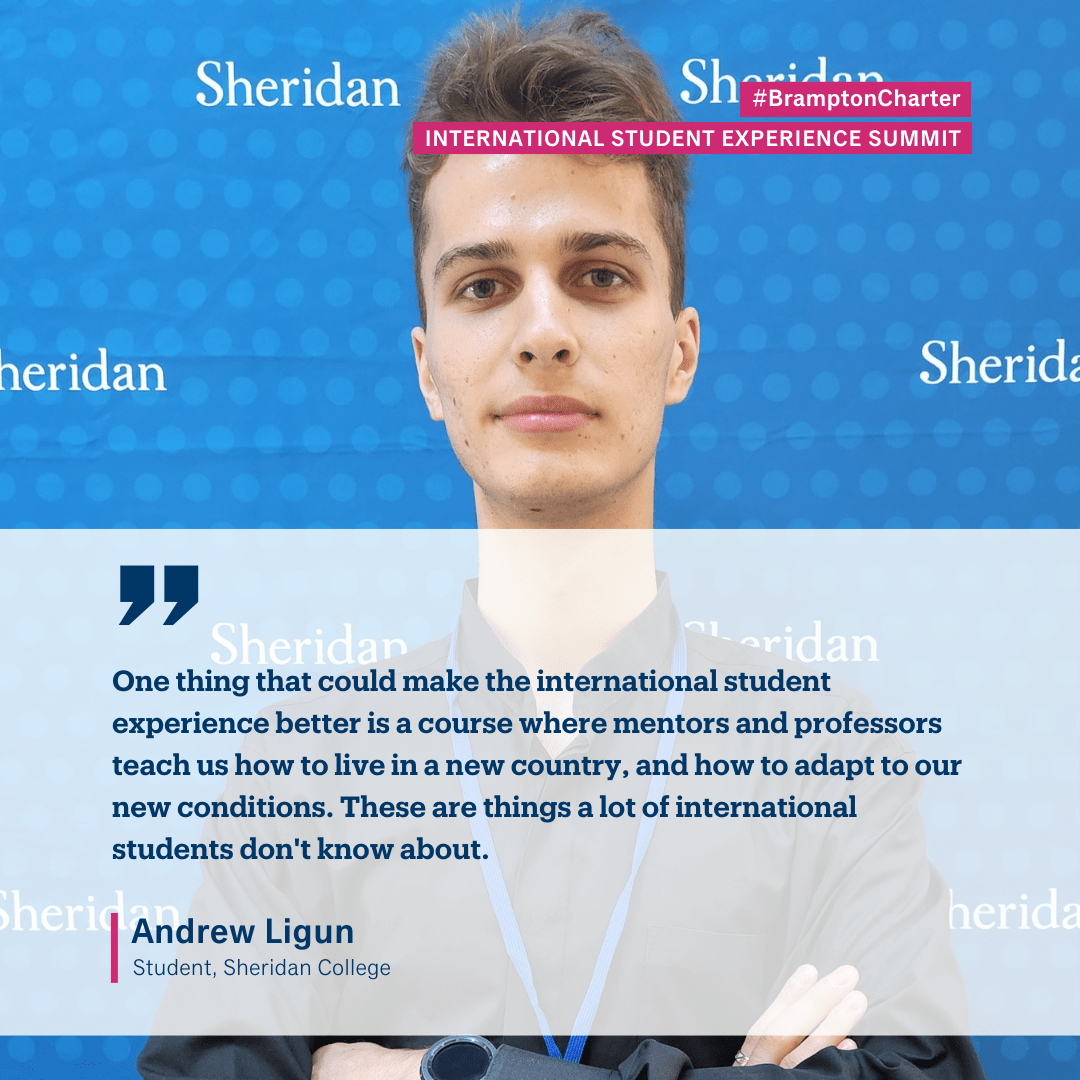 "One thing that could make the international student experience better is a course where mentors and professors teach us how to live in a new country, and how to adapt to our new conditions. These are things a lot of international students don't know about."
– Andrew Ligun, Student, Sheridan College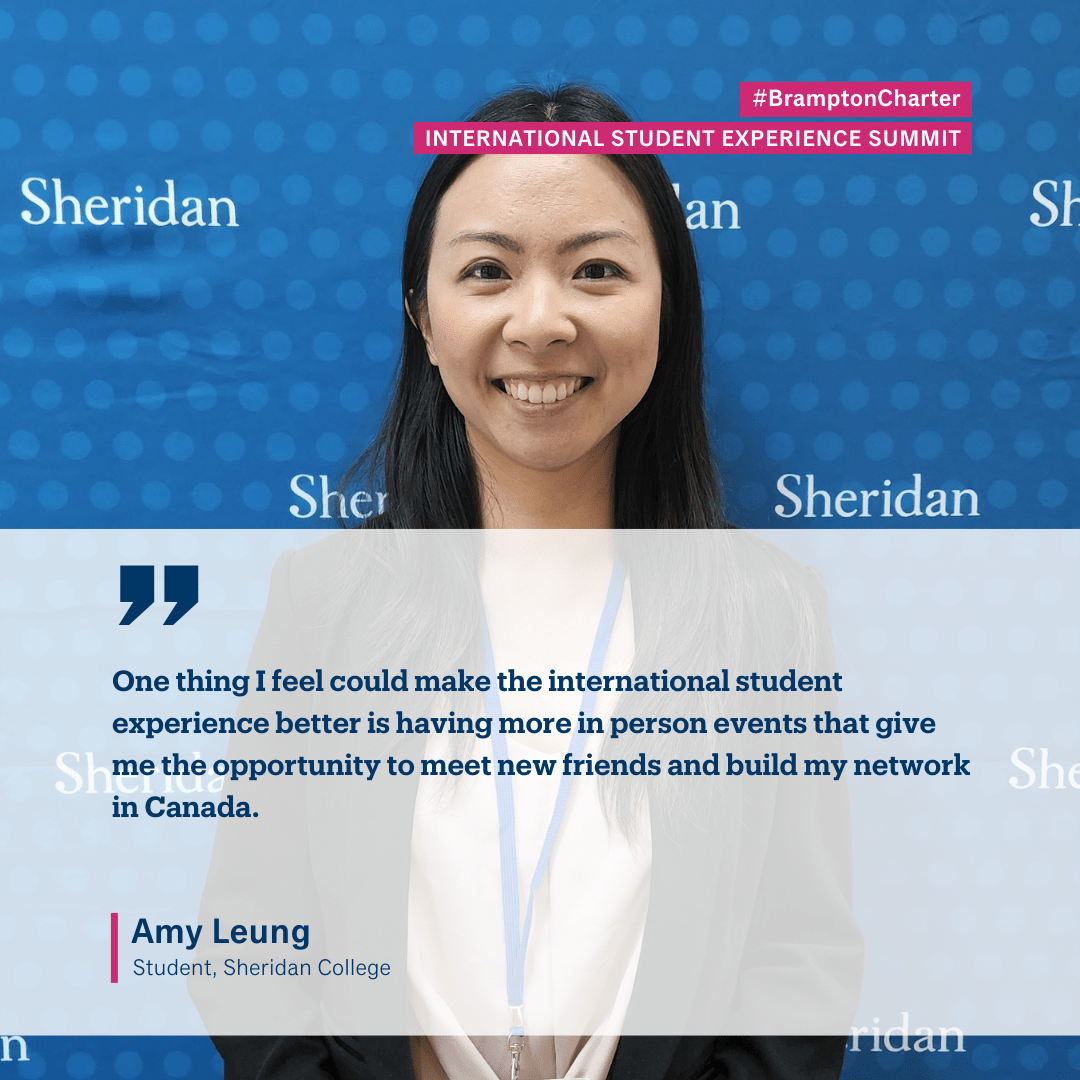 "One thing I feel could make the international student experience better is having more in person events that give me the opportunity to meet new friends and build my network in Canada."
– Amy Leung, Student, Sheridan College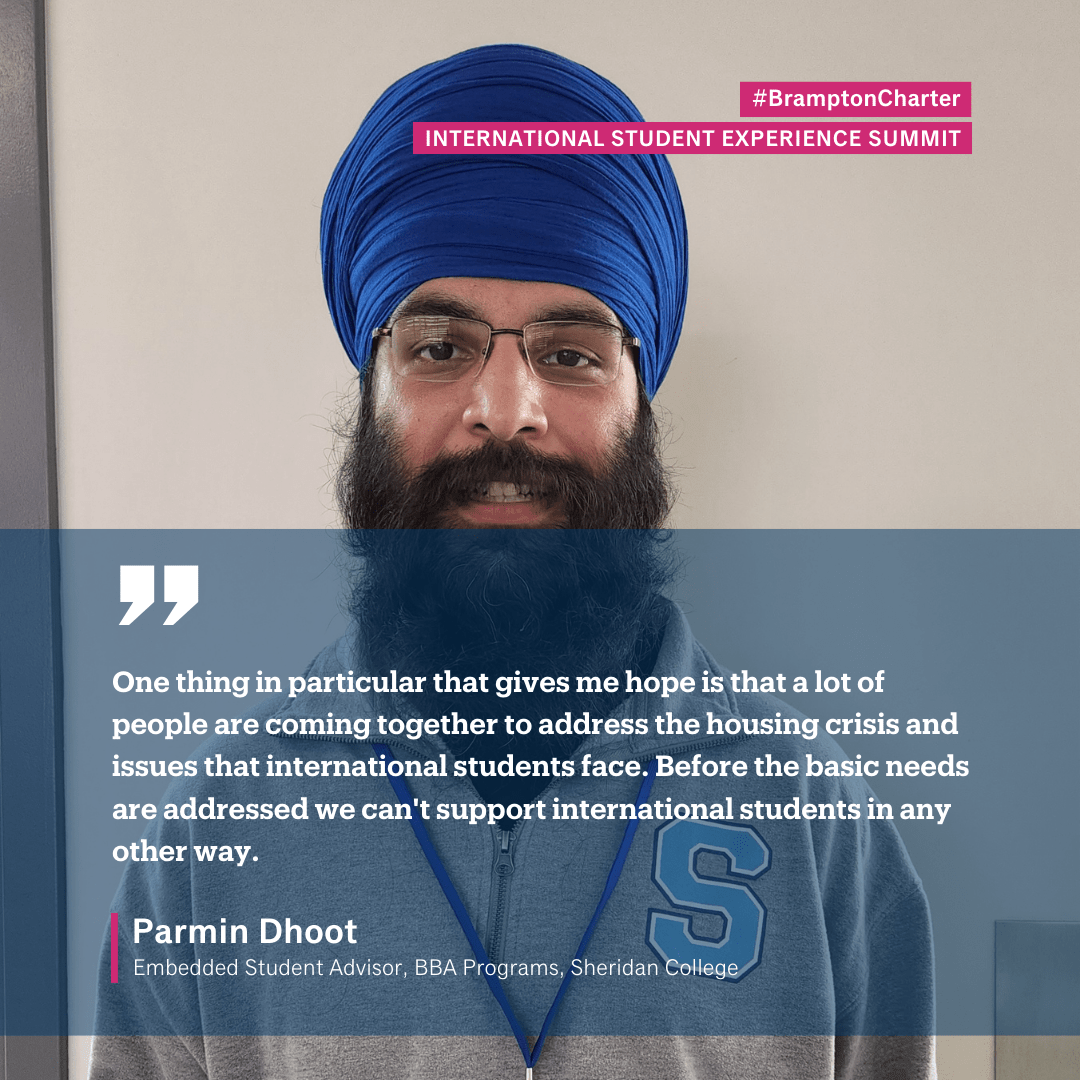 "One thing in particular that gives me hope is that a lot of people are coming together to address the housing crisis and issues that international students face. Before the basic needs are addressed we can't support international students in any other way."
– Parmin Dhoot, Embedded Student Advisor, BBA Programs, Sheridan College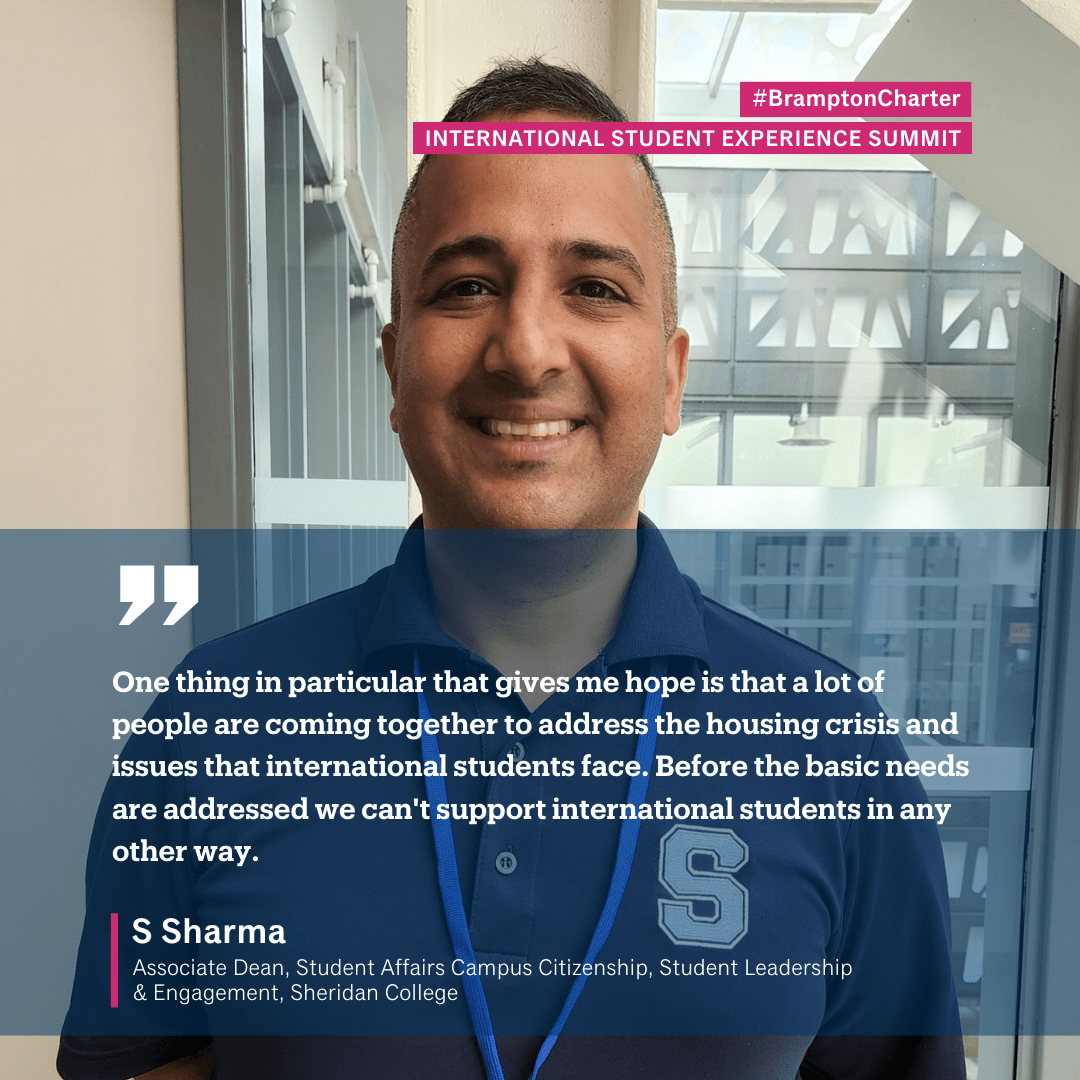 "It's not necessarily what I've heard but it's the energy, the passion, and the commitment of everyone here today that gives me hope. Together we can find a solution for our international students to provide the utmost amazing experience for our students."
– S Sharma, Associate Dean, Student Affairs Campus Citizenship, Student Leadership & Engagement, Sheridan College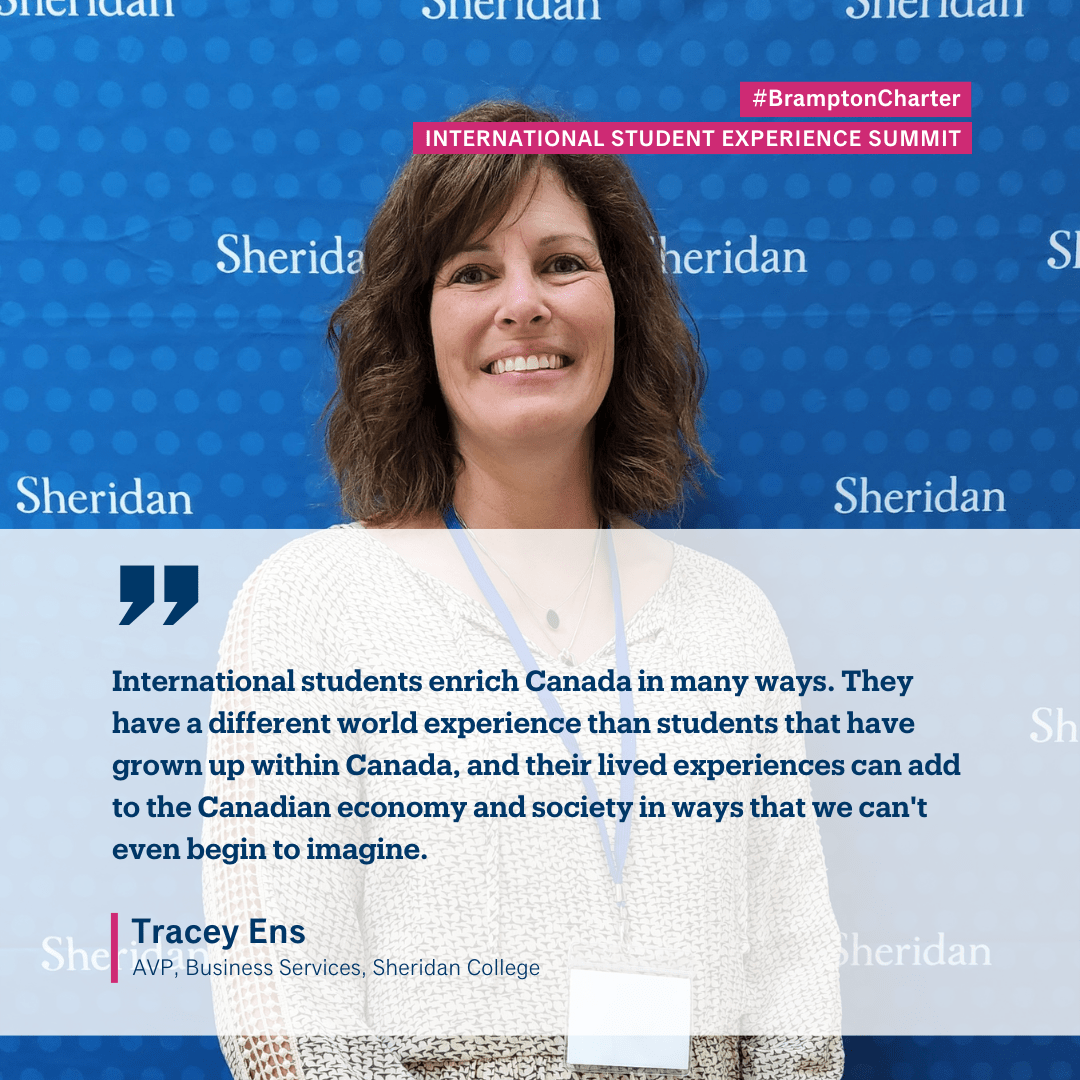 "International students enrich Canada in many ways. They have a different world experience than students that have grown up within Canada, and their lived experiences can add to the Canadian economy and society in ways that we can't even begin to imagine."
– Tracey Ens, AVP, Business Services, Sheridan College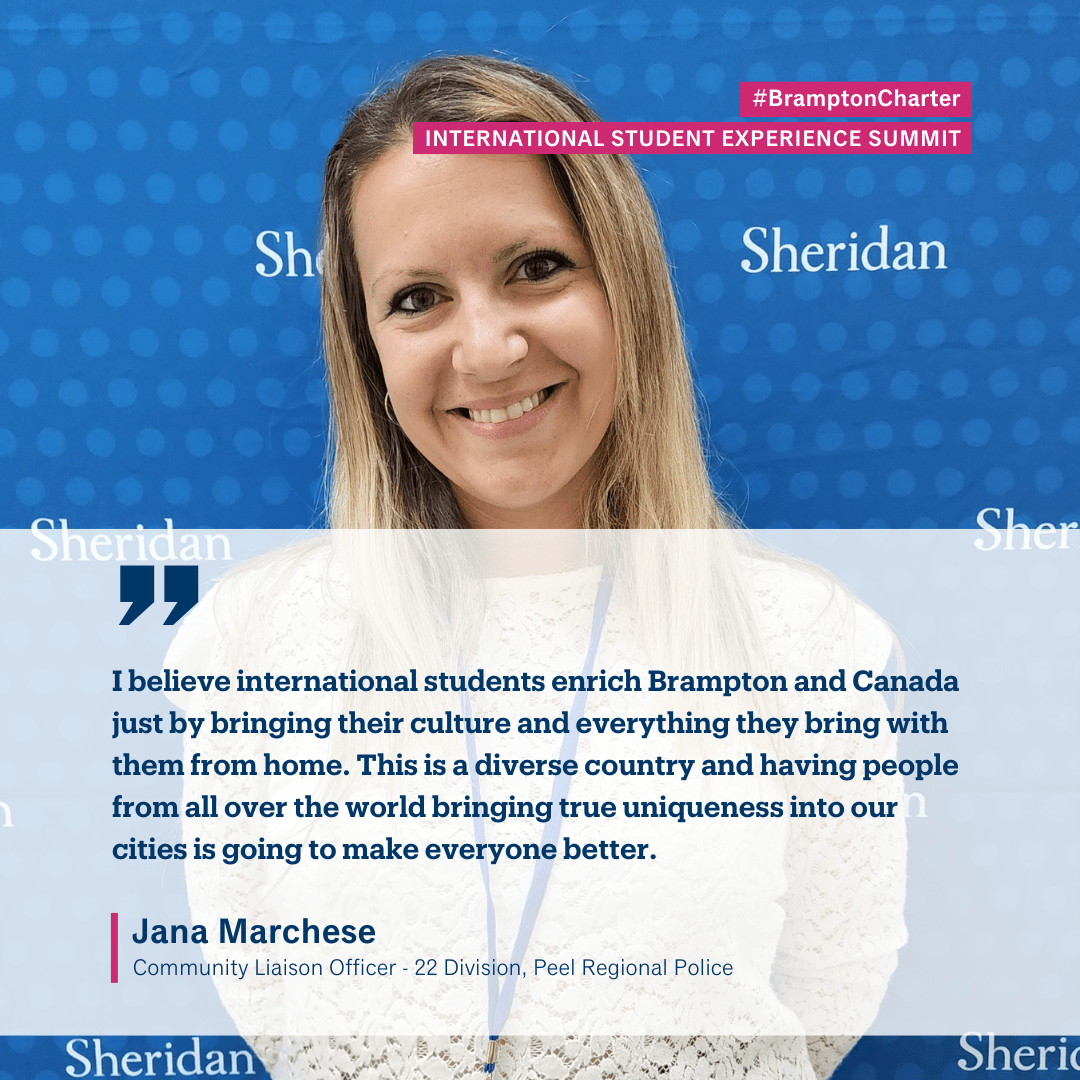 "I believe international students enrich Brampton and Canada just by bringing their culture and everything they bring with them from home. This is a diverse country and having people from all over the world bringing true uniqueness into our cities is going to make everyone better."
– Jana Marchese, Community Liaison Officer – 22 Division, Peel Regional Police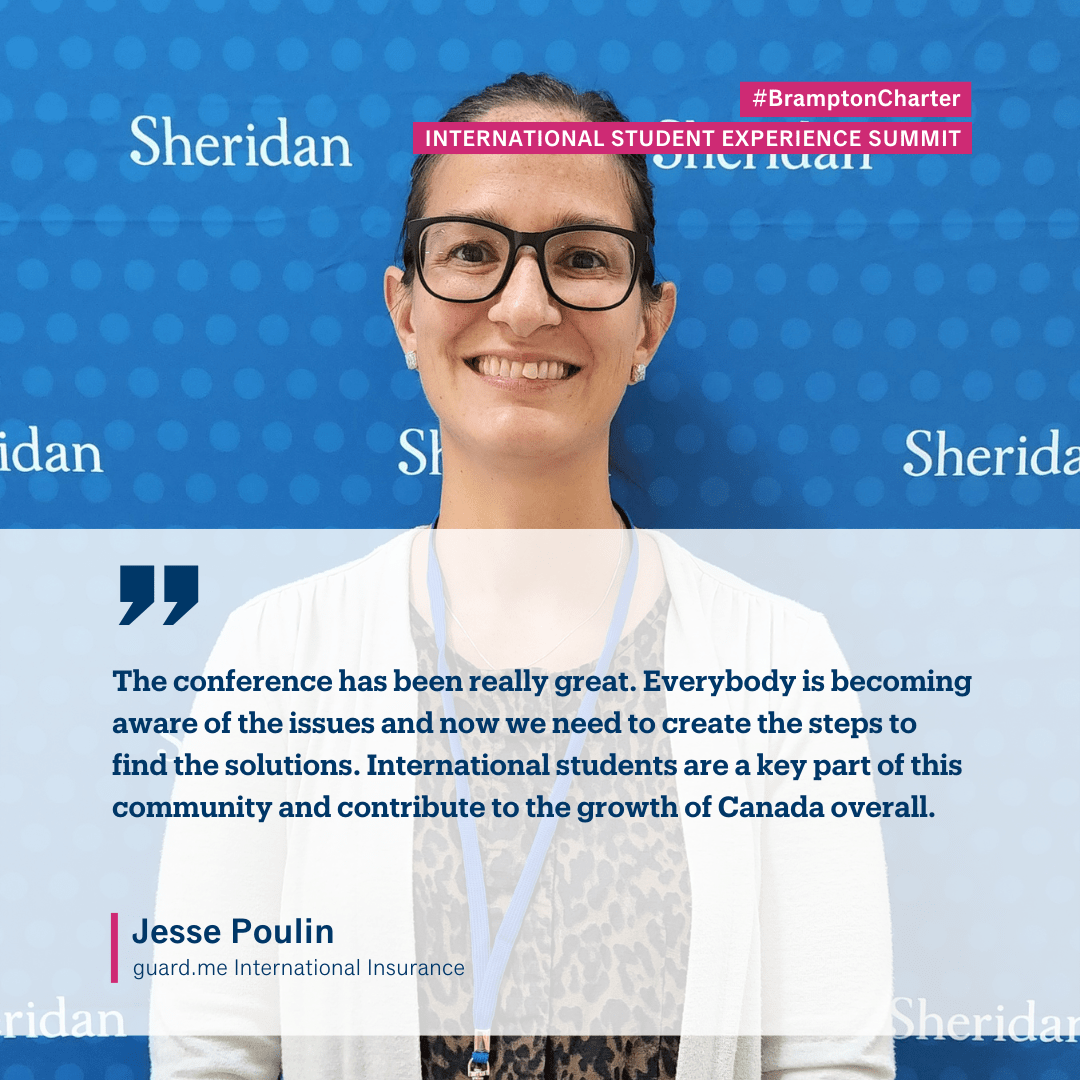 "The conference has been really great. Everybody is becoming aware of the issues and now we need to create the steps to find the solutions. International students are a key part of this community and contribute to the growth of Canada overall."
– Jesse Poulin, guard.me International Insurance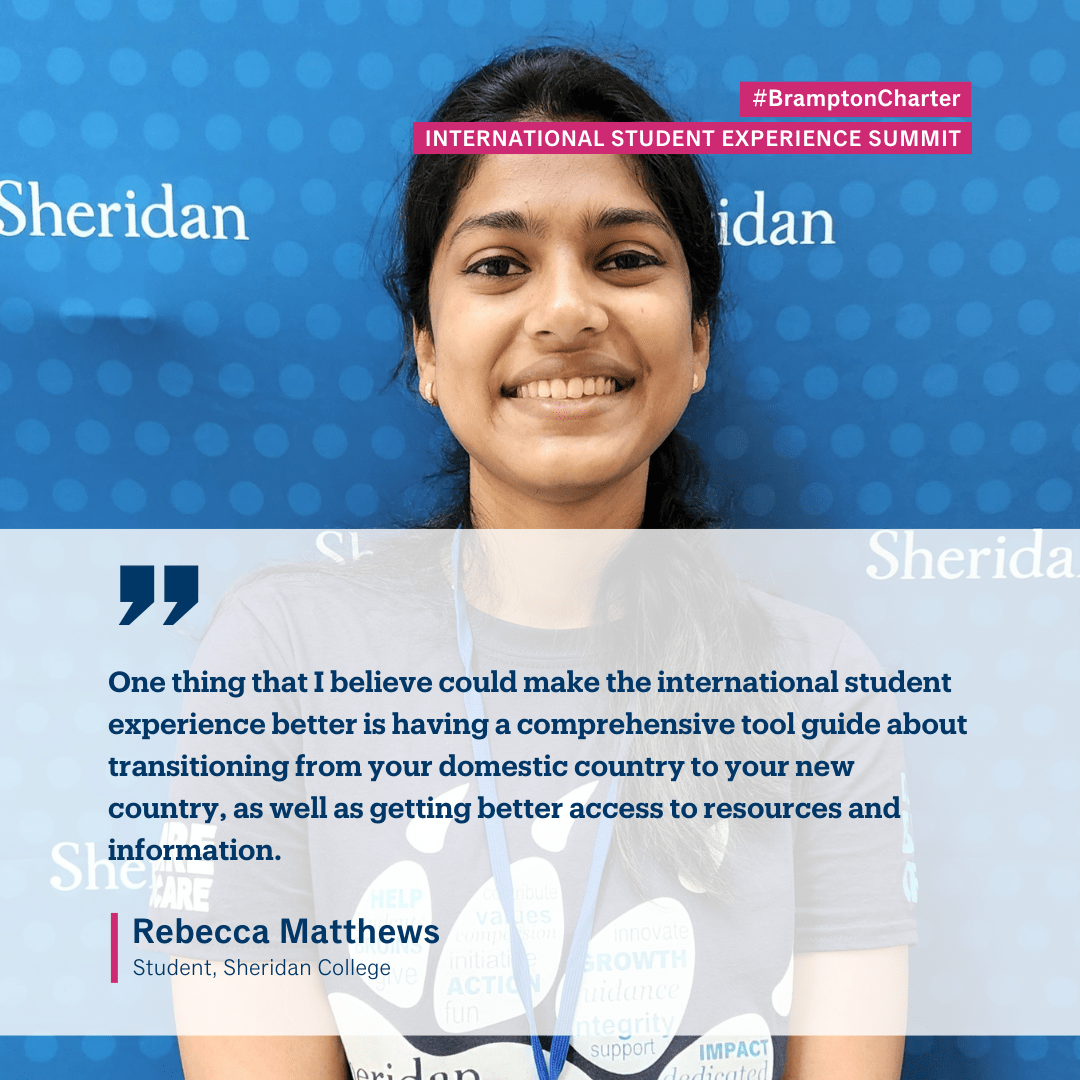 "One thing that I believe could make the international student experience better is having a comprehensive tool guide about transitioning from your domestic country to your new country, as well as getting better access to resources and information."
– Rebecca Matthews, Student, Sheridan College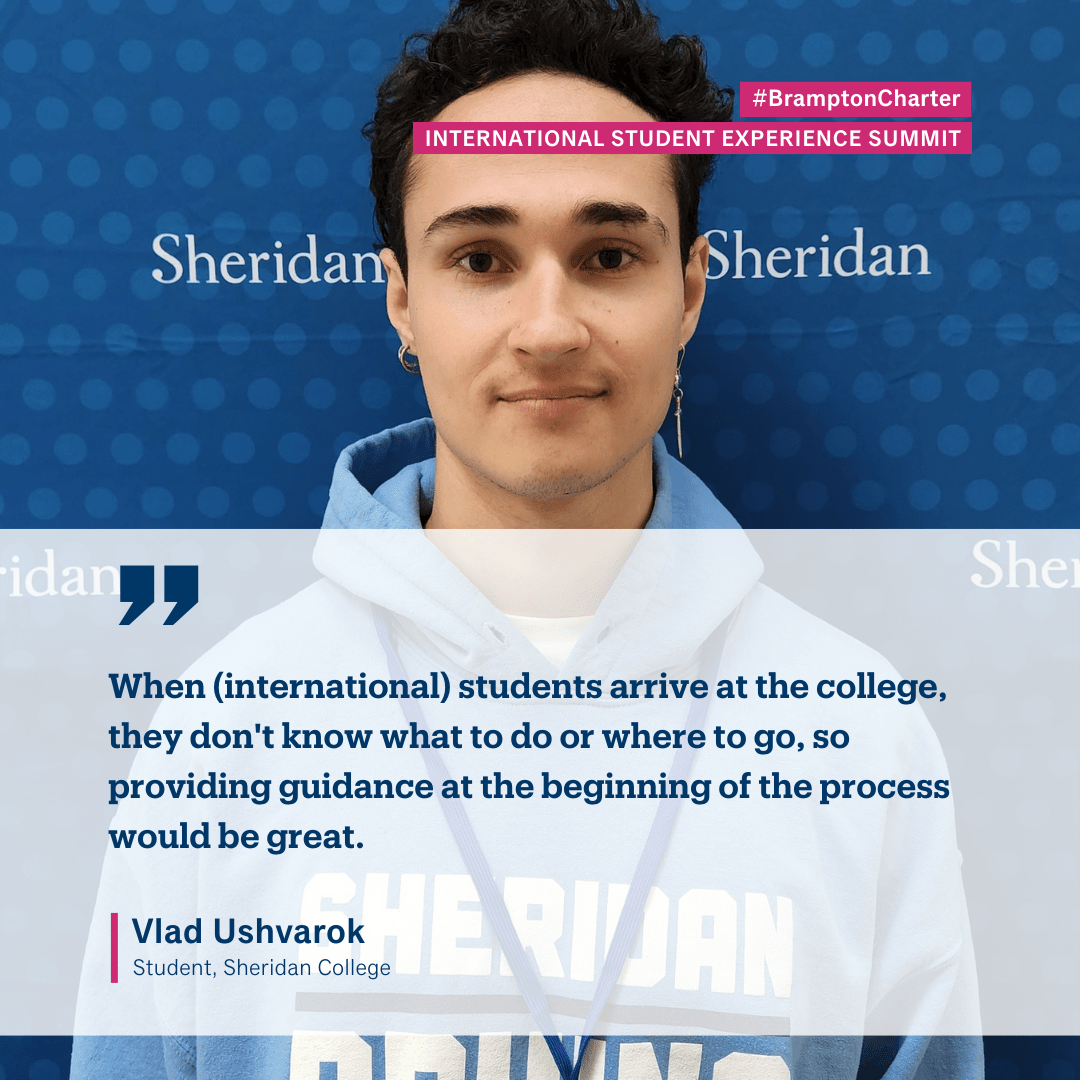 "When (international) students arrive at the college, they don't know what to do or where to go, so providing guidance at the beginning of the process would be great."
– Vlad Ushvarok, Student, Sheridan College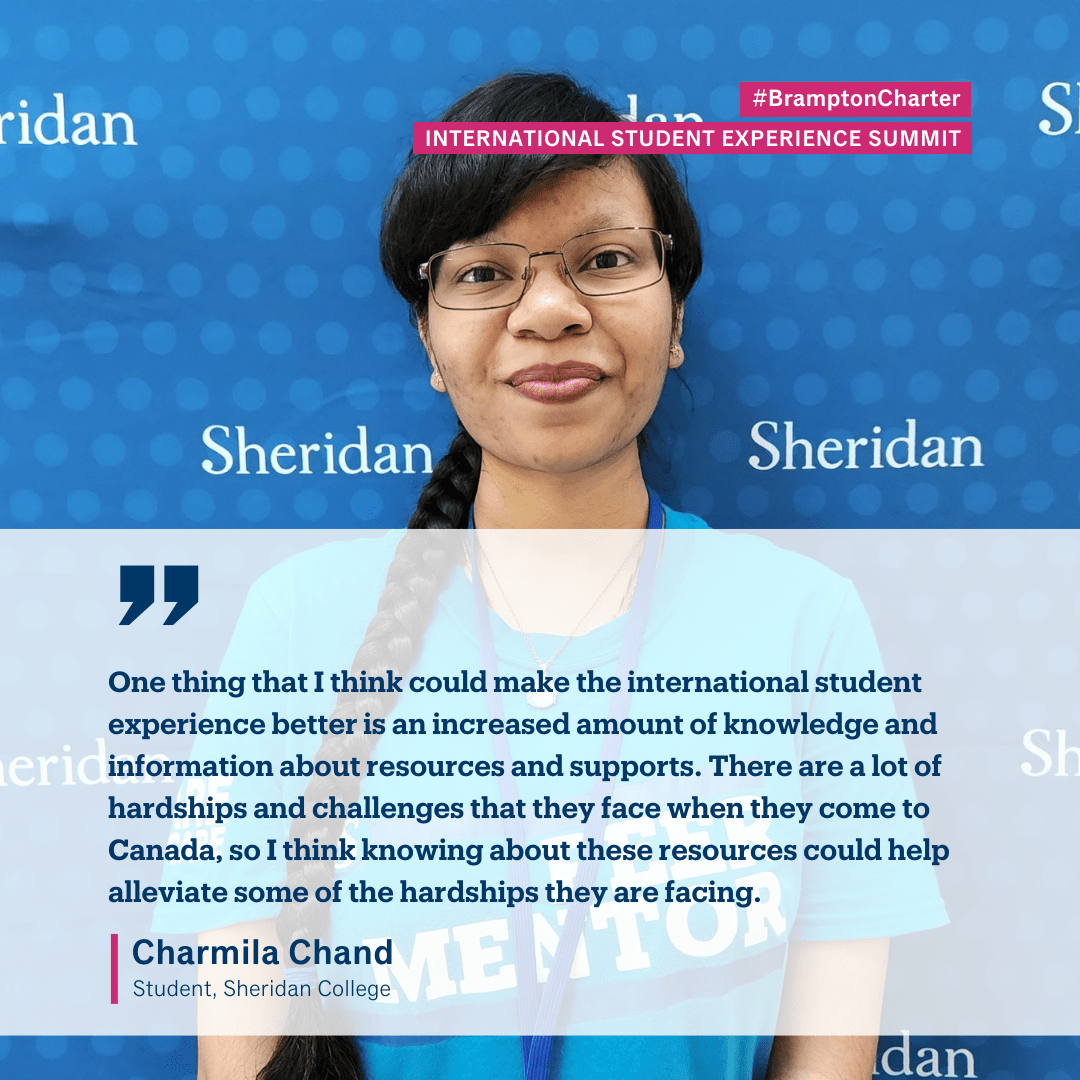 "One thing that I think could make the international student experience better is an increased amount of knowledge and information about resources and supports. There are a lot of hardships and challenges that they face when they come to Canada, so I think knowing about these resources could help alleviate some of the hardships they are facing."
– Charmila Chand, Student, Sheridan College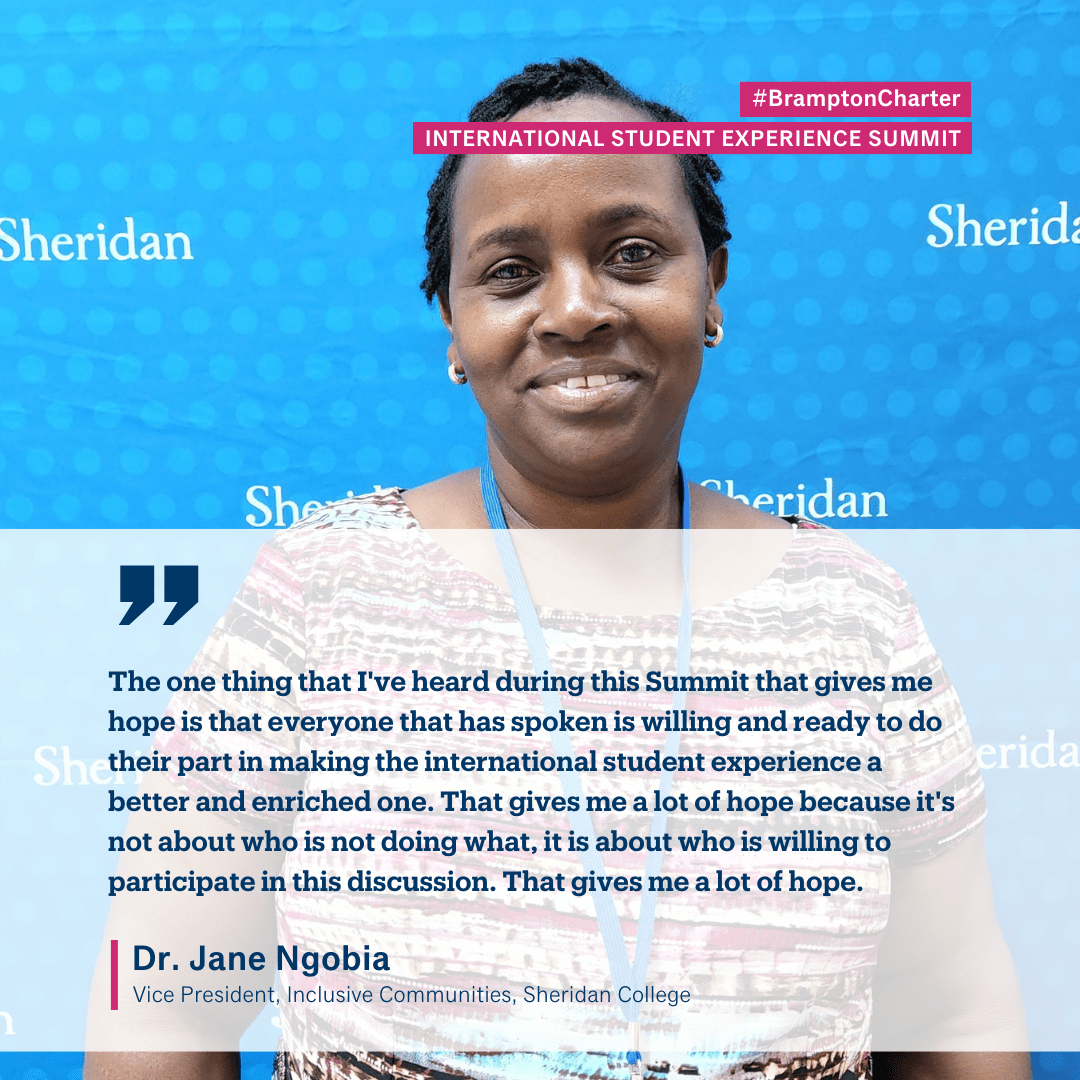 "The one thing that I've heard during this Summit that gives me hope is that everyone that has spoken is willing and ready to do their part in making the international student experience a better and enriched one. That gives me a lot of hope because it's not about who is not doing what, it is about who is willing to participate in this discussion. That gives me a lot of hope."
– Dr. Jane Ngobia, Vice President, Inclusive Communities, Sheridan College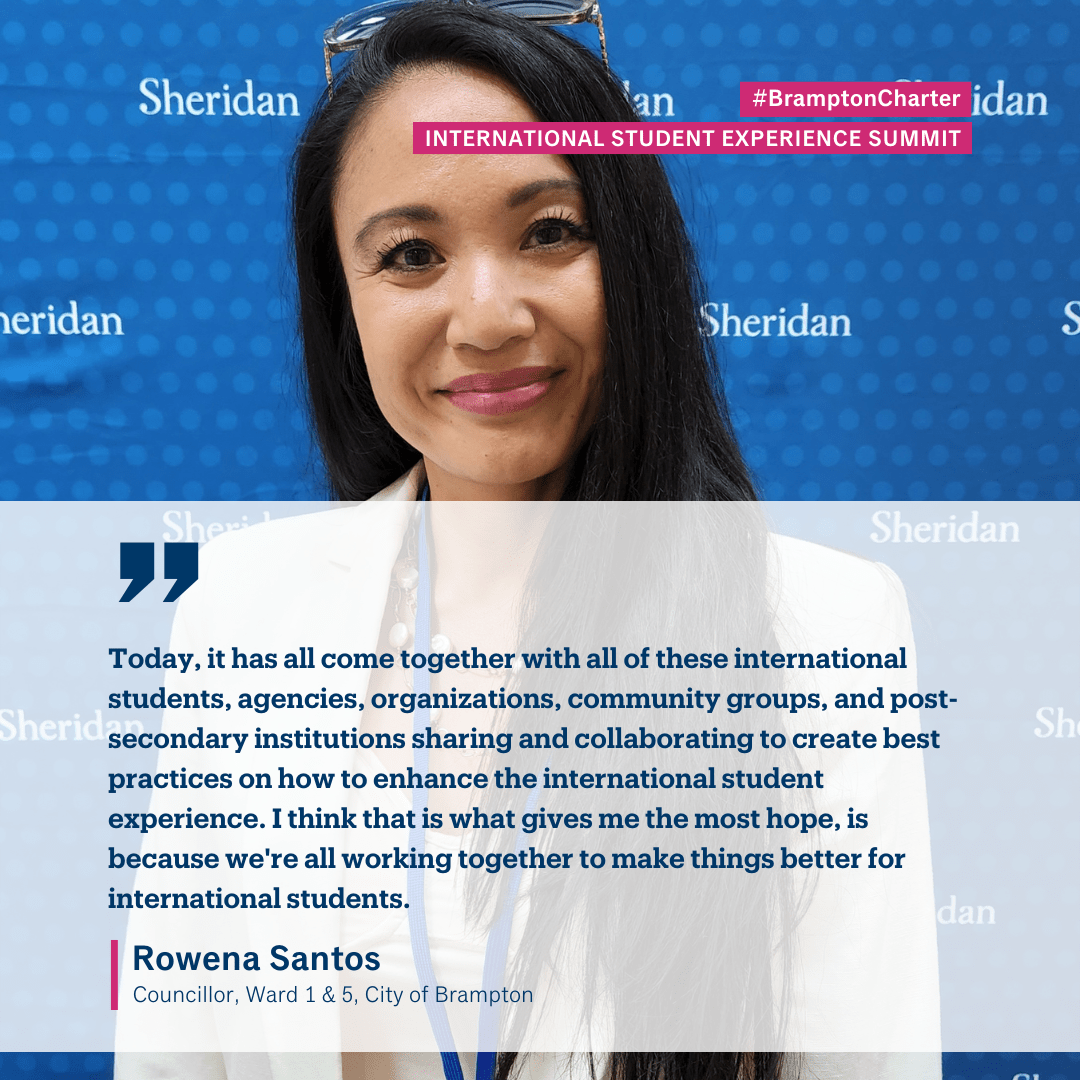 "Today, it has all come together with all of these international students, agencies, organizations, community groups, and post-secondary institutions sharing and collaborating to create best practices on how to enhance the international student experience. I think that is what gives me the most hope, is because we're all working together to make things better for international students."
– Rowena Santos, Councillor, Ward 1 & 5, City of Brampton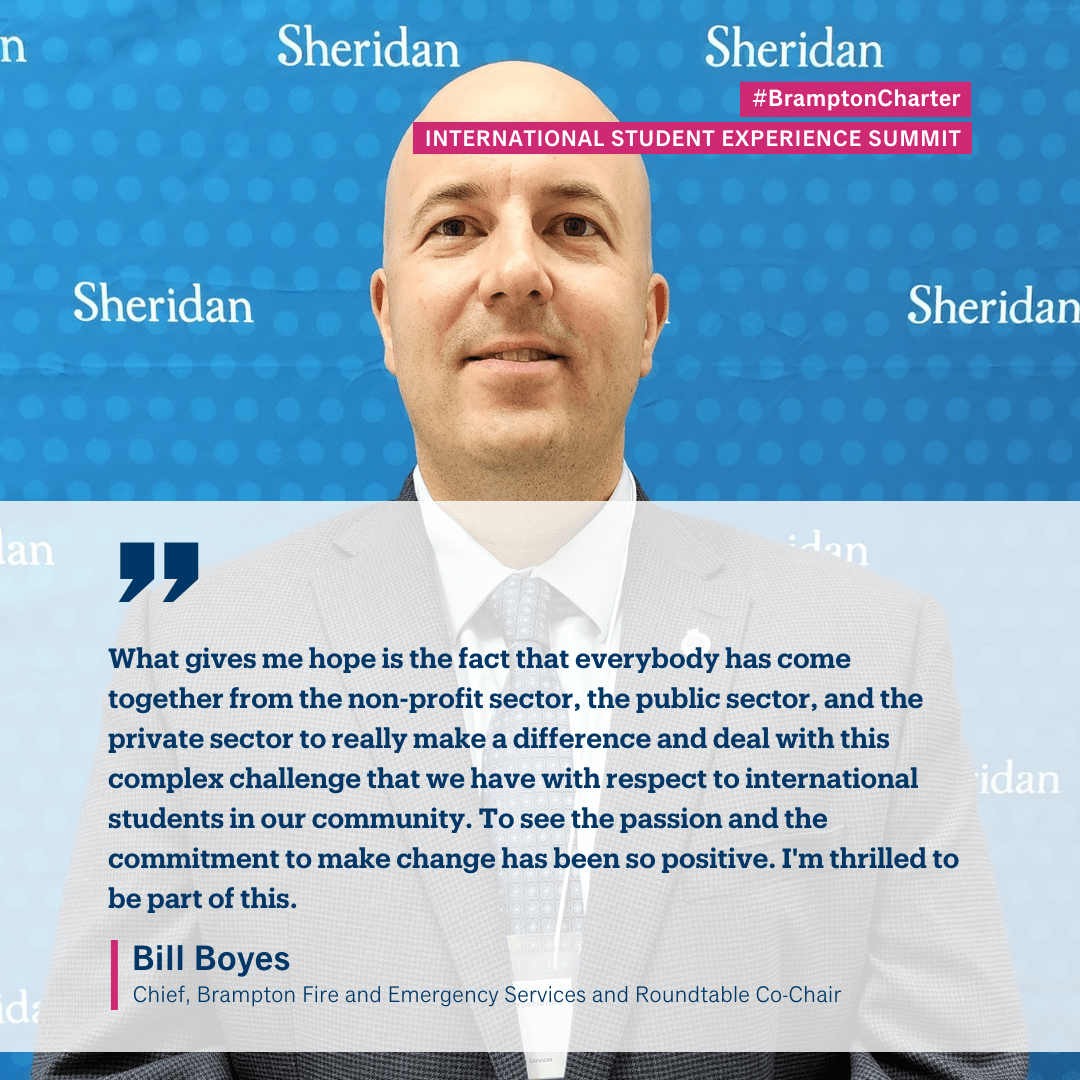 "What gives me hope is the fact that everybody has come together from the non-profit sector, the public sector, and the private sector to really make a difference and deal with this complex challenge that we have with respect to international students in our community. To see the passion and the commitment to make change has been so positive. I'm thrilled to be part of this."
– Bill Boyes, Chief, Brampton Fire and Emergency Services and Roundtable Co-Chair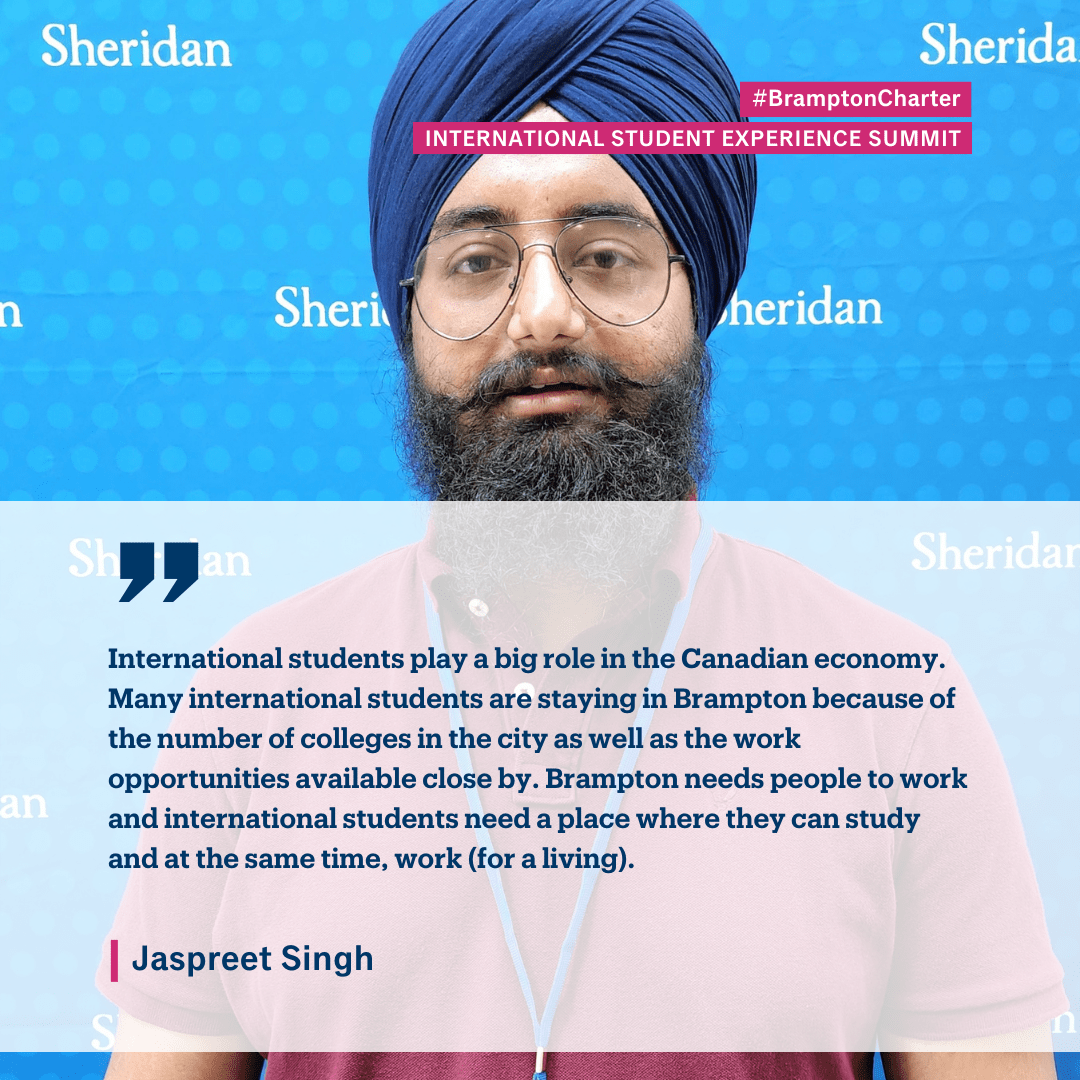 "International students play a big role in the Canadian economy. Many international students are staying in Brampton because of the number of colleges in the city as well as the work opportunities available close by. Brampton needs people to work and international students need a place where they can study and at the same time, work (for a living)."
– Jaspreet Singh
"International students are the biggest strength that Brampton has...anywhere identity is affirmed, cultural belonging happens and people thrive. International students have created this huge capacity and have input language, music, culture, and essentially revived the Punjabi and Sikh community here in Brampton. We're so honoured to work with them and they are amongst the folks that we know that work the hardest and bring the biggest strengths into the community."
– Jaspreet Bal, Vice President, Ontario, World Sikh Organization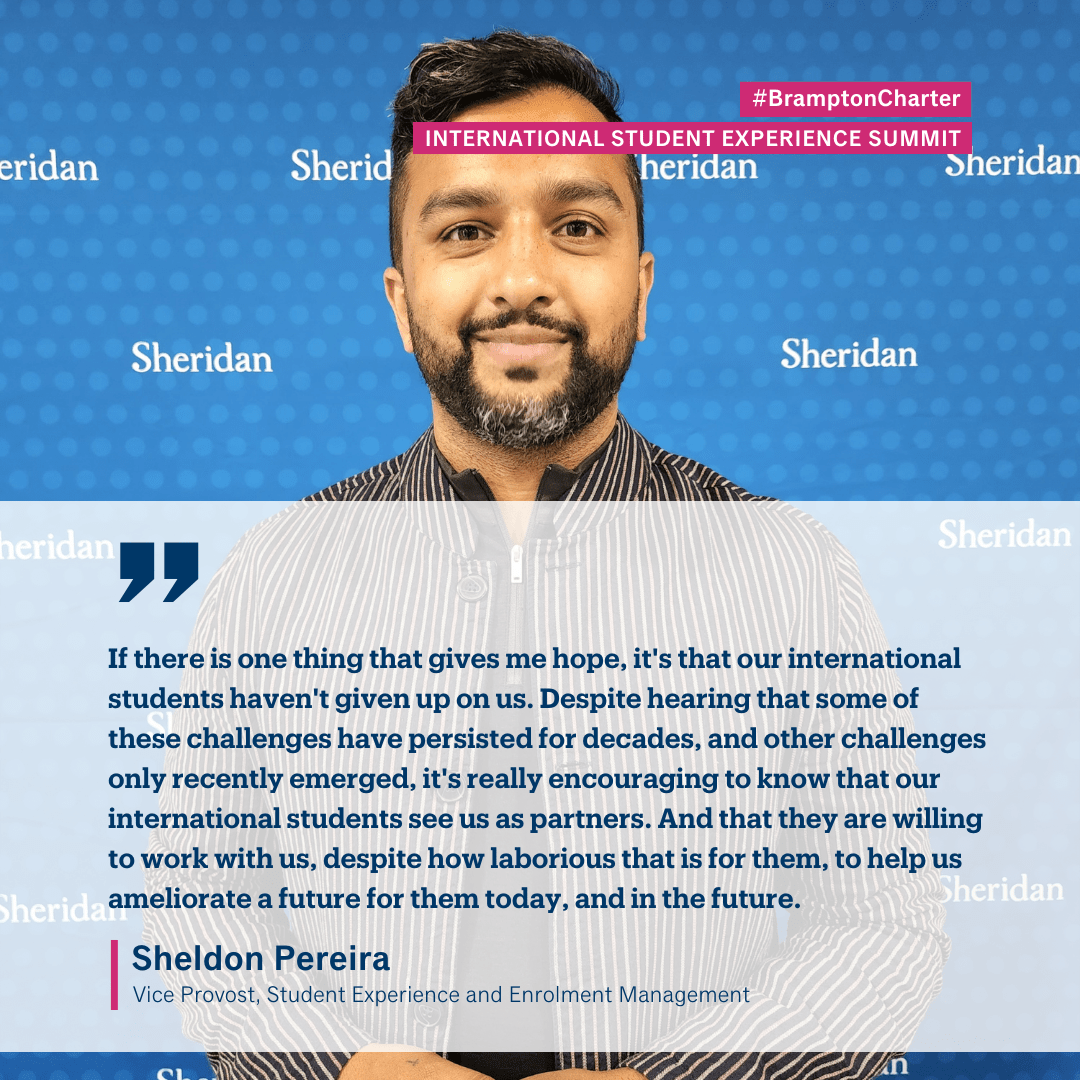 "If there is one thing that gives me hope, it's that our international students haven't given up on us. Despite hearing that some of these challenges have persisted for decades, and other challenges only recently emerged, it's really encouraging to know that our international students see us as partners. And that they are willing to work with us, despite how laborious that is for them, to help us ameliorate a future for them today, and in the future."
– Sheldon Pereira, Vice Provost, Student Experience and Enrolment Management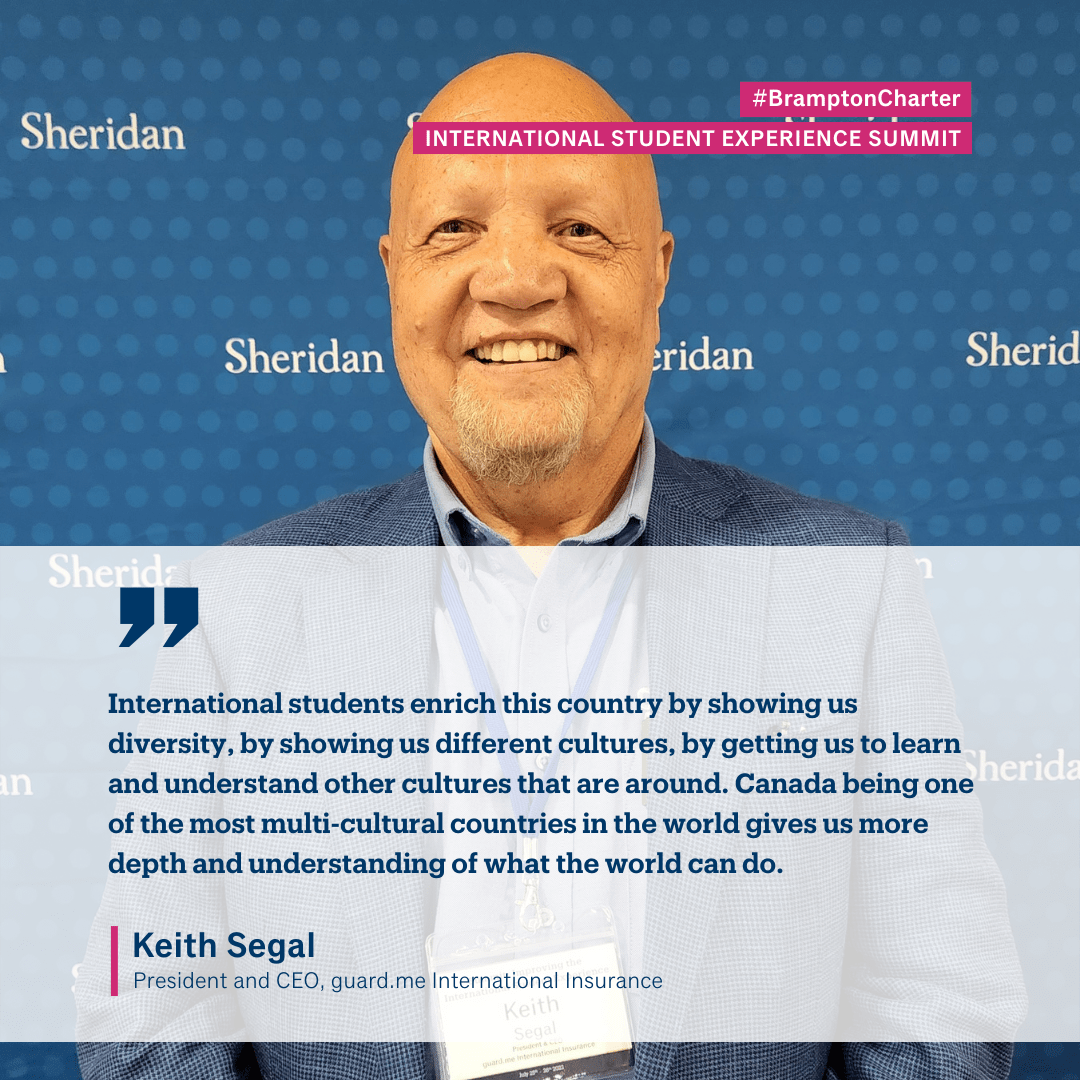 "International students enrich this country by showing us diversity, by showing us different cultures, by getting us to learn and understand other cultures that are around. Canada being one of the most multi-cultural countries in the world gives us more depth and understanding of what the world can do."
– Keith Segal, President and CEO, guard.me International Insurance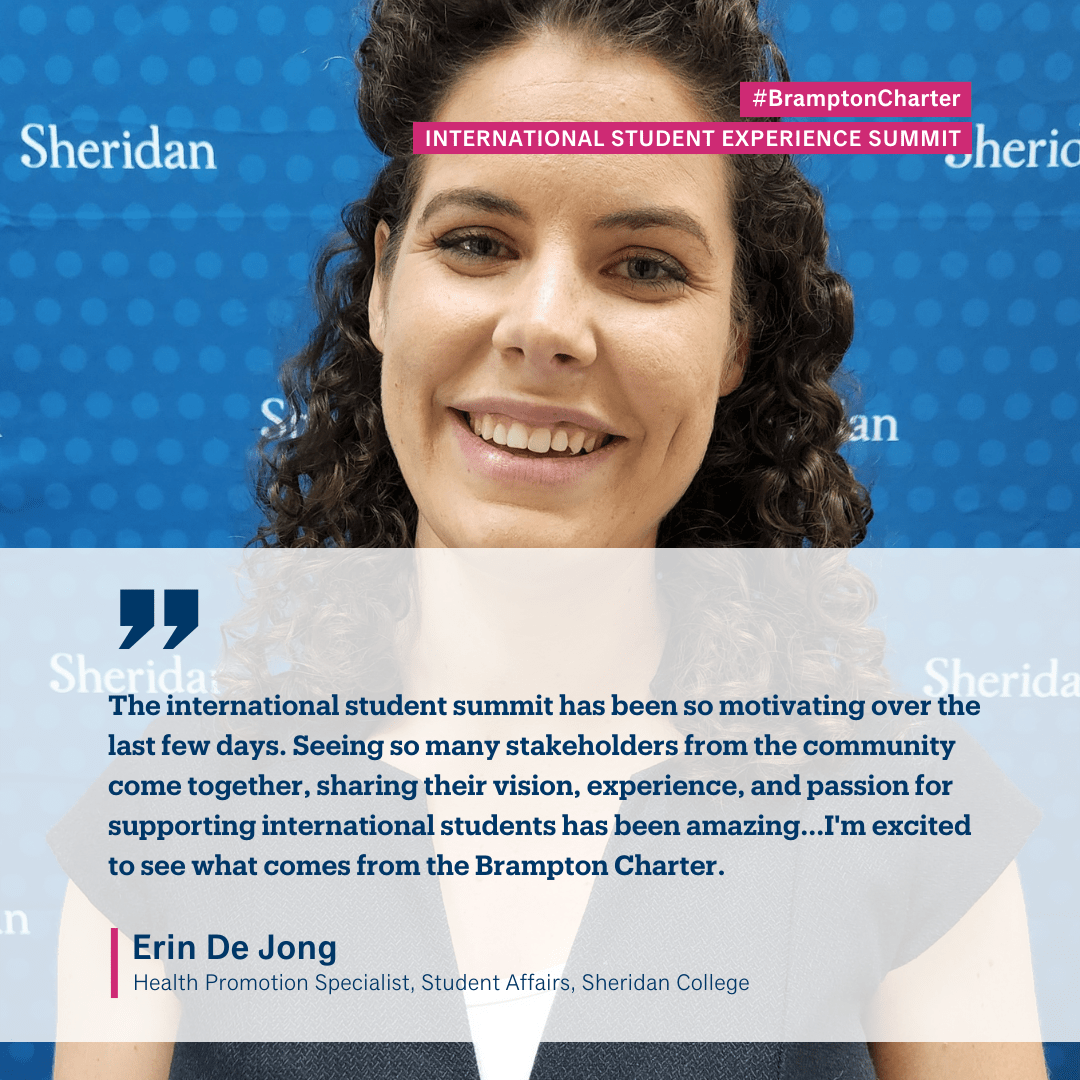 "The international student summit has been so motivating over the last few days. Seeing so many stakeholders from the community come together, sharing their vision, experience, and passion for supporting international students has been amazing...I'm excited to see what comes from the Brampton Charter."
– Erin De Jong, Health Promotion Specialist, Student Affairs, Sheridan College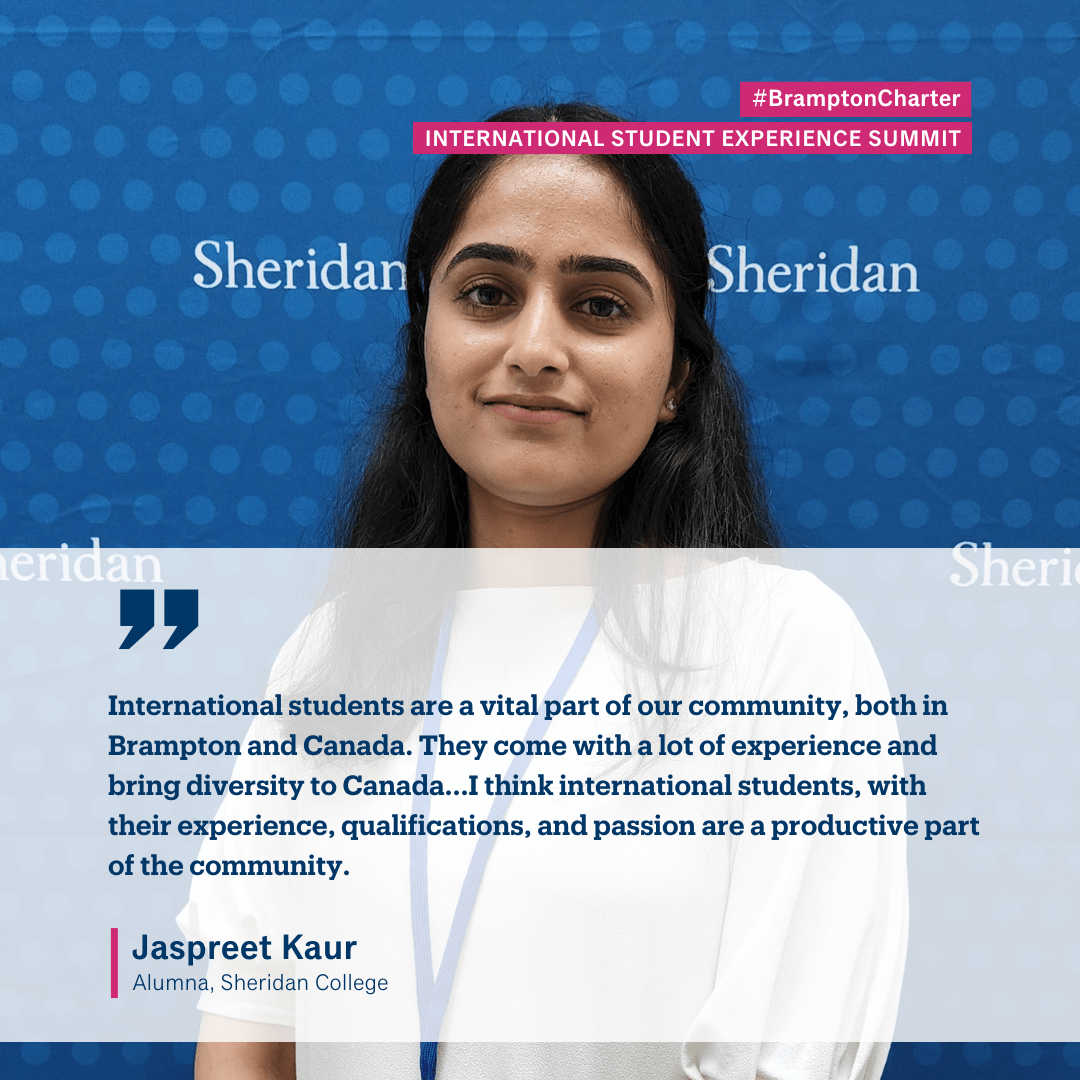 "International students are a vital part of our community, both in Brampton and Canada. They come with a lot of experience and bring diversity to Canada...I think international students, with their experience, qualifications, and passion are a productive part of the community."
– Jaspreet Kaur, Alumna, Sheridan College
Summit co-hosted by:
Generously supported by guard.me International Insurance.