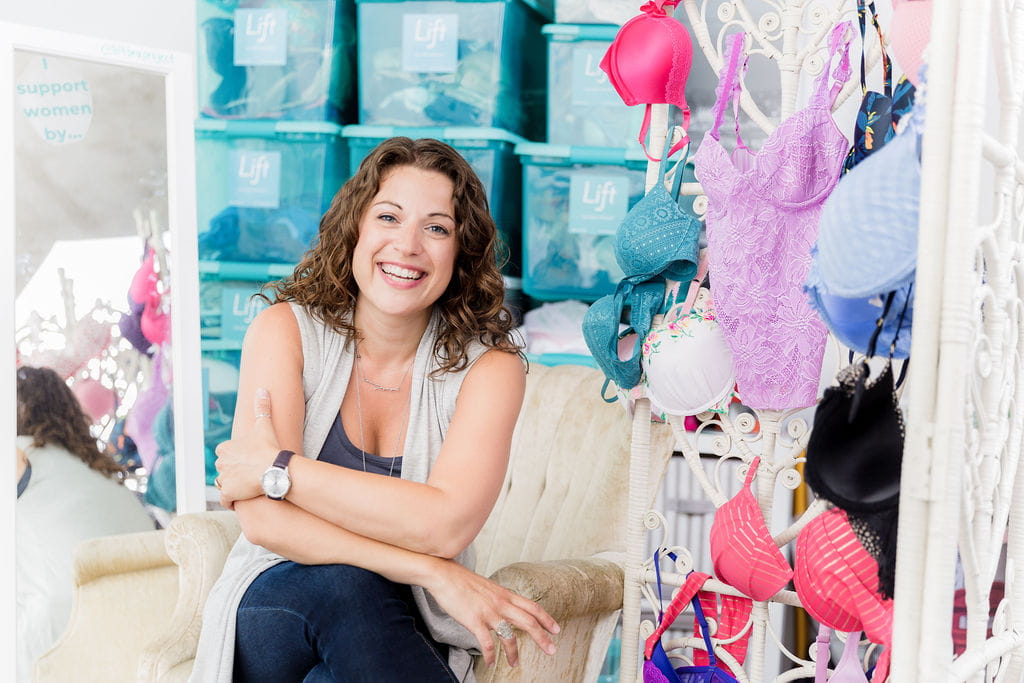 Degree: Business Marketing
Year of graduation: 2005
Giving a lift to those in need
Michelle Cinapri is supporting women in need with Lift: the bra project
---
Michelle Cinapri (Business Marketing '05) was in the midst of a closet declutter when she faced a dilemma – what to do with old bras she could no longer use, but were still in good condition? Tossing them in the trash wasn't an option for her – after all, many had been pricey and were seldom worn. She figured there must be a way to reuse or recycle them.
Cinapri started doing some research and reached out to Sistering, a 24/7 drop-in centre in her downtown-Toronto neighborhood focused on women and trans-women struggling with poverty, to ask if they needed them. Turns out, they did. Staff at Sistering were holding a harm reduction event for about 70 of their clients in a month's time – and they wondered if Cinapri could bring enough bras to hand out to everyone who came. That day,
Lift: the bra project
was born.
"I could not imagine going a day in my life without a bra if I wanted one," Cinapri says of her drive to launch the program, which aims to distribute gently used bras to community organizations around Toronto. "Then, to put myself in the place of a woman who is housing or income insecure and cannot get a bra, was just unfathomable to me. It just broke my heart."
Luckily, Cinapri knew she could tap into her previous marketing experience to get Lift: the bra project off the ground. She got to work, organizing drop-off locations at local businesses such as gyms and lingerie stores. She launched a full social media and public relations campaign to get the word out, built a website, and ran the logistics of collecting the donations, which meant turning her living room into a makeshift sorting room to sift through donations. A month later, she had far surpassed Sistering's initial request for 70 bras and ended up with 650. That early success showed her the need existed, and she set out to expand her collection and partner with more organizations for women in need.
Since that first haul in the spring of 2019, Cinapri's collected more than 1,000 bras a month and has developed relationships with nearly two-dozen Toronto-based business to offer convenient drop-off locations. Cinapri and her team of three volunteers sort, wash and deliver each piece of lingerie. The project's grown so much, she's been able to partner with more organizations to distribute them, including the Elizabeth Fry Society and YWCA. And although the pace of the growth has left her with some challenges around storage and collecting donations around the city, it all pays off when she meets the people she's helping. One woman, for instance, was living on the street and all her belongings – held in just two plastic bags – were stolen.
"For her to be able to piece her life together with a bra, a pair of pants, a shirt, is huge," Cinapri says.
Cinapri acknowledges bras don't solve the larger systemic poverty issues women and transgendered individuals face. But she also recognizes that new bras are a lower priority for women trying to support their families, so she hopes
Lift: the bra project
is just one small way she can help make a difference.
"When women are living in poverty, children are living in poverty," she explains. "If a woman has money to spend, she's probably not buying a bra – bras are expensive."
Cinapri didn't set out to become a social entrepreneur when she graduated in 2005. But throughout her career, she's seen how for-profit practices make a difference for charities. After graduation, she worked in marketing for gaming and tech companies, including two years at Microsoft in Seattle. When she returned to Toronto, she spent a year working at WE, a philanthropic agency helping for-profit companies support charitable work that aligns with their corporate goals.
"Corporations have a tremendous ability and financial capacity to be able to make meaningful change," she says. "They can work on things that are going to really drive change while supporting their bottom line."
Now, as she pursues Lift, she knows she also needs plenty of soft skills to build relationships with the project's partners. That's something she learned in the classroom, but also during her extracurricular activities as a member of the College's board of governors and Sheridan Student Union president. Those skills are also going to be needed as she looks to expand Lift's reach and raise awareness about other issues that women in poverty face, including food insecurity.
"We have the ideas and out there is the money," she says. "We just have to operationalize (ideas) and make them happen."