Film Screening: I Like Movies
Date: Jan. 25, 2023
Time: 7:30 p.m. – 10:00 p.m.
Location: Off-campus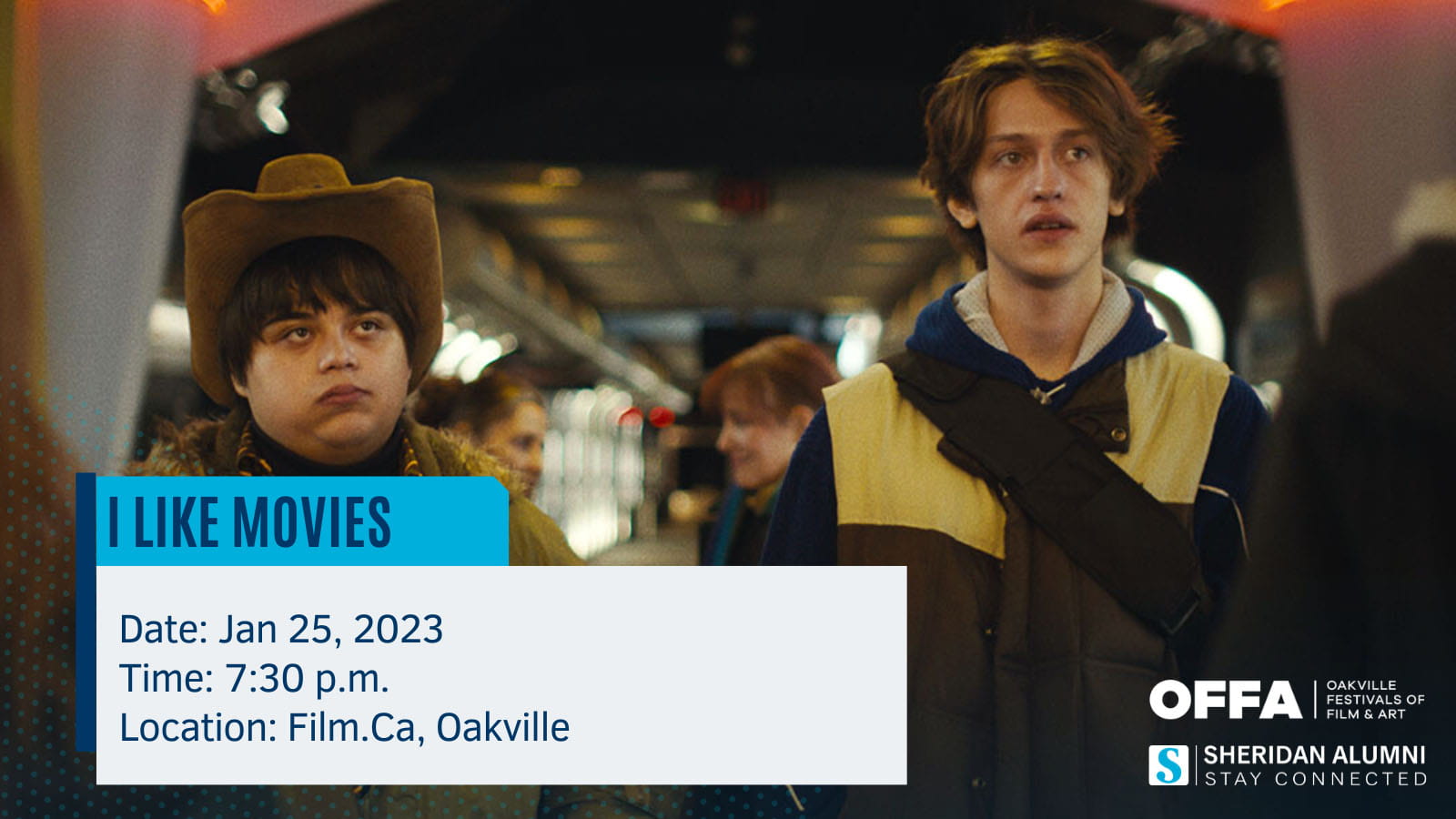 In collaboration with our community partner Oakville Festivals of Film and Art (OFFA), we invite you to join us as at Film.Ca in Oakville, Ont. for a screening of I Like Movies, followed by a Q&A with some of the film's cast and crew.
The feature debut from Toronto's Chandler Levack is a funny, touching, and empathetic look at a film- and self-obsessed teenaged curmudgeon pursuing his dreams and testing personal connections in early-2000s Burlington Ontario.
Socially awkward 17-year-old cinephile Lawrence Kweller, played by Isaiah Lehtinen, is self-absorbed and movie-obsessed. Fully convinced he can earn $90,000 to achieve his dream of attending film school at NYU, he gets a part-time job at Sequels video store. There, older store manager Alana, played by Romina D'Ugo, takes him under her wing. Meanwhile, Lawrence sabotages every high school relationship he has with his narcissistic film snobbery. Faced with the impending reality of university life, Lawrence must change his ways.
Levack has created a touching and very recognizable world driven by empathy. As infuriating as Lawrence can be, the film sticks with him as he bounces from one small but impactful disaster to the next. You will find yourself rooting for him — not to realize his fantasies, but to engage with his reality.
Join us after the film for a Q&A with cast and crew.
Official Selection, 2022 Toronto International Film Festival
Content advisory: themes of suicide, sexual abuse, and mental distress
Date: January 25, 2023
Time: 7:30 p.m. EST
Location: Film.Ca, 171 Speers Road in Oakville
Price: Free