Sheridan Reads 2016 Launches with Featured Author Thomas King
Thomas King, acclaimed author, educator and broadcaster, took part in a panel discussion at Sheridan last week to launch the 2016 edition of Sheridan Reads. King's "The Inconvenient Indian", a critical and personal meditation by King on what it means to be "Indian" in North America, is this year's pick for Sheridan Reads, part of the Creative Campus Series sponsored by TD Bank Group.
Dr. King was joined on stage by Dr. Alex Hollenberg, a professor of storytelling and narrative from the Faculty of Humanities and Social Sciences, and Elijah Williams, a Sheridan graduate and research assistant in the college's Centre for Indigenous Learning and Support.
Their discussion touched on a wide range of subjects, including the power of storytelling. "If you tell a story enough times, it becomes true," said King. "Because stories are so powerful and have broad repercussions, you have to be very careful in the stories you choose to tell."
In "The Inconvenient Indian", King recounts historical events from a different perspective than that which many North Americans have grown up with. He was asked about the difference between story and history, and noted that "history always has a social and political bias. We all bring our ideas and our prejudices to the process." What sets King's narrative apart, earning him a wider readership in the process, is his use of humour in telling what are often tragic and difficult stories.
"Humour is critical to my way of being, to my writing – I don't write humour for humour's sake, I write so that it hurts just a little bit – and sometimes a lot," he said. The effect of humour in "The Inconvenient Indian" meets his aim, which is to keep readers engaged and turning the page.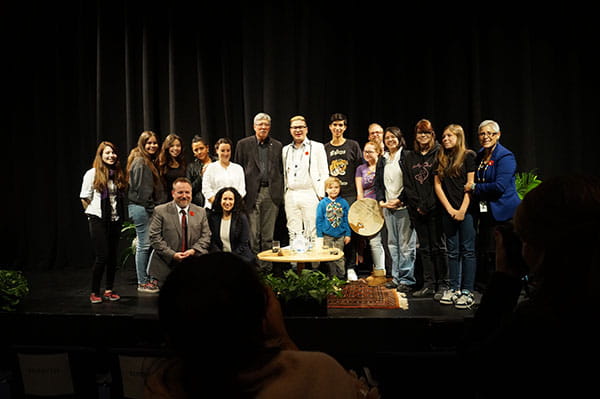 Thomas King with staff and students at Sheridan Reads launch event
The Creative Campus Series first launched in 2015, featuring distinguished speakers from a range of disciplinary and professional backgrounds. Sheridan Reads and the Thomas King event is the first in the 2016-17 Creative Campus Series.
TD Bank Group has pledged $125,000 in support of the 2016-17 Creative Campus Series.
"TD is proud to support unique learning opportunities for students through the Creative Campus series," says Michelle Snow, TD District Vice President, for Burloak. "We believe that critical and creative thinking are vital skills and this initiative supports valuable discussion among tomorrow's leaders in our community."
The next event in the 2016-17 Creative Campus Series will take place in March and will feature Ben Weinlick, founder of Think Jar Collective, speaking on innovation and creativity.