Faculty of Applied Health & Community Studies
Degree: Educational Support
Year of graduation: 2014
Being the Change

Annetrista (Anna) Absalom did not celebrate her 21st birthday in the traditional way with lots of relatives and a big party. Instead, Anna travelled to Sri Lanka in 2012 to make an in-person donation to an orphanage for special needs children. One of the 35 children she met at the orphanage, then six-year-old Raji, inspired Anna to publish a children's book, the sales of which have raised $5,000. The funds went towards building installing accessible playground equipment in a park in Georgetown, Ontario, where Anna grew up.

Anna realized her dream four years later in May 2016, with the official opening of the accessible playground in Prospect Park. Click here to watch coverage of the opening, including an interview with Anna, on City TV.

A 2014 Educational Support program grad, Anna has always been passionate about advocating for children with disabilities, but meeting Raji, who is blind, deaf and unable to speak, fuelled Anna's desire to make a difference.

Published in March of 2014, Anna's book, "We Are More Alike Than We Are Different" aims to teach children and parents to treat children with disabilities the same as other young people in the community. The story follows nine-year-old Rosie on her daily routine, focusing on the activities she can engage in, such as drawing and playing on a swing. "I want to encourage everyone, particularly parents in my community, to avoid isolating children with disabilities by showing that they are much like everyone else," explains Anna.

Anna is grateful for the assistance of friends of family, as well as the Mayor of Halton Hills, Rick Bonnette, who was quick to respond to her request for support, says Anna. Sheridan faculty also played a large role in the success of the project, adds Anna, who studied Health Management at York University before attending Sheridan. "I must thank Professor Dina Moati, in particular, for always telling us to 'Be The Change'. Her encouragement has helped me every day to pursue my dreams and to never give up."

Anna is still in contact with Raji, encouraging her to become more independent. "My goal is to return to the orphanage and offer her the support she deserves," says Anna, who has family living in Sri Lanka. She plans to write another book, a novel based on interviews with parents of disabled children.

More about "We Are More Alike Than We Are Different"
More about Sheridan's Educational Support program.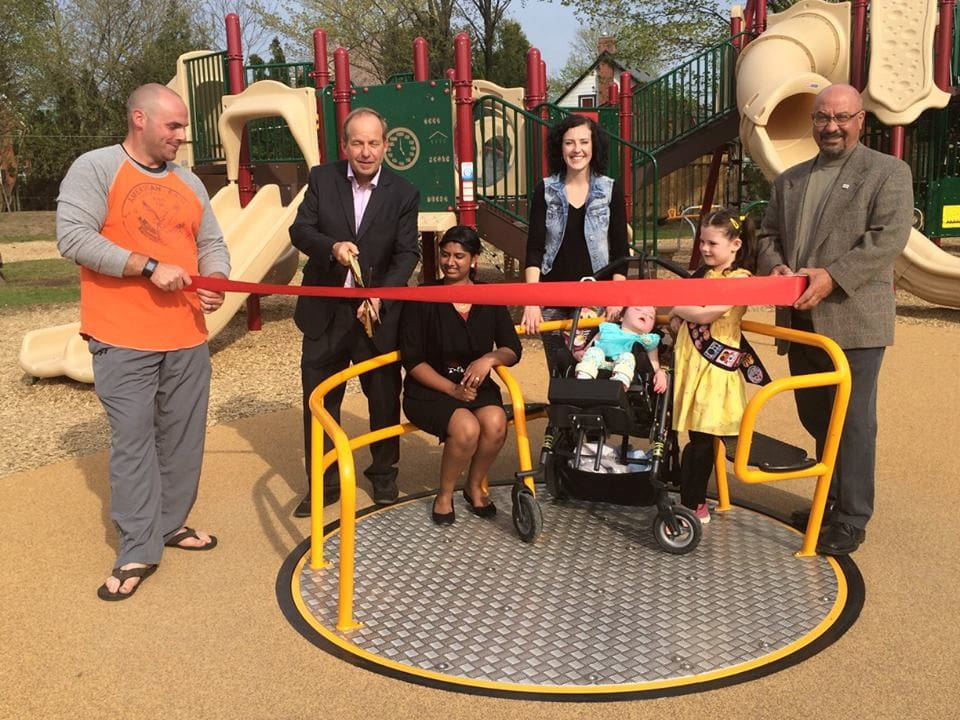 Annetrista Absalom at the unveiling of the newly-accessible playground in Georgetown's Prospect Park in May 2016.

Click here to watch coverage of the opening, including an interview with Anna, on City TV.