Sheridan Commemorates National Day of Remembrance
On December 6th, Sheridan staff and students at all campuses gathered to mark the National Day of Remembrance and Action on Violence Against Women. This day commemorates the murder of 14 young women in 1989 at École Polytechnique de Montréal. Dr. Mary Preece, President and Vice Chancellor, presided over a ceremony at the Trafalgar Campus, which was live-streamed to Sheridan's campuses in Brampton and Mississauga.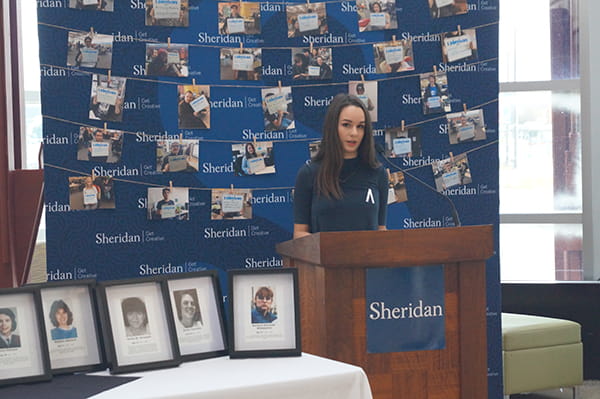 Eve Krogman performs a reading of "Why I Stay"
The event included a reading by Eve Krogman, an Honours Bachelor of Film and Television student, and a performance of the song, "I Will Remember You" by Claire Boudreau, an Honours Bachelor of Music Theatre Performance student. Students and staff laid white roses in memory of each of the 14 young women.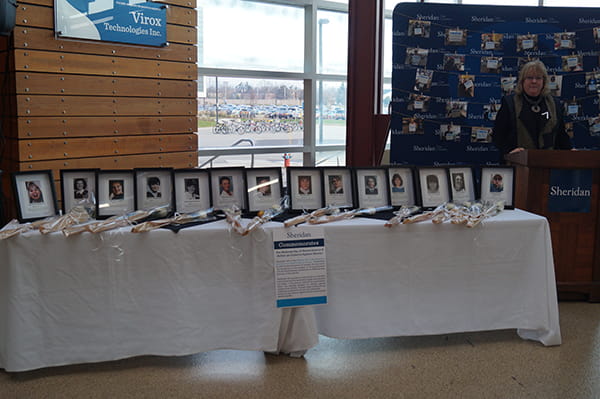 Images of the 14 victims; Dr. Mary Preece at right
"Violence against women is rooted in attitudes of discrimination and inequality," said Dr. Preece in her remarks. "That's why we all must use our voices and actions to promote gender equality and send the message that violence cannot be tolerated." She detailed the measures that Sheridan is taking to create a safe and inclusive community, including the "Dare to Care" campaign, which challenges staff and students to support each other and take a stand on violence against women, not just on December 6, but every day.