Sheridan students win record number of medals at Ontario Skills Competition
Sheridan students had their best showing ever, bringing home six medals, at the Ontario Skills Competition held May 2-4 at RIM Park in Kitchener-Waterloo. The event brought together 2,000 competitors participating in 67 different competitions. Sheridan's team of nine students competed in Industrial Mechanic Millwright, Precision Machining, CNC Machining, Electrical Installations, Web Design, and Architectural Technology and Design. Sheridan's winners included:
Industrial Mechanic Millwright
Peter M. Giarrizzo – Gold Medal
Paul Stockham – Bronze Medal
Precision Machining
Kacper Lasecki – Gold Medal
Dan Van Veen – Bronze Medal
Electrical Installations
Jordan Trevision – Silver Medal
Web Design
George Kye-Asiamah – Bronze Medal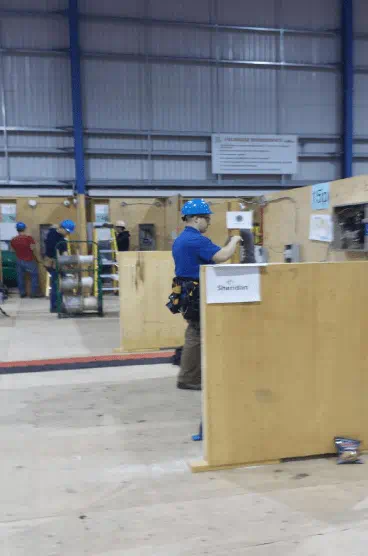 Each competition lasted one full day and consisted of a wide variety of tasks and challenges, requiring the competitors to bring their best skills and adaptability to their events.
As Gold Medal winners, Giarrizzo and Lasecki will travel to Moncton, NB to compete as part of Team Ontario at the Skills Canada National Competition, which takes place June 6-7.
Photos - Top: Peter Giarrizo; Middle: Jordan Trevision