Second Cyber Security Symposium Helps Businesses Prevent Data Theft
Sheridan's Faculty of Applied Science and Technology hosted its second Cyber Security Symposium on Wednesday May 4th, at the Hazel McCallion Campus in Mississauga. The event brought together approximately 90 local business owners, executives, and technical professionals for a day of presentations, discussion and inquiry about the state of cyber security in 2016, and the most pertinent steps businesses can take to protect their data. The Symposium was hosted in collaboration with Sheridan Undergraduate Research, with returning presenter sponsor, Scalar Decisions.
In his opening keynote address, Microsoft Canada Chief Technology Officer David Peterson provided an overview of challenges and best practices for cyber security in a mobile, platform-rich and increasingly cloud-based world. He drew from Microsoft's extensive experience in helping customers manage cyber attacks. Peterson described the main stages of cyber security attacks, from the first compromised host to wide-scale breach, and summarized the multi-dimensional approach required for reducing the impact of breach: real-time monitoring, frequent error reporting, and more sensors.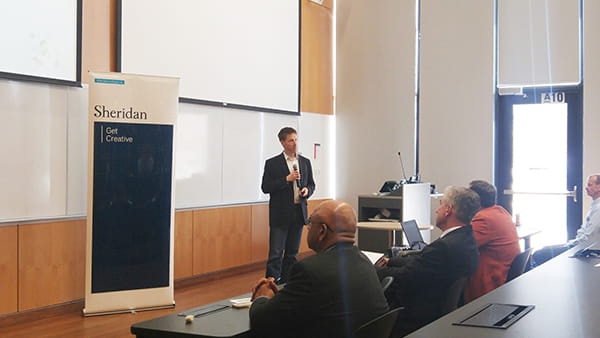 Brad Riddell, Director of Security for Scalar Decisions, then took participants through a review of Scalar's 2016 Security Study. The study looked at the cyber-security readiness of over 650 Canadian organizations, and highlighted the most common forms of attacks, the impact of those attacks on business, and the key attributes of high-performers. In his address, Riddell emphasised the importance of understanding your data and knowing what needs to be protected, having an effective user identity management process, and acknowledging that cybersecurity is an iterative process.
Following the keynote addresses, participants attended two rounds of concurrent breakout sessions. Topics included managing threat intelligence, operational technology and industry 4.0 cybersecurity, and capstone presentations from students in Sheridan's award-winning Bachelor of Applied Information Sciences (Information Systems Security). Sessions were led by experts from RSA, I20, Ixia, Microsoft, and Sheridan professors and students.
Following a presentation from Dennis Meharchand, President and CEO of security firm Valt.X, the participants had a chance to ask questions of the experts in a general moderated panel discussion and Q&A session with representatives from RSA, I20, Scalar, Microsoft and Valt.X.
To close the event, Associate Dean for School of Applied Computing, Joseph Varrasso, delivered a list of "Top Ten Cyber Security Tips", a toolkit of actionable steps to help participants better protect their business data. Some of the key takeaways included practicing least privilege, defining boundaries of responsibility for business partners, conducting regular reviews and establishing a baseline for your network, to help highlight when something isn't right.
Photos: Top - David Peterson, Chief Technology Officer, Microsoft Canada
Middle - Brad Riddell, Director of Security, Scalar Decisions