US Ambassador tours the arts at Sheridan
Sheridan welcomed the U.S. Ambassador to Canada, Bruce Heyman, and his wife, Vicki Heyman, for a tour of several arts programs at the Trafalgar Road Campus on October 1st. The Ambassador was in town for a speech to the Oakville Chamber of Commerce later that day, and the Chamber arranged for their visit to Sheridan, knowing of their keen interest in both education and the arts.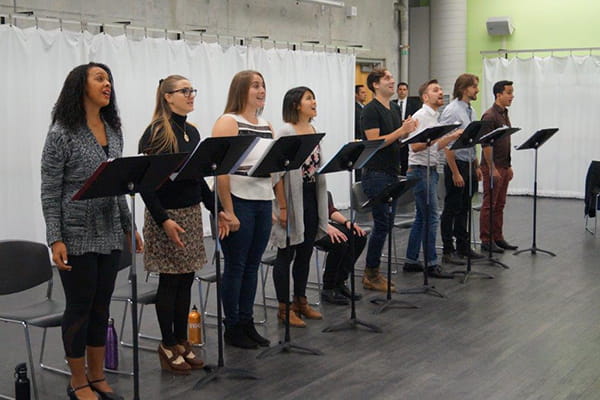 Bachelor of Music Theatre students warming up before their performance
Their first stop was the Peter Gilgan Centre, where they took in a performance from Senza Luce, a new musical currently in production by the Canadian Music Theatre Project. Neil Bartram and Brian Hill, the award-winning creative team behind Senza Luce, led a group of 4th-year Bachelor of Music Theatre students in performing a song from the musical.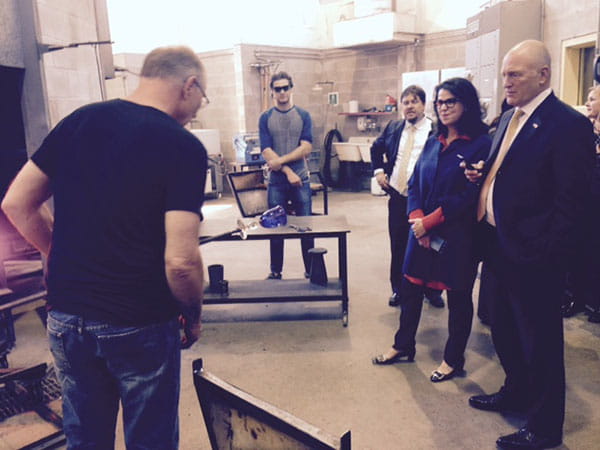 Professor Andrew Kuntz displays a freshly crafted goblet
Next, the Heymans visited the Glass Studio in the Bachelor of Crafts and Design, where they watched a glass-blowing demonstration by Andrew Kuntz, a Sheridan alumnus and current instructor in the program. The Crafts and Design program dates back to Sheridan's earliest days as a college, and has become one of the most respected of its kind in North America.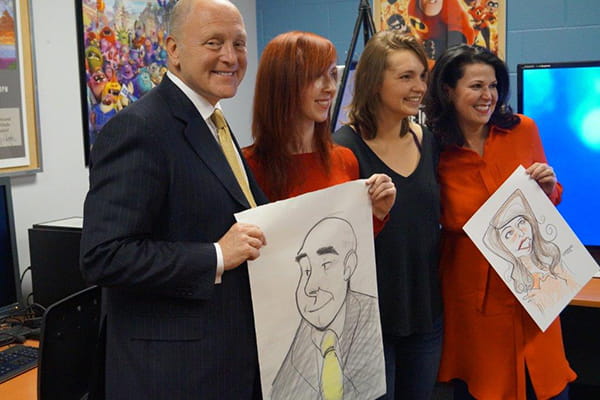 Ambassador Heyman and Mrs. Heyman with students and their caricatures
Their last stop was the Animation Centre, where three student films were screened while two students drew caricatures of Mr. and Mrs. Heyman. They were also given an overview of Sheridan's long history of training top talent for the animation industry, including three alumni who each received Academy Award nominations in 2015 for Best Animated Feature.