David Usher talks creativity at Sheridan
In the latest installment of the Creative Campus series at Sheridan, award-winning musician, entrepreneur and author David Usher presented an entertaining and compelling talk on the creative process.
His key message was that everyone has within them the capacity to be creative. "Although creativity is not a pure and perfect science, there is almost a scientific formula to it – I believe it's a learnable skill."
Usher is a multiplatinum artist who, as a solo artist and frontman for the band Moist, has sold over 1.4 million albums. His company, Cloudid Creativity labs, provides creative consulting for clients like Cirque du Soleil and Deloitte. Usher recently published a book on the creative process, entitled Let the Elephants Run: Unlock Your Creativity and Change Everything.
To Usher, whose career has been focused on creative expression, the creative process involves 95% work and 5% inspiration. "You have to do the work first; the inspiration comes later."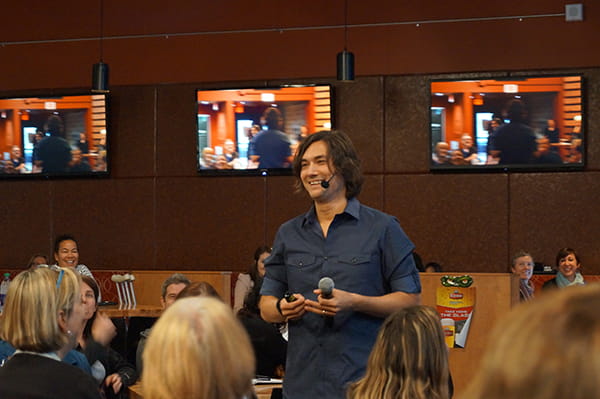 David Usher interacts with the audience at Sheridan
When he starts a new creative project, he summons up his three year-old self – "someone with an open imagination who isn't yet constrained by the rules." Usher allows that there is a place for rules: "they keep us safe, and give us reliable and predictable outcomes." However, creativity requires that we step out of our comfort zone. "We need to break the boundaries of convention and open ourselves up to a world of possibilities – that's where all of the interesting stuff happens."
Usher outlined his own approach to the creative process: "The first step is to stop, open up, look around, then start engaging and collecting ideas." And this is where the 'science' part comes in, "mixing and matching ideas until you get a flash – a moment of creative collision." An example from his own work involved listening to Eminem's 'Stan', then listening to a piece from an opera that a friend was working on. These disparate influences led to a creative epiphany, resulting in an innovative video for his song, "Black Black Heart."
He noted that, when stepping outside of our comfort zone, "we run headlong into the roadblocks to creativity – resistance and fear." In order to be creative, one has to overcome these roadblocks and embrace the risk of creating something new.
Sheridan's Creative Campus Series launched in January 2015, and has featured a selection of distinguished talks by dynamic speakers from a range of disciplinary and professional backgrounds; each installment addresses a subject that is related to creativity and conducive to open interdisciplinary dialogue.