Sheridan engineering team takes first place at IAM3D Challenge
A team of Sheridan students took first place in the re-engineered products category at the IAM3D Challenge held on August 2nd in Boston. Ryan Vieira and Kristoffer Pascual received the award for their work in developing an audible hockey puck for blind and visually impaired athletes. The team was mentored by faculty advisor Dr. Amir Al-Mohammedi.
The puck is designed with internal sound frequency that allows all team members to be aware of the puck's location, and to have more movement and freedom on the ice to fully experience the sport. Vieira and Pascual went through two prototypes before landing on the final design, which was produced in the 3D printing lab at Sheridan.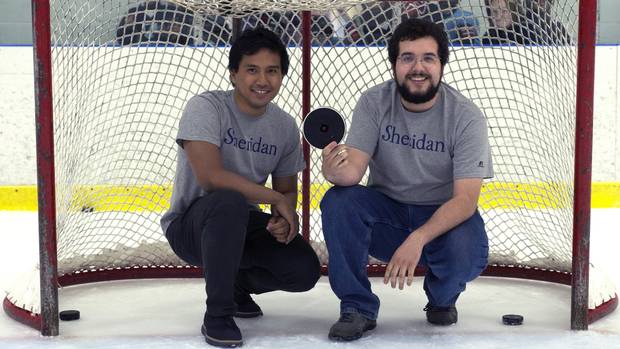 Ryan Vieira and Kristoffer Pascual (photo courtesy of CP)
The IAM3D Challenge is sponsored by the American Society of Mechanical Engineers (ASME). It provides mechanical and multi-disciplinary undergraduate students around the world the opportunity to re-engineer existing products or create new designs that minimize energy consumption and/or improve energy efficiency. Four Sheridan teams were among the 20 finalists in this year's challenge, which also featured competitors from the United States, India, Columbia and Mexico.
Below is a link to a Canadian Press story about the project which received wide circulation ahead of Sunday's competition: