Sheridan professor heads to Brazil for the "Olympics" of Skill Competitions
Craig Brazil, professor and coordinator of the Industrial Mechanical Millwright program at Sheridan, heads to Sao Paulo, Brazil next week to serve as Chief Technical Expert in that discipline at the WorldSkills Competition. The event takes place from August 11-16, and features competitors in a wide range of trades. This is the first time in the competition's 65-year history that industrial mechanic millwrighting will be part of the event.
Craig proudly notes that it was Canada that proposed the addition of Industrial Mechanical Millwright to the WorldSkills competition. "Having the discipline included is validation for the industry, for related training and education programs, and for the thousands of people around the world who choose this career path," he says. Craig has taught at Sheridan for the past 12 years, after working as an industrial mechanical millwright in industry and education for another 20 years.
In an unfortunate twist of fate, Sheridan will not have a student participating in this landmark competition. One of Brazil's students, Graham Mills, won the national championship at Skills Canada in 2014, but exceeds the age limit for WorldSkills. Instead, Peter Lauser, an apprentice at the Southern Alberta Institute of Technology who placed second at Skills Canada, was selected to represent the country at WorldSkills. Earlier this year, Peter visited Sheridan for a three-day intensive program designed for him by Craig Brazil – a clear indication of his passion for Canada to perform well in this inaugural competition.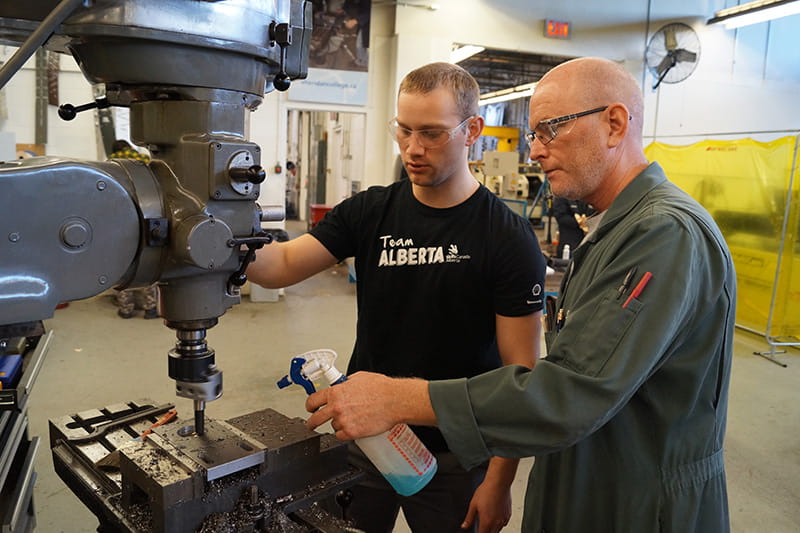 Peter Lauser and Craig Brazil at Sheridan's Skills Training Centre
The WorldSkills Competition occurs every two years and is the biggest vocational education and skills excellence event in the world. The competitors represent the best of their peers and are selected from WorldSkills' member countries and regions.
Among the categories of competition are construction and building technology; creative arts and fashion; information and communication technology; manufacturing and engineering technology; social and personal services; and transportation and logistics. Over 1,000 participants are expected from approximately 53 countries.