Sheridan invests in the future of skilled trades at its Brampton Campus
Sheridan is making a $47.5 million investment at its Davis Campus in Brampton with the construction of a new facility dedicated to the skilled trades. Work began recently on the three-storey, 130,000 sq. ft. building, designed by George Friedman Architect, which is scheduled to open to students in September 2017.
The new building will house 22 flexible classrooms, a learning commons, and dedicated workshops for plumbing, electrician, machining, industrial millwright, welding and construction skills. Special features include a three-storey atrium, skylights in several workshops and the atrium, rugged finishing on the exterior, and two accessible roof areas for outside work.
"The design echoes what will be going on inside it – it's a 'tough' building," said George Friedman. "The design hearkens back to the factories of the industrial revolution, in which structures were exposed and formed the architectural expression, while also meeting the sustainability requirements of modern architecture." Friedman hopes that the building's open design will foster public engagement, as visitors will have clear views into the workshops from above, as well as seeing all of the building systems that are left exposed, including structure, mechanical ducts, plumbing, electrical conduit and IT cabling.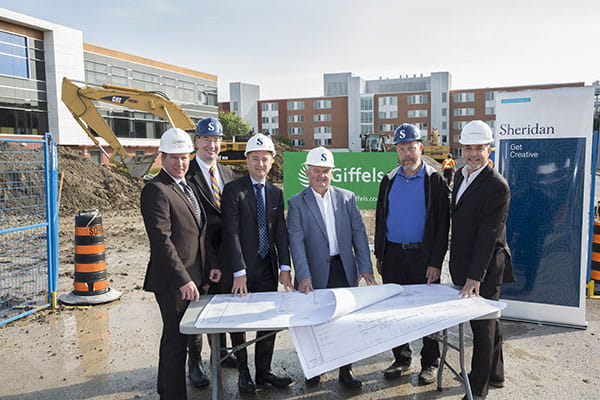 L to R: Greg Ford, Senior Project Manager, Giffels/Westpro; Dr. Ian McNab, Dean, Faculty of Applied Science & Technology; Dr. Jeff Zabudsky, President & CEO; Bryan Dawson, Chair, Board of Governors; George Friedman; Joe Bendici, Director, Project Management, Giffels/Westpro
The opening of the new building will see the relocation of students currently enrolled in trades and apprenticeship programs at the stand-alone Skills Training Centre in Oakville, allowing them to become fully integrated into campus life. Another benefit will be their co-location with Sheridan's engineering programs housed in an adjacent building. "The new space will open up opportunities for collaboration, movement between credentials, and sharing of equipment and resources that will benefit students in both the trades and our engineering programs," said Iain McNab, Dean of the Faculty of Applied Science and Technology.
The building will also house an Energy Centre that will enable Sheridan to introduce district heating and cooling networks that generate electricity and allow for more efficient heating and cooling across multiple buildings on campus. The Centre will have a dual purpose role, serving as a living lab while helping Sheridan reach its energy reduction targets as outlined in its Mission Zero plan.
"This new facility is a strategic investment in the development of our future workforce and the ongoing competitiveness of the west GTA economy," said Dr. Jeff Zabudsky, President and CEO. "It reaffirms our commitment to continue offering a full range of credentials as we pursue our vision to become Sheridan University, while also opening up new pathways to students who may have thought a university education was out of reach."
GIffels Constructors Inc. is managing the building's construction. "This is our fourth major capital building project for Sheridan, and another opportunity for Giffels to realize the college's mission of creating a 'purposeful educational experience in a creative and innovative environment,'" said Greg Ford, Senior Project Manager for Giffels.
Sheridan was recently recognized by Skills Ontario with The Manufacturing Award, a $5,000 scholarship fund which is awarded to the college that shows the greatest dedication to promoting the manufacturing sector based on results at the Ontario Technical Skills Competition (OTSC), which was held in May. Sheridan students brought home four awards from the OTSC, including Gold, Silver and Bronze in Precision Machining, and Gold in the Computer Numerical Control (CNC) category.