Sheridan connections to the TORONTO 2015 Pan Am/Parapan Am Games run wide and deep
From the opening to closing ceremonies of the upcoming TORONTO 2015 Pan Am/Parapan Am games, Sheridan alumni and students will be well-represented – in competition, behind the scenes supporting the athletes' experience, contributing to PANAMANIA, and treating injuries in a wide range of sporting events.
Behind the scenes
Amanda Fleet, a 2005 alumna, is a guiding force for both the opening and closing ceremonies in her role as production coordinator. As a member of the Athlete Advisory Council TORONTO 2015, Warren Sawkiw, a 1999 graduate and former MLB baseball player, is working to provide the best possible experience for the thousands of athletes participating in the games. "We are striving to provide better ways for athletes to communicate with their home country and see the best that Canada has to offer at the same time," he says.
In competition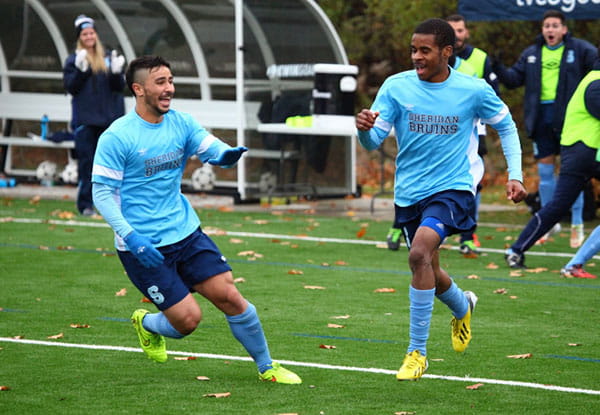 Molham Babouli and Raheem Edwards
Molham Babouli and Raheem Edwards, both Sheridan students and members of the Bruins soccer team, helped lead their team to a Canadian Collegiate Athletic Association national title in 2014, catching the eye of the men's national soccer coach in the process. They will be part of Canada's team when play begins on July 12 vs. Brazil.
Amanda Braddock, a student in the Human Resources post-graduate program, will compete in the 48kg weight class. Amanda solidified her place on the team at the Canadian Championships in May, lifting a 159kg total (71kg snatch and 88kg clean and jerk), and breaking two of her own Ontario records. The Pan Am Games will mark her first international appearance.
Josh Cassidy
Josh Cassidy, a 2009 Illustration graduate, is a two-time Paralympian and Canadian record-holder in wheelchair racing. He will be competing in the 800m, 1500m, and 5000m events at the Parapan Am Games. Josh holds the record for the fastest wheelchair marathon ever, a title he earned at the 2012 Boston Marathon. He was recently featured in Sheridan's alumni magazine, Ovation. Read the full story and watch a video of Josh training.
Joel Dembe is the No. 1 ranked wheelchair tennis player in Canada, and a London 2012 Paralympian. In 2011, he was named Canada's Male Wheelchair Athlete of the Year. Joel graduated from the Marketing Management program in 2008.
PANAMANIA
Meaghan Ogilvie, a 2003 applied photography graduate, is one of 27 distinguished artists commissioned by PANAMANIA, the TORONTO 2015 arts and culture festival. Her series Requiem of Water will be unveiled on July 13 at Toronto's Brookfield Place.
Keeping athletes in the game
Sheridan's renowned Bachelor of Athletic Therapy program has produced countless certified athletic therapists who are dedicated to helping athletes, professional and amateur alike, deal with sports injuries and return to play as soon and safely as possible. Sheridan faculty and alumni have a long tradition of volunteering at the Pan Am and Parapan Games, Olympics, and other international sporting events. TORONTO 2015 is no exception.
Amanda Halls and Nicole DiFilippo are the Director and Manager, respectively, of Sheridan's Athletic Therapy Clinic. Halls will be supporting the outdoor field hockey teams, while DiFilippo will be working with the water polo teams. "It's my first Games of this magnitude," says Halls. "I think it's important to give back to the sporting community that has given me so much." Twenty-five additional Athletic Therapy alumni are lending their expertise to TORONTO 2015, in sports ranging from basketball and baseball, rugby and soccer to equestrian and combat sports, to name a few.
Learn more about Sheridan's participants.
Let the TORONTO 2015 Pan Am/Parapan Am games begin!