Sheridan Achieves 'Silver' STARS Sustainability Rating
Just ahead of Earth Day, Sheridan's continuing efforts to become a zero waste campus and reduce energy and carbon emissions by 2020 has earned the college a "Silver" STARS rating from the Association for the Advancement of Sustainability in Higher Education (AASHE).
AASHE awards Platinum, Gold, Silver, and Bronze ratings to post-secondary institutions that voluntarily report data to the Sustainability Tracking, Assessment & Rating System (STARS). AASHE's STARS program is the most widely recognized framework in the world for publicly reporting comprehensive information about a college or university's sustainability performance in Operations, Academics, Engagement, and Planning & Administration.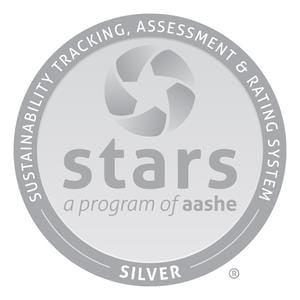 Since our initial campus-wide assessment in 2012, Sheridan has improved from a "Bronze" to a "Silver" rating. Our accomplishment reflects a significant improvement in energy efficiency, waste generated per campus user, and better data tracking.
"The STARS framework provides a sustainability lens through which we gain valuable insights into areas of strength and opportunities for improvement across the organization," said Herb Sinnock, Manager, Sustainable Energy Systems and Manager, Office for Sustainability. "I am pleased to see that Sheridan has gained strength in a number of key categories since our last reporting cycle, and all of us in the Office for Sustainability look forward to working with the Sheridan community to advance even further by the next assessment."
Sheridan's STARS report is available here. For more information about sustainability at Sheridan, visit sustainability.sheridancollege.ca