Author Lawrence Hill draws enthusiastic crowd to launch of Creative Campus Series
Last night, author Lawrence Hill shared his perspective on creativity in a thoughtful and entertaining address to a packed audience at Sheridan's Oakville campus. The event marked the launch of Sheridan's Creative Campus Series. Hill, author of The Book of Negroes, the Winter 2015 selection for Sheridan Reads, spoke on the subject of "Mining Creativity: Perspectives from a Novelist and Screenwriter."
In a wide-ranging talk on the life of a writer and the creative impulse, Hill described his own journey to becoming a successful author, and some of the lessons he has learned along the way. The CBC is currently airing a mini-series based on The Book of Negroes, and Hill spoke about the challenges of adapting his work into a screenplay, such as condensing fifty pages of the book into one minute of screen time.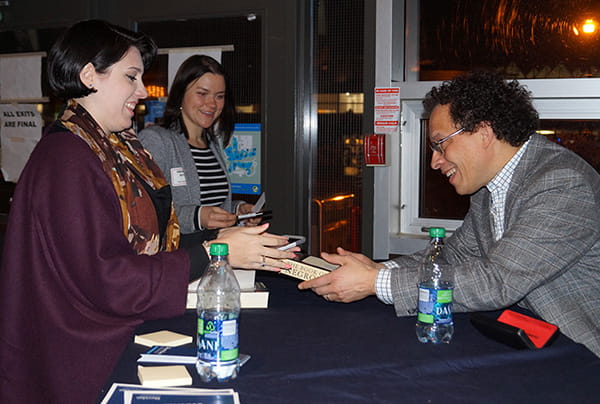 Lawrence Hill signing books at Sheridan College
Monday night's event marked the official launch of Sheridan Reads, the Faculty of Humanities and Social Sciences' signature contribution to Sheridan's Creative Campus initiative. It will bring students, staff and faculty together with community groups, public libraries and service organizations in Mississauga, Oakville and Brampton over the next few months to discuss Hill's book.
A series of planned events will culminate in a "Closing Chapter" on April 8, featuring Lawrence Hill in conversation with Ralph Benmergui about The Book of Negroes. For more information on Sheridan Reads, click here.
Sheridan's Creative Campus Series will host a selection of distinguished talks by dynamic speakers from a range of disciplinary and professional backgrounds; each installment will address a subject that is related to creativity and conducive to open interdisciplinary dialogue. Lawrence Hill's address was the inaugural event in the series.