Animation Awards Cap Off Industry Day
Over 180 animation industry representatives attended Sheridan's annual Animation Industry Day on April 24, seeking to recruit the best new talent from the graduating classes of the Bachelor of Animation program, and the three post-graduate streams in Computer Animation, Digital Visual Effects, and Character Animation. The event concluded with an awards presentation recognizing outstanding student achievement.
For the third year in a row, HP sponsored the People's Choice Awards, this year alongside new co-presenting sponsor, NVIDIA. Selected by popular vote by the animation studio representatives after the screenings of the students' short films, two winners were chosen to receive an HP Z1-G2 All-In-One Workstation with NVIDIA Quadro graphics. Michael Brodie (Digital Character Animation), and Matthew Scott (Bachelor of Animation) received the lionshare of votes to claim these prizes.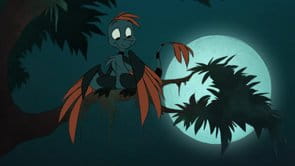 "Feathers" by Matthew Scott
New this year was the Pipeline Studios Excellence & Outstanding Achievement Scholarship, awarded to Alex Henderson who received a cheque for $9,000. Wacom sponsored a Student's Choice Award for Excellence, the winner of which is selected by fellow students in the Bachelor of Animation program. Melissa Lyn received the most votes and was presented with a brand new Wacom Cintiq, valued at $2,000.
"We are most grateful for the generous contributions of our sponsors and industry partners," said Ronni Rosenberg, Dean of the Faculty of Animation, Arts and Design. "Their ongoing support makes a real difference to our students, and is reflective of the strong connections with industry that Sheridan has forged over more than 40 years of animation education excellence."
Other Awards Included:
DreamWorks Scholarship Recipients: Elad Arbel & Winona Janega
Pipeline Studios Awards: Richy Truong, Amal Samuel, Isabella Tse
Guru Studios Awards: Rosemary Travale, Dan Mao, Edlyn Capulong
Mercury Filmworks Award: Ying Hsuan Chen
House of Cool, "Too Cool for School" Award: Jean Liang
Nelvana Awards: Tyler Novo, Puika Wong, Jiani Cao
Shaw Media: Media/Journalism Awards – Stanley Chan, Michael Chrobak, Golbahar Khazraei, Colin Lepper, Elad Arbel
Wacom Student's Choice Award for Excellence: Melissa Lyn
Arc Productions Award: Michael Brodie
Nerd Corps Entertainment Award: Stacy Maynard
DHX Media Awards: Matthew Scott, Dan Mao
About Sheridan:
Sheridan's Faculty of Animation, Arts and Design is the largest arts school in Canada. The wide range of programming – from animation to gaming, illustration to music theatre, and photography to crafts and design – results in a dynamic and stimulating learning environment. Sheridan is also vested in making creativity a tangible and defining notion of the College. The aim is to build a new kind of postsecondary institution in Ontario – one that remains focused on undergraduate, applied learning that is strongly connected to fields of practice, but that also meets university accreditation requirements so that graduates have more pathways to continued learning – today's pre-requisite for personal, career, and industry success.