Sheridan's Tech & Trades Career Fair
Date: Nov. 15, 2023
Time: 10:00 a.m. – 2:00 p.m.
Location: Davis Campus, 7899 McLaughlin Road, Brampton (Internal)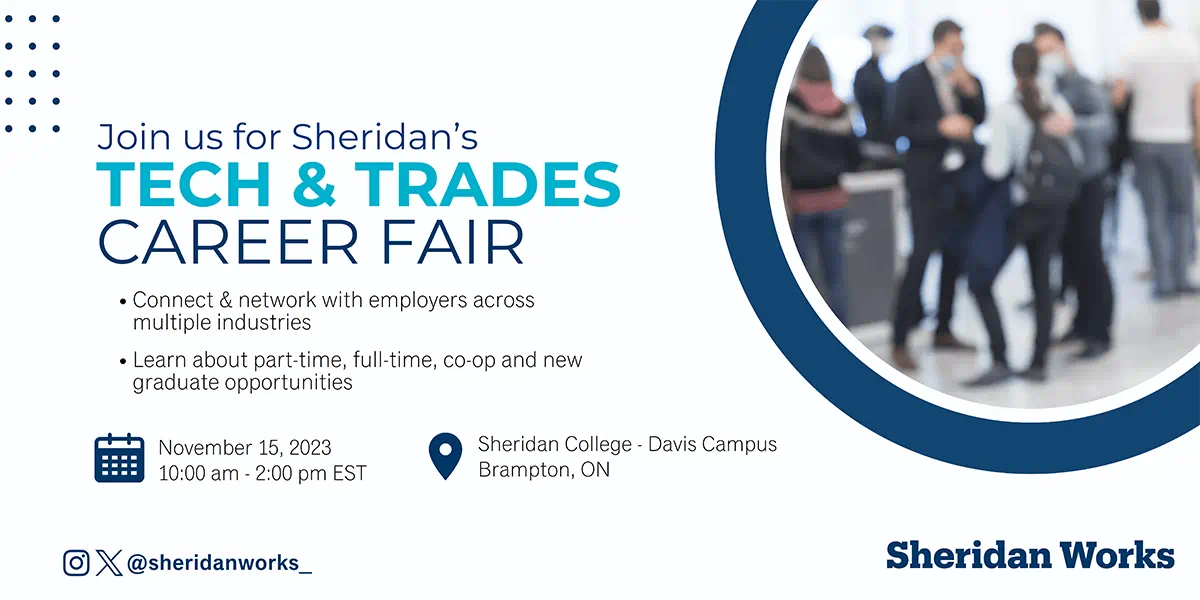 Interested in exploring exciting career opportunities in Applied Computing, Engineering, and Skilled Trades? Join us for Sheridan's Tech & Trades Career Fair on Wednesday, November 15, 2023, from 10 a.m. to 2 p.m. ET!
Why should you attend?
Engage directly with leading industry employers at their booths.
Discover a range of opportunities, including part-time, full-time, co-op/internship, and new graduate positions.
Promote yourself and make lasting impressions on potential employers.
Professional headshots: Take advantage of the opportunity to get a professional headshot taken for your professional profile.
Prizes: Tap your onecard upon entry to the event for a chance to win exciting prizes in our exclusive draw!
This is a great opportunity for students to connect directly with leading employers in the tech and trades industries. Hope to see you there!
Date: Wednesday, November 15, 2023
Time: 10 a.m.–2 p.m.
Location: Davis Campus, 7899 McLaughlin Road, Brampton
---
FREE professional headshots with HireUp!
Are you in need of a fresh, professional headshot to enhance your resume and portfolio? We are excited to announce that HireUp will be partnering with us to offer students complimentary professional headshots and video resumes.
Don't miss out! How to register:
Sign up to create your free HireUp account. By doing so, you'll automatically be registered for the event.
Confirm your email address post-signup to secure your registration.
---
Need some Career Fair prep?
Register to attend the Virtual Career Chat – Career Fair Prep Session:
Date: November 8, 2023
Time: 12–1 p.m.
Register for the Virtual Career Chat – Career Fair Prep Session
---
Participating employers & organizations
A.W. Hooker Associates
Acronym Solutions Inc.
Amhil North America
BFC Technologies Inc.
Bora Pharmaceuticals
Brampton Venture Zone by TMU
CAE Inc.
Convergint Technologies Ltd.
Crown Lift Trucks
Dream Legacy
Euna Solutions Inc.
Evertz Microsystems
Express Scripts Canada
FGF Brands
Futurpreneur
GAV Management
Hatch
Heddle Shipyards
Holman
IPEX by Aliaxis
Kenaidan Contracting Ltd.
Kinectrics
Labatt Brewing Company
Lifeline Fire Protection
Linamar Corporation
Lynch USA
Magellan Aerospace Limited
Magna International
Mars, Incorporated
Naryan Technologies
NWI Precision
Peel Regional Police
PreCon Precast Limited
Public Service Commission
Real Alloy Canada
Rogers Communications
Rolark Stainless Steel Inc.
S&C Electric Company Ltd.
Schaeffler Group
Sobeys Inc.
Southwire
StackTeck Systems Ltd.
StorageVault Canada
TigerCat Industries
WIOSS Canada Corporation
Wolseley Inc.
Stay Tuned: To learn more about the opportunities available with these participating employers, be sure to register for the event.