Experience the wonder of Canada in miniature at Little Canada
Date: Aug. 13, 2023
Time: 11:00 a.m. – 12:30 p.m.
Location: Off-campus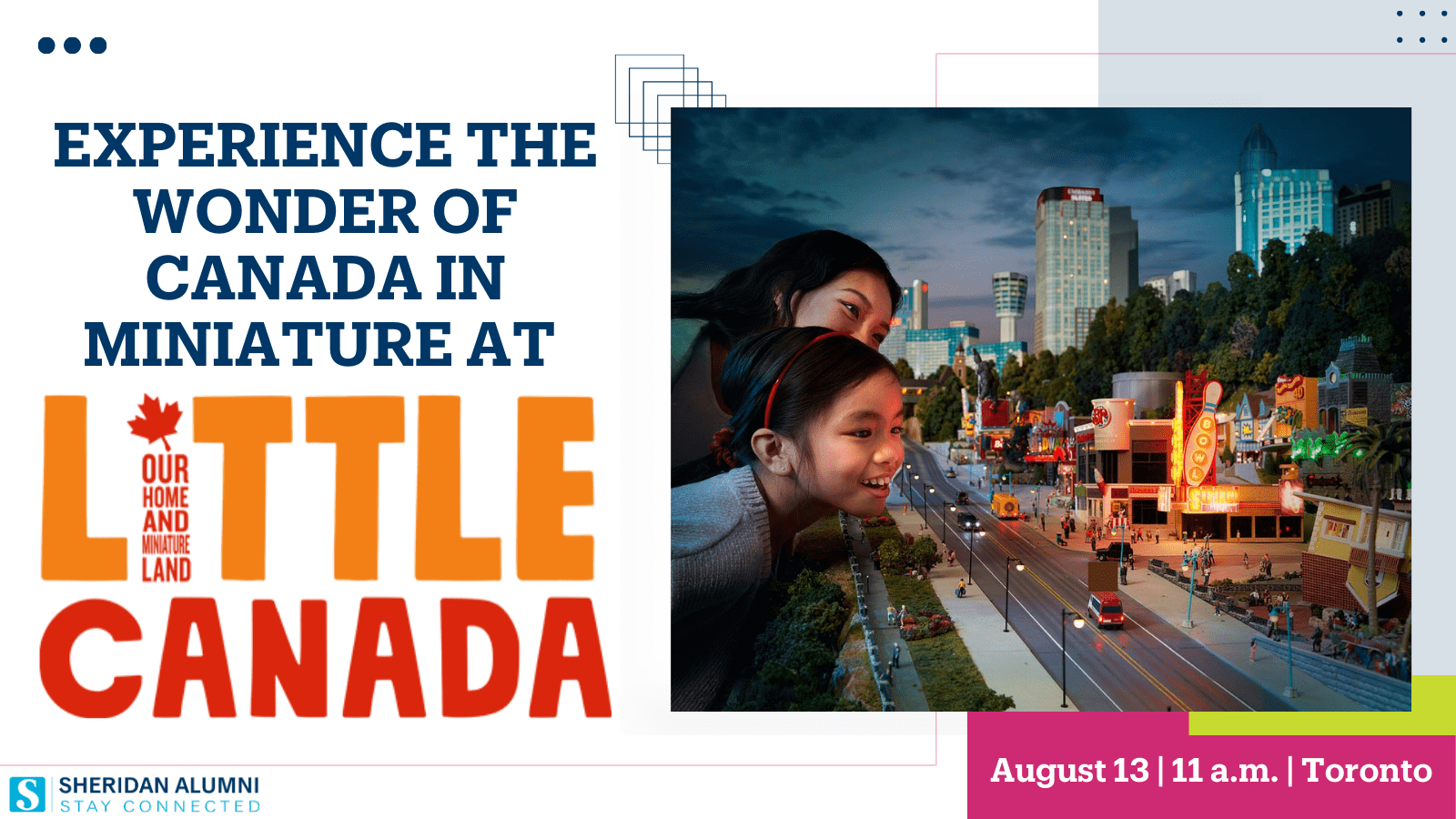 Join us on August 13 for a celebration of all things Canada at Little Canada, a unique Toronto attraction that will unleash your childlike sense of wonder, discovery, and curiosity.
On a self-guided exploration through Little Canada's miniature destinations, you will discover the vastness of the country, its stories, history, culture and what makes it special. The average time to explore Little Canada is approximately 90 minutes.
Date: August 13, 2023
Time: 11:00 a.m.
Location: Little Canada, 10 Dundas St. East (lower level), directly across the street from Yonge-Dundas Square.
Ticket Prices:
Adults (13+): $20
Child (4 – 12): $15
Deadline to purchase tickets is August 10, 2023.
Please be advised transportation is not provided for this event. View information on parking and directions.
For more information, please contact Allisha Seguire at allisha.seguire@sheridancollege.ca
Here are some of the highlights for visitors of all ages:
You will begin your journey in Little Niagara. The sound of Horseshoe Falls' cascading waters will draw you further in as you suddenly find yourself standing in the centre of this 50- ft wide majestic waterfall.
Little Toronto's CN Tower rises approximately 5 metres above the ground. Learn why it should be even taller in our miniature world! While there, try and spot our daring little EdgeWalkers.
Little Canada is brought to life through the use of animation – with cyclists pedalling along the Rideau Canal, autonomous cars zipping down highway 401, trains whizzing through Toronto and the GTA, and tiny gondolas carrying skiers to the top of Mont St. Anne, it's a moving miniature metropolis.
Little Canada's Parliament buildings are an exact replica of those in our nation's capital, thanks to the architectural plans provided by the Government of Canada. Our Parliament Hill took over 3,000 hours to complete with every individual brick painted by hand.
Travel through the beautiful sites of La Belle province. The historic walled city of Quebec, a UNESCO world heritage site and the only fortified city north of Mexico, is known for its rich culture and history, and for hosting the world famous Carnaval.
See our little destinations come to life with a behind-the-scenes look into the Miniature Makers studio. Watch as our makers build and bring to life the structures, stories and landscapes that tell Little Canada's story.