Sheridan graduate Craig Henighan wins two Emmys for Netflix's Stranger Things
Sheridan graduate Craig Henighan (Media Arts '95) continues to blaze a trail of success at the Primetime Emmys, winning two awards this year for his work on Netfilx's science-fiction drama series Stranger Things: one for Outstanding Sound Editing for a Comedy or Drama Series (One Hour), and another for Outstanding Sound Mixing for a Comedy or Drama Series (One Hour).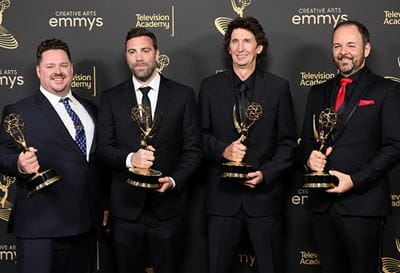 Henighan had also been nominated for sound editing for his work on Love, Death + Robots. He was one of three Sheridan graduates to receive an Emmy nod this year.
The awards, presented during the Creative Arts Emmy Awards ceremony on September 4, bring the number of Emmys Henighan has received up to six: he has won awards in 2021, 2020, 2018 and 2017. Henighan was also nominated for an Oscar in 2019 for his work in Roma. He has worked on dozens of feature films throughout his career, including the critically acclaimed Black Swan, as well as Deadpool, 13th, and Hidden Figures.
"Craig has made us proud once again. His six Emmys are a validation of his skills and his continuous search for excellence. He sets an excellent example for our students and graduates as a role model," says Sheridan President and Vice Chancellor Dr. Janet Morrison.
Sheridan's award-winning alumni from the Faculty of Animation, Arts and Design have a long history of success at the Emmys and in other top awards competitions including the Oscars and Canadian Screen Awards.
---
Pictured above (left to right): Will Files, Mark Paterson, Craig Henighan and Michael P. Clark, winners of the Outstanding Sound Mixing for a Comedy or Drama Series (One Hour) award for Stranger Things attend the 2022 Creative Arts Emmys at Microsoft Theater on September 04, 2022 in Los Angeles, California. (Photo: Getty Images).