Innovation in action: Sheridan's research and incubation centres yield diverse, cutting-edge projects
Research that provides relevant and innovative solutions in our communities with the expertise of faculty and their students is the formula that's led to Sheridan's numerous successful collaborations across its six Research and Incubation Centres. From mobile computing, advanced manufacturing and screen industries, to elder research, entrepreneurship and musical theatre development, Sheridan's research potential is diverse and its impact far-reaching.
Below you'll learn about one project from each centre that has helped put Sheridan on the map as a destination for exceptional research.
Exploring Virtual Reality (VR) in long-term care homes to enhance residents' emotional health and well-being | Centre for Elder Research (CER)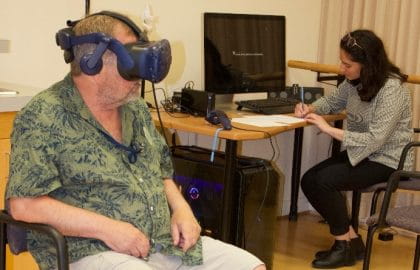 Take in the tranquility of Lake Louise in the Canadian Rockies, look out from the Brant Street Pier in Burlington, Ontario or behold the power of the Niagara Falls. These are a sampling of the experiences that were filmed for use in a VR project designed for use in long-term care homes in development by a team at Sheridan's CER.
Bringing the experience of travel to older adults who may be experiencing physical, sensory or cognitive challenges offers a renewed sense of connection to familiar and new locations through immersive VR technology. With the support of the CER's Director, Dr. Lia Tsotsos, who received a NSERC grant for the project, and a team of multidisciplinary student researchers, the project is now in the pilot testing phase.
Feedback from community and industry partners on the grant, Acclaim Health and Sienna Senior Living, has been positive so far. Older adults with chronic pain report not noticing their pain during the experience (indicating that VR may be a type of distraction therapy), and staff have reported increased resident engagement, which they hope will lead to improved quality of life.
A nine-year-old dachshund from Pennsylvania named Patches had a brain tumour the size of an orange protruding from her forehead. Veterinary staff overseeing the surgery projected that removing it would leave a hole in 70 percent of her skull.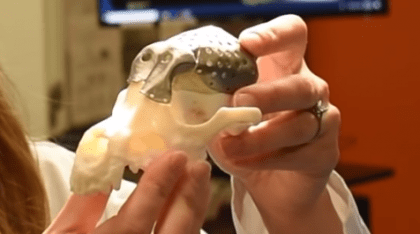 In preparation for the surgery, Dr. John Phillips, a research lead at Sheridan's CAMDT, printed a 3D plastic model of Patches' skull that allowed surgeons at Cornell University and the University of Guelph to prepare for the procedure – the first of its kind in North America. Dr. Phillips was also able to use Patches' medical imaging data to design and 3D print a custom-fit steel plate that was implanted after the tumor was removed.
Patches survived the surgery. This isn't the first time Sheridan's CAMDT facilities and its team's expertise have been used for medical-related applications. Previously, its additive manufacturing capabilities were used in the creation of a prosthetic device for a man with atrophied muscles in his right hand.
Learn more about Patches the dog's medical procedure via the Globe and Mail.
The Clinic of the Future aims to revolutionize in-hospital care for patients | Centre for Mobile Innovation (CMI)
Student and faculty researchers at Sheridan's CMI are working on a future-forward clinic that breaks down barriers to patient data by moving from a siloed to an integrated approach. In practice, a doctor would use a Microsoft HoloLens to view a patient's real-time vital signs, bloodwork and imaging results as well as their medical history including medications and allergies. All would project overtop their hospital bed using mixed reality. The 'Clinic of the Future' as Sheridan Professor Magdin Stoica coined it, is being developed in partnership with Cloud DX – a wearable technology company based in Kitchener, Ontario.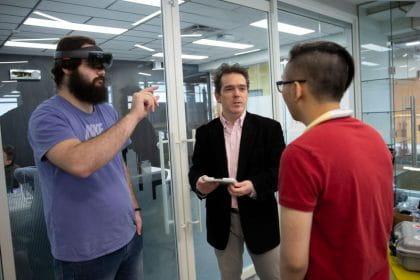 Cloud DX's VITALITI monitor, which can take nine different measurements through one, non-invasive wearable, is the hardware at the heart of the project. Paired with Sheridan expertise in virtual and augmented reality, the research team is catching the attention of healthcare experts and media, featuring at conferences across Canada and on Discovery Channel's show Daily Planet.
Learn more about the Clinic of the Future.
Tony Award-winning musical Come From Away touches hearts around the world | Canadian Music Theatre Project (CMTP)
Sheridan has deep connections to the heart-warming musical, Come From Away, that's based on the inspiring stories of generosity that emerged from Gander, Newfoundland and surrounding towns when U.S. airspace closed on 9/11.
Michael Rubinoff, Producing Artistic Director of CMTP, is responsible for bringing the concept for what would become Come From Away to its Canadian composer and lyricist, Irene Sankoff and David Hein. The musical was first workshopped through Sheridan's CMTP in 2012 and made its way to Broadway only five years later. In addition to its long-standing residency in New York City, it's being staged in Toronto, Australia, the UK and is on a North American Tour. In 2020, the musical will land in Shanghai, China.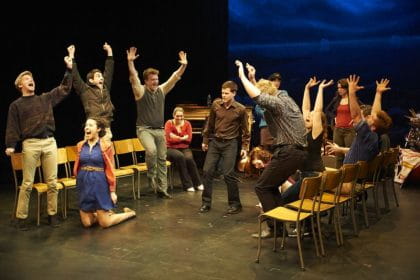 Come From Away has been critically acclaimed around the world and is the recipient of multiple accolades. In 2017, it received seven Tony Award nominations and won for Best Direction. With a producing credit on the show, Sheridan became the first postsecondary institution in history to receive a Tony nomination. It's also the first Canadian show to win the UK's Laurence Olivier Award for Best New Musical.
A Sheridan-supported documentary film about the true stories that inspired the musical called You Are Here: A Come From Away Story was screened in 800 theatres across the U.S. on Sept. 11, 2019. Clips from the Sheridan staging of the musical were included in the film. A movie based on the musical is also in development.
Read more about Sheridan's connections to Come From Away.
Sheridan EDGE client Emil Sylvester Ramos and his family emigrated to Canada from the Philippines in 2017. When he arrived, he was surprised by the poor condition of the roads, something he expected to be well-maintained in a developed country.
This observation set his entrepreneurial mind in motion, motivating him to research road maintenance regulations and practices in and around Oakville. What he found was that many municipalities rely on manual processes to track and repair road deficiencies. Meanwhile, those same roads are driven daily by city-owned vehicles like waste collection trucks and buses. He devised a technology-focused solution that would bridge the two.
With the support of EDGE's business and social enterprise mentors, network of supports and co-working space, Ramos and partners of IRIS R&D Group Inc. – a privacy-centric Smart Cities solutions company – launched the iPORT™ Dash cam. It integrates artificial intelligence and deep learning to detect road deficiencies and collects actionable data that helps cities prioritize work and cuts maintenance patrol costs in half. It's currently being implemented in three municipalities in Ontario.
Learn more about IRIS R&D Group and its iPORT™ Dash cam.
SIRT collaborated with industry partner SPXTRM AI in support of its autonomous monitoring system for aiding caregivers of older adults. Its system continuously scans patients' rooms for aberrant conditions, actions or behaviours that often go unwitnessed and may cause harm. This includes slips and falls, difficulties getting in and out of bed, and negative interactions between patients and healthcare workers.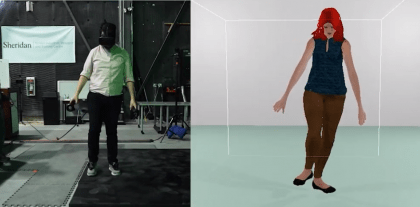 Prior to connecting with SIRT, SPXTRM AI's system functioned at 60% accuracy for triggering appropriate alerts. Using SIRT's virtual production and motion capture technology, Jason Hunter and the team were able to generate and multiply actions from numerous vantage points. The videos SIRT created were tested against SPXTRM AI's deep learning model with great success. This method reduced both cost and time, while increasing the system's accuracy to 97%.
To respect patients' privacy with this continuous monitoring framework, only events identified as high-risk are encrypted and securely stored within the system.
Learn more about the Sheridan SIRT team behind this project and how it came together.
---
---
Pictured above: Virtual reality image of Lake Louise from the Sheridan Centre for Elder Research project.
Story written by: Keiko Kataoka, Manager, Communications and Public Relations at Sheridan with contributions from Debbie Silva, Research Communications Officer.