From classmates to collaborators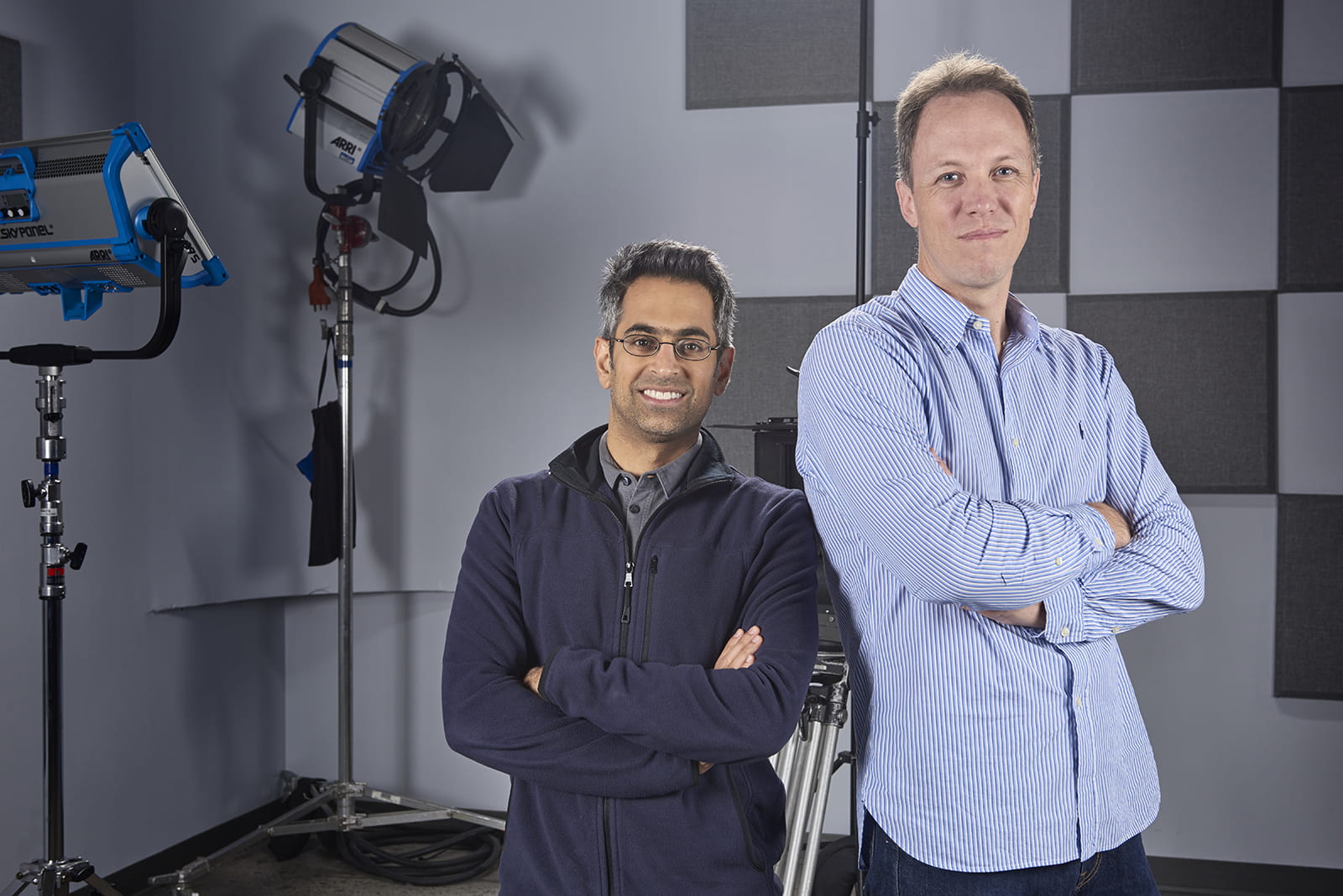 Richie Mehta and Steven Bray have nearly 20 years of film experience under their belts.
But when they enter an old classroom at Sheridan's Trafalgar campus, it's as if barely a day has passed since they were students.
Mehta quickly points out a corner where he napped between classes, while Bray vividly recalls late nights in the campus editing labs.
Today, Mehta is an award-winning writer and director, known for giving a voice to those who are unable to speak for themselves. Bray, a seasoned producer, helms his own commercial production company, creating content that spans across all genres.
Although the pair now live on different continents— Mehta in London, UK, and Bray in Brampton, Ont. — they're still connected through the friendship they formed as Sheridan students, along with the films produced through Poor Man's Productions, the company they co-founded shortly after graduation. Poor Man's is the company behind Mehta's award-winning films Amal (2003) and Siddharth (2007).
READ: Learn more about how a prophetic encounter with an auto-rickshaw driver led Richie Mehta to create Siddharth
Most recently, Bray worked with Mehta on Netflix's Delhi Crime — a seven-part series that delves into the details of the 2012 police investigation of the brutal gang rape of 23-year-old Jyoti Singh on a private bus. Mehta is the creator, writer and director, while Bray served as associate producer. The duo returned to campus in October to screen the pilot episode and share insights into the series' production process with an audience of students and aspiring filmmakers.
Mehta began working on Delhi Crime six years ago, when he was approached by a family friend to revisit the news story. Initially, he was wary of the project and its sensitive subject matter. But as he explored the case and chatted with police officers involved, he began to see how the series could explore larger issues of under-resourced law enforcement and corruption in India.
"There were documentaries made within six months to a year after the event, but they were generally interviewed based…and they were very angry. It was a knee-jerk emotional reaction, and justifiably so," Mehta explained to students. "I realized that nothing had been put out there from the specific perspective of officers or female police officers – enforcement that wasn't corrupt, and who were trying to do the right thing – whose processes were handicapped because of the system they're in."
Mehta immersed himself in Delhi for the series, spending years researching and interviewing the individuals involved in the crime. He brought the finished product to the Sundance Film Festival in January 2019, where it was picked up by Netflix.
Delhi Crime debuted in March to critical claim, winning six awards at the most recent Asian Academy Awards. Mehta also earned an outstanding achievement award at the London Indian Film Festival in July.
But he emphasizes that Delhi Crime is not the kind of show you make looking for accolades.
"It's a passion project that I made, not because it was a story I wanted to tell, but because it was a story I felt compelled to tell. I've heard it's been effective in its intention," he says. "I've been amazed that a lot of people seem to be watching it, and watching it quickly. It seems to be resonating with people."
Bray says he was excited to work on a project with such impact. The duo hadn't produced a project together in six years, pursuing independent projects while managing Poor Man's from different parts of the world. Mehta had moved to London, directing documentaries such as India in a Day, while Bray formed several other production companies, creating content including commercials, branded films, travel series and animation.
"When you work with someone like Richie, he lives and breathes for what he's doing," says Bray. "And I think that's one of the things that makes us work well together. When we're in a project, we're all in. We give our lives to it."
Learn more about Sheridan's Advanced Television and Film Program
Mehta and Bray first connected while studying at Sheridan. Bray was in search of an editor to help sift through footage he had collected for a student film during a trip to Cambodia.
A professor invited Bray to pitch the project to one of his editing classes to see if any students were interested: Mehta raised his hand.
"Delhi Crime was bigger than anything Steve or I have done individually, but I trust him and his abilities as much as I trust myself. We established that discipline here, at Sheridan, when the stakes were at their lowest. Now, working together on different projects, I know that we're each going to put in the same effort to make sure we create a product we believe in."
The pair spent the following months devoting nights and weekends to the project and became close friends while honing their crafts. After graduation, they pitched films to festivals and hand-mailed DVDs and VHS copies to potential financiers.
"We were learning how to sell ourselves," Bray recalls. "We were in our early twenties and learning how to get money to make a film — we did it all from the ground up."
In the years that followed, Mehta and Bray went on to pursue other projects. But when Delhi Crime came around, Mehta wanted trusted professionals at each stage of production. He tasked Bray with the post-production work on the series, under the Poor Man's label, confident that he could deliver quality the projected deserved. Throughout production, Mehta would shoot and direct from Delhi, sending all the raw footage to Bray, who would manage the post-production edit, sound and picture team from his Brampton office.
"Delhi Crime was bigger than anything Steve or I have done individually, but I trust him and his abilities as much as I trust myself," says Mehta. "We established our discipline here, at Sheridan, when the stakes were at their lowest. Now, working together on different projects, I know that we're each going to put in the same effort to make sure we create a product we believe in."