Career Catalyst Portfolio helping students identify strengths, showcase experience to employers
Since going live last fall, the Sheridan Works Career Catalyst Portfolio (CCP) has already enabled more than 30,000 Sheridan students and alumni to create an experiential learning record that helps them stand out in a dynamic, ever-evolving and competitive job market.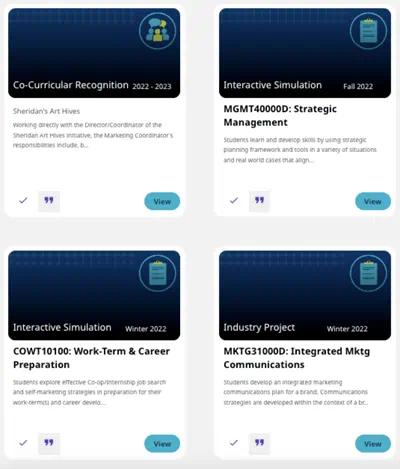 The CCP provides a validated and holistic summary of experiences, skills and competencies gained through course-integrated experiential learning (EL), work-integrated learning (WIL) and co-curricular recognition (CCR) participation during an individual's time at Sheridan. An embedded reflection tool helps students identify their career catalysts (otherwise known as employability or transferable skills) and the portfolios can be used to prepare for interviews and networking events, build out resumes, enhance LinkedIn profiles and more. The CCP also provides an additional avenue for students to explore their S-Sense, Sheridan's new signature learning model that develops abilities to Think, Relate, Innovate and Evolve (T.R.I.E.) when faced with challenge, uncertainty and complexity.
"Experiential learning is a fundamental component of higher education, equipping students with hands-on learning experiences as they pursue their academic journey," says Joanne Islip, Interim Director, Career-Integrated Learning. "The CCP showcases the depth and breadth of knowledge, skills, tools and self-awareness that EL, WIL and CCR develop in our graduates, preparing them to take on any challenge and thrive in whichever path they choose."
After just one year, the benefits of the CCP are already apparent to Sheridan students and alumni.
"The Sheridan Works Career Catalyst Portfolio gives me something concrete that I can use to show all the cool experiences I have had at Sheridan to potential employers and members of my professional network," Honours Bachelor of Business Administration – Accounting student Akashdeep Singh says. "With a few simple clicks, I can reflect on the value of these experiences as they relate to my career goals, share my portfolio of experiences or add it to my LinkedIn profile, helping potential employers see what I have to offer and how I could be an asset to them."
"It is a perfect tool for us students to showcase all the hands-on learning and skills we've gained from our courses, field placements or other work-integrated learning and co-curricular recognition activities," adds Early Childhood Education graduate Bianca Urena De Oleo. "It's a great way to stand out and show the valuable contributions we can make."
Sheridan Works is a robust experiential learning platform where Sheridan students and alumni can engage with employers in a variety of career-integrated and job-related activities or interact with Sheridan Career-Integrated Learning team members. In addition to the CCP, Sheridan Works features a career services job board; listings of co-curricular activities and career-related events; bookings for virtual appointments with employment consultants, career counsellors, co-op and co-curricular staff; field placement activities; and opportunities for co-ops, internships and job interviews.
Sheridan has an extensive history of supporting students with opportunities to explore their strengths and career aspirations, experience and practice their skills, and connect with employers and new networks. All of Sheridan's full-time programs include some form of experiential learning, and more than 2,500 students gain work experience through co-op or internship work-terms each academic year. In March, JJ van Goozen (Honours Bachelor of Applied Health Sciences — Athletic Therapy) received a WIL Student of the Year award from Cooperative Education and Work-Integrated Learning Canada (CEWIL), marking the eighth time in 11 years that a Sheridan student has been nationally recognized by CEWIL.