Seven alumni vie for Ontario Premier's Awards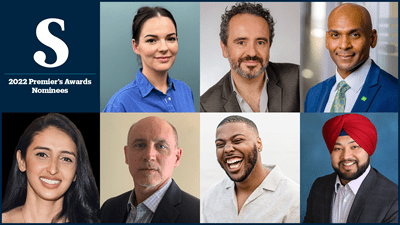 Seven Sheridan graduates, who have distinguished themselves with their contributions to the arts, community services, health sciences, business, and technology, have been nominated for the prestigious 2022 Premier's Awards.

The annual awards, to be announced at a gala in Toronto on November 28, were launched in 1992 by Colleges Ontario, and celebrate college alumni by recognizing one winner in each of the competition's categories. Sheridan alumni have taken home the prize 18 times. This year, Sheridan's nominees are:

• In the Recent Graduate category, Akil McKenzie (Bachelor of Film and Television '18) has been nominated for becoming a voice for anti-Black racism. McKenzie launched his production company, Falling Motion, during his last year at Sheridan. In 2020, as a response to the killing of George Floyd, he penned Historians, a spoken word poem that he then turned into a documentary. Historians has been viewed more than 40,000 times on Instagram, 2,700 times on YouTube, received coverage on CBC's The National news and won Best Social Justice Film at the Vancouver Independent Film Festival.

• In the Business category, Al Ramsay (Marketing '97), Vice President and head of LGBTQ2+ and Black Customer Segments at TD Bank, has been nominated for his work to promote equity and diversity in the community. In 2021, Ramsay was celebrated by Start Proud, the Harry Jerome Awards and the Black Coalition for AIDS Prevention for his advocacy on behalf of the Black and LGBTQ2+ communities.

• In the Creative Arts & Design category, Frank Falcone (Computer Animation '92) has been nominated for driving content creation in Canada's animation community. Falcone is the President and Creative Director of Toronto-based Guru Studio and the talent behind top-animated children's series including Paw Patrol, True and the Rainbow Kingdom, Pikwik Pack and Ever After High.

• In the technology category, Hargurdeep Singh (Mechanical Engineering Technology '15), Vice President of Additive Manufacturing at CAD MicroSolutions Inc., has been nominated for successfully using 3D printing for versatile problem solving. During the pandemic, Singh created face shields and ventilator splitters and made his designs for both products available online for anyone to use to meet the demand in their own communities.

• In the apprenticeship category, Kandise MacLeod (Welding Techniques '11) has been nominated for being a trailblazer who is inspiring more women to enter the skilled trades. In 2014, Barron was named to Sandvik Coromat's list of Top 20 Under 40 in the metalworking industry. She is now working on the refurbishment of the Darlington Nuclear plant as supervisor of the radiation protection coordinators at Ontario Power Generation.

• In the Community Service category, Ravleen Kaur (Social Service Worker '18) has been nominated for turning around the lives of sexual violence survivors. As Manager, Anti-Human Trafficking Program at SAVIS of Halton, Kaur helps women who are victims of sexual abuse and human trafficking escape from their situations and find new paths forward.

• In the Health Sciences category, Toronto Raptors head athletic therapist Scott McCullough (Sports Injury Management '95) has been nominated for having helped athletes achieve the pinnacle of success over his 24-year-long career. He has been courtside for some high-stress games, including the one on June 13, 2019 when the Raptors made history and won the franchise's first-ever NBA championship.

In addition, comedian, television host and corporate emcee James Cunningham, a 1996 alumnus of Sheridan's Theatre and Drama Studies program, will once again host the awards.
---
Pictured above (left to right, clockwise): Sheridan's 2022 Premier's Awards nominees Kandise Barron, Frank Falcone, Al Ramsay, Hargurdeep Singh, Akil McKenzie, Scott McCullough, Ravleen Kaur