Beyond Black History Month
Mad. Sad. Tired. Akil McKenzie cycles through these emotions again. And again.
It starts during the times when he experiences racism – overtly, or through veiled comments and gestures – in his own life. Or when he hears news of violence against people of colour, simply because their skin is Black. Last spring, when George Floyd was killed in Minneapolis, the cycle began spinning feverishly, and McKenzie needed an outlet.
He began to write, turning his anguish into Historians, a powerful spoken-word poem that poignantly captures the experience of anti-Black racism. Each stanza bleeds the experience of being Black: "of part-time warriors but full-time historians/ because the names of our deceased – brothers, fathers, sons, cousins, uncles, neighbours / they're sizzled into our brains and ingrained into the doorknob anytime we think to go outside."
In early June, McKenzie (Bachelor of Film and Television '18) recorded a performance of Historians and posted it on his Instagram page. He saw it as way to share his catharsis with family and friends. It's since been viewed more than 4,700 times.
When his friend and colleague Fabio Buritica came across it, he encouraged McKenzie to make Historians into a film. More artists soon came on board. Over the latter part of 2020, McKenzie and his team, including over a dozen fellow alumni and current Sheridan students, turned Historians into a four-minute film that weaves the poem together with dance, music, and photography to create a passionate call against injustice.
In making the film, McKenzie realized that Historians had grown into a political statement – one that relies on carefully respecting and honouring the Black men and women who have fallen to violence. As he edited, McKenzie also saw Black History Month approaching in February, and without the usual in-person celebrations, he realized Historians could fill a void in educating audiences and maintaining the momentum of the Black Lives Matter movement.
"The editing process is where it weighed the most on my own mental health, because … it's just me and this footage and I'm looking at it every day thinking about what it means to me as I'm cutting it," he recalls. "I was thinking: how can this be taken from anyone's perspective, from someone who's unknowing, or someone who really knows about it. Is this giving proper respect and doing justice to those who have fallen, or the family members of those who have fallen?"
He seems to have hit the mark. Since it's public release in early February, Historians has been viewed more than 40,000 times on Instagram, 2,700 times on YouTube, received coverage on CBC's The National news and won Best Social Justice Film at the Vancouver Independent Film Festival. It has given McKenzie a platform to share his call for an end to anti-Black racism with multiple audiences including high school students, community groups, and, in late February, he screened the film for Sheridan students.
McKenzie acknowledges that suddenly finding himself in the position of describing the pain Black individuals live though is tough on his mental health. But after he made the film, he realized he had a unique opportunity to educate and help people of all races learn more about anti-Black racism and the ways they can work to end it.
"When I originally wrote (Historians), I felt like people thought (racism) was happening a lot (in the U.S.), but they don't realize that it's happening to someone they know as well," he says. "That opens up the conversation, allows you to kind of think of it differently and makes you want to go look at it more."
While Historians is arguably the work that's introduced him to the most varied audiences, McKenzie has already built success in his young career. As the Founder and Chief Executive Officer of Falling Motion, he's worked for a variety of clients: he's created music videos with budgets up to $40,000, and made corporate videos for companies including Nike and Lexus.
He credits Sheridan with supporting him in his early success. He launched Falling Motion during his last year in BFTV and often balanced assignments alongside deadlines for paying clients, something he was grateful his professors supported. That hands-on experience embodied what he was expecting when he chose Sheridan to study.
"It really seemed like a space where there was foundation for the opportunity to learn my art and my craft outside of just the idea of how to make a film," he recalls. "I saw Sheridan would give me the opportunity to use the camera, to learn the camera. I figured that would be more important to me, for the field that I was going into, and also being an entrepreneur and creating a business."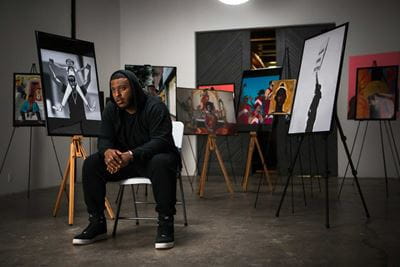 Sheridan also opened his eyes to new ways of filmmaking. Before entering BFTV, he always thought of documentaries as a bit boring. Watching them as a student opened his eyes to the passion they can reveal when the subject matter lies close to the filmmaker's heart. In his third-year, he directed a documentary called PG: Racial Discretion is Advised, which conveyed just such a story, exploring prejudices those in interracial relationships face in their own families.
"During his time in BFTV, Akil directed a number of impressive student films. The BFTV program is competitive so not all students get the opportunity to direct," says BFTV professor Kathleen Cummins, who taught McKenzie in three courses. "Akil not only had talent, he also possessed a great attitude and incredible interpersonal skills, essential for success in film and television."
The editing process is where it weighed the most on my own mental health. I was thinking: is this giving proper respect and doing justice to those who have fallen, or the family members of those who have fallen?
That talent also caught the eye of Sean McNabney, Dean of the Faculty of Social Sciences. When members of the Canadian Caribbean Association of Halton (CCAH) approached McNabney for help creating a video time capsule to capture the experiences of Halton's Black community members, McNabney reached out to McKenzie, and Legacy Voices was born.
Over the course of the film, members of the Caribbean community reflect on moving to Halton and the challenges they faced. McKenzie was inspired to tell their story of overcoming racism and adversity, and their commitment to building better lives for their children.
That feeling of hope for a better future is something McKenzie senses is building more broadly. As he embraces the exposure Historians has given him, he sees a wave of change washing in as more and more people of all races acknowledge and speak out against anti-Black racism.
He believes Historians can be a part of that movement, and help drive change forward. The final frames of the film bring together smiles, laughter and upbeat dancing, signaling a changing narrative. One that McKenzie looks forward to, so that next time he picks up his pen, the emotions swirling inside his mind will have a new refrain: Change. Is. Coming.