Sheridan's research teams driving innovative health technologies with key partners in industry and community
Sonia Sidhu, Member of Parliament for Brampton-South, announced the funding at Sheridan's Davis Campus in Brampton together with Brampton City Councillor, Jeff Bowman
Sheridan has been awarded a $900,000 grant to support the development of mobile health and machine learning innovations in health care delivery.

Sonia Sidhu, Member of Parliament for Brampton-South, visited Sheridan's Davis Campus in Brampton on May 6 to announce the funding on behalf of the federal government. She was joined by Brampton City Councillor, Jeff Bowman; Dr. Sonny Kohli, Chief Medical Officer, Cloud DX, one of the industry partners who will be engaged in the funded research; Sheridan's President, Dr. Janet Morrison, and Sheridan research leaders.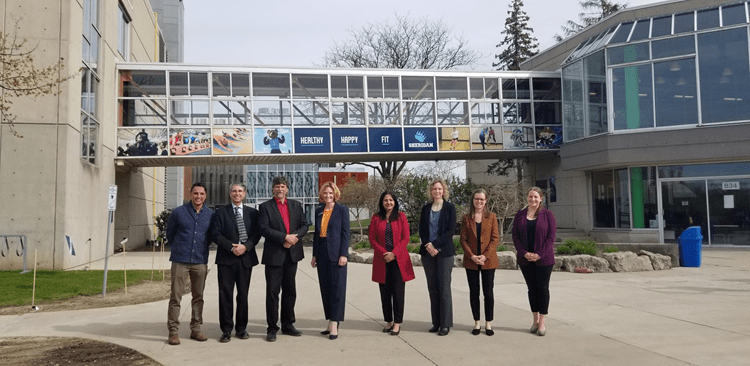 The projects will leverage Sheridan's applied research expertise in advanced manufacturing, health and wellness, and information and communications technology to support three key partners in the improvement of their health care services and products:

Lusens Inc. | Together with Lusens Inc., a Canadian company that designs custom interactive experiences that respond to touch, gesture and body motion, Sheridan researchers will advance the development and commercialization of the company's mobile app for virtual physiotherapy, using 3D body pose estimation based on AI algorithms and machine learning techniques.

LUCID | With LUCID, a Toronto-based company that develops AI-personalized digital musical therapy interventions for outcomes in mental and neuropsychiatric health, researchers will support the user-centered design, development, and usability testing of an app-based music intervention for individuals living with dementia and their care teams, including the development of a cross-platform, cloud-based data visualization tool to display, interpret and share biometric data, intervention use and effects.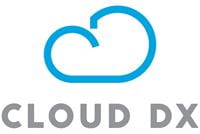 Cloud DX | With Cloud DX, a Kitchener-based remote patient monitoring company which has invented the highly advanced Vitaliti™ Continuous Vital Sign Monitor, the Centres will support integration of machine learning and predictive insights, hardware design and usability testing with the detailed, high-fidelity vital sign measurements produced by the wearable Vitaliti device. Sheridan is continuing its current work with Cloud DX to develop the Clinic of the Future platform, which offers clinicians an advanced mixed reality user interface to display patients' real-time data streams from the Vitaliti, allowing for more rapid and informed decision-making by medical staff within the upcoming "Medical Metaverse."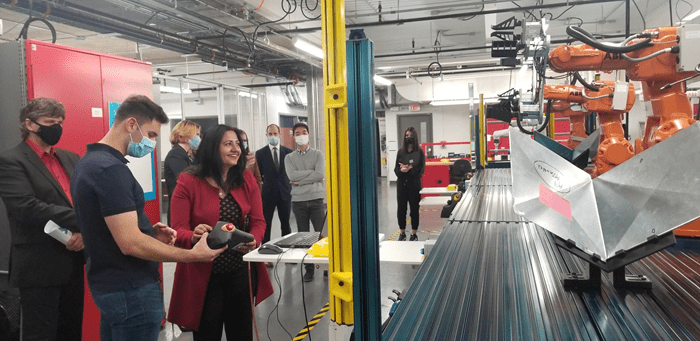 Sheridan's awarded initiative, "Accelerating Innovations in Advanced Health Technologies" ($900,000 ARTP Option One grant over two years), addresses the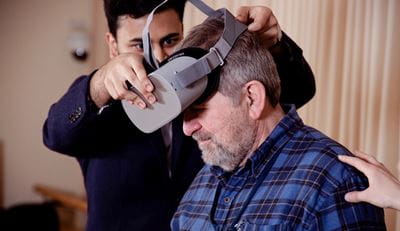 critical need for rapid development and deployment of innovations in the Canadian health care landscape. Three of Sheridan's renowned research and incubation centres (the Sheridan Centre for Advanced Manufacturing and Design Technologies [CAMDT], the Sheridan Centre for Elder Research [CER], and the Sheridan Centre for Mobile Innovation [CMI]) – will join forces with three key partners in industry and community to develop solutions for safe health technology applications that will result in valuable products and services for patients and the greater community. From concept to delivery, this initiative will engage industry partners across the commercialization spectrum, along with Sheridan researchers, to promote the development of new prototypes and implementation strategies. This will result in enhanced market share for the companies, highly-trained student researchers, and a deeper network of college-supported collaborators working to enhance health care delivery across the province. Partners Lusens Inc., LUCID, and Cloud DX will be the first to engage in projects under this ARTP funding. Leading the research at their respective Sheridan Centres will be Dr. Carolyn Moorlag, Director, CAMDT; Dr. Ed Sykes, Director, CMI; and Dr. Lia Tsotsos, Director, CER, pictured below.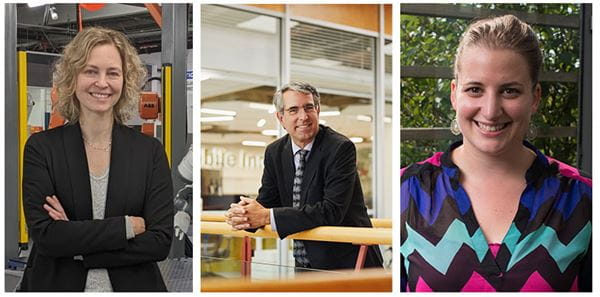 "We're excited that NSERC's significant funding will enable our research centres to further their capacity to work across disciplines and sectors to address challenges within health care and community wellbeing. With this approach, critical to complex problems, technology and social innovation are combined to better meet the needs of industry partners while ensuring that solutions also meet the needs of the population that they're being designed for," said John Helliker, Dean, Innovation at Sheridan.

This initiative aligns with a key priority for Sheridan – supporting healthy communities. The college is a leader in health applied research and drives health care innovation locally, empowering partners to explore new technologies and provide tangible impacts in the communities we serve.

NSERC also announced three additional grants that Sheridan is involved in:
The lead college on a $2 million ARTP Option Two grant, Sheridan's Screen Industries Research and Training Centre (SIRT), in collaboration with Durham College, Cégep de Matane and Cégep de Rivière-du-Loup, will work together on the creation of a universally accessible, open-source solution for the animation of virtual humans.
Led by Centennial College, in collaboration with CMI and CAMDT, Humber College and the Kite Institute of the University Health Network, this grant will support Canadian small and medium-sized enterprises (SMEs) to develop functional e-textile wearables for commercialization in the developing global health e-textile market.
Led by Niagara College, in collaboration with the Southern Ontario Network for Advanced Manufacturing Innovation (SONAMI) network of research centres that includes Sheridan's CAMDT, this grant will support research to support economic recovery for SMEs through sustainability, profitability and growth.
This health innovation technology project has been supported by an ARTP Option One grant, made available through the Tri-agency College and Community Innovation (CCI) program, managed by the Natural Sciences and Engineering Research Council of Canada (NSERC), in collaboration with the Canadian Institutes of Health Research and the Social Sciences and Humanities Research Council. The ARTP Option One grant supports a college undertaking research projects involving one or a set of community and/or industry partners.
About
The Sheridan Centre for Advanced Manufacturing and Design Technologies (CAMDT) exemplifies Sheridan's leading role as a hub connecting industry, curriculum and applied research. CAMDT links companies of all sizes to Sheridan's advanced manufacturing expertise and equipment and allows them to explore these tools with the help of Sheridan faculty and students. camdt.sheridancollege.ca.

The Sheridan Centre for Elder Research (CER) conducts leading-edge research in the field of aging by examining innovative ways to enhance the well-being of older adults and the environments that support them. CER develops innovative approaches and creative interdisciplinary partnerships that focus on enhancing the lives of older adults. elderresearch.sheridancollege.ca.

The Sheridan Centre for Mobile Innovation (CMI) creates innovative solutions to industry-relevant challenges, in close collaboration with industry, community, and academic partners. CMI uses leading technologies in its research including: mobile, machine learning, wearable computing, augmented/virtual reality/mixed reality and Internet of things. cmi.sheridancollege.ca.

For more information on research and innovation at Sheridan, please visit research.sheridancollege.ca.
---
Pictured at top, left to right: Dr. Sonny Kohli, Chief Medical Officer, Cloud DX; Dr. Ed Sykes, Director, Centre for Mobile Innovation; Brampton City Councillor, Jeff Bowman; Dr. Janet Morrison, President, Sheridan; Sonia Sidhu, MP for Brampton-South; Dr. Carolyn Moorlag, Director, Centre for Advanced Manufacturing and Design Technologies, Andrea England, Vice Provost Research; and

Dr. Lia Tsotsos, Director, Centre for Elder Research at Sheridan's Davis Campus in Brampton.
Pictured above: Sonia Sidhu, MP for Brampton-South, participates in a robotics demonstration at Sheridan's Centre for Advanced Manufacturing and Design Technologies in Brampton.