Sheridan team uses cutting-edge technologies to create PPE for frontline healthcare workers
At the Centre for Advanced Manufacturing and Design Technologies (CAMDT), a team is putting its industry-leading technology to work as part of the #SheridanHelps Initiative. They're creating reusable personal protective equipment (PPE) to donate directly to local hospitals for use by frontline staff in response to shortages faced in the supply chain during the COVID-19 pandemic.
CAMDT, located at Sheridan's Davis Campus in Brampton, Ontario, is a primary source of manufacturing equipment and expertise including 3D printers, a robotics lab and other advanced technologies. The team currently working on site includes Dr. John Phillips, CAMDT Research Engineer, Saleh Jiddawi, Manager of CAMDT, Simon Heathcote, the Mechanical and Electrical Engineering Technology Lab Manager and Ramzy Ganady, a Sheridan Electromechanical Engineering Technology student and CAMDT Research Technologist.
Using 3D printers and laser and waterjet-cutting machines, the team is creating two types of reusable, medical-grade face shields from blueprints shared by local hospitals and clinicians. One is a standard face shield with plastic component parts that's pre-assembled, and the other is a foldable-style shield, made from a single sheet of plastic, which can be efficiently flat packed for shipping. The team's output has been approximately 200 shields per day.
"Finding innovative solutions to manufacturing bottlenecks is the bread and butter of CAMDT," says Dr. Michelle Chrétien, Director of CAMDT who is working off-site on logistics with the support of CAMDT administrator Belinda Pompey. "This is an unexpected and unprecedented situation, and we're fortunate to have the technology and expertise to make a meaningful contribution toward filling the gaps."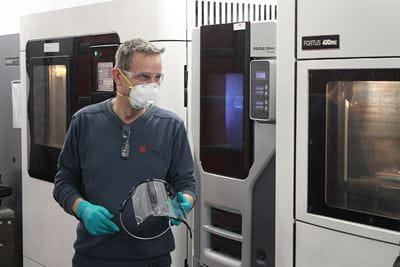 Chrétien is working closely with Trillium Health Partners and the Toronto Emergency Device Accelerator, of which she's a member, to align the efforts of the CAMDT team with the immediate needs of frontline workers. The current yield of Sheridan-made materials will be distributed directly to local hospitals in the communities where its campuses reside – Brampton, Mississauga and Oakville – to ensure that no organization profits from their redistribution.
"I'm very happy to contribute towards this initiative," says Dr. Phillips. "There are many incredible resources at CAMDT that we can leverage to help address the current needs." Chrétien adds: "When this voluntary opportunity arose to go back to campus to work in support of these efforts, each person we called on didn't hesitate." The health and safety of the on-site team is a priority and has been upheld in consultation with Sheridan's Occupational Health and Safety Services, Security, Facilities and Risk Management teams. The team at CAMDT is respecting physical distancing protocol, wearing PPE and regularly sanitizing high-touch areas and equipment.
"Amidst this disruption, I'm so proud of what is happening at CAMDT," says Dr. Janet Morrison, Sheridan's President and Vice Chancellor. "The work of these employees is an embodiment of the best of Sheridan – it's community-focused, creative, ingenious and innovative. It's inspiring and motivating to our entire Sheridan community to see our own people actively contributing to a sector in need."
With the face shield printing now steadily underway, Chrétien is eager to connect with industry to discuss partnering on design and fabrication for other areas of need using CAMDT's team and equipment. To communicate on this matter, please email sheridanhelps@sheridancollege.ca.
---
Pictured top right: CAMDT Research Technologist Ramzy Ganady holding one of the plastic face shields printed at Sheridan.
Pictured above left: Simon Heathcote, Mechanical and Electrical Engineering Technology Lab Manager with a face shield printed on a 3D printer in Sheridan's CAMDT.