Sheridan advertising students and Brampton Fire team up to extinguish a community safety issue
Living independently for the first time comes with a sense of freedom and excitement, but it also brings to the fore new dangers. One such concern is leaving cooking unattended, which is the leading cause of fires in Brampton homes. Who better to create a campaign to address the problem than students in the region who are part of its target audience?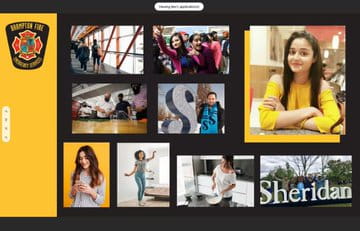 11 groups of Advertising and Marketing Communications Management students worked in small agency teams to research, budget and create an omni-channel campaign aimed at spotlighting kitchen fire safety and reducing incidents. The winning idea, as decided by a team from Brampton Fire and Emergency Services, will be funded and executed for a public-facing campaign in spring 2021.
Community engagement drives partnership
"Safety is a shared responsibility," says Brampton Fire Chief Bill Boyes. "Peer-to-peer education is an impactful way to share information. Students have a good pulse on what's going on around them. They are passionate and not afraid to take a stance. These are prized attributes in developing an awareness campaign for fire safety."
This thinking prompted Sheridan and Brampton Fire and Emergency Services to team up on a solution. The partnership emerged from work already underway to address off-campus housing safety for students. It became evident that this campus-community issue would be most meaningfully addressed with a collaborative approach between the two organizations.
"It's a triple win," says Karen Lemoine, Director of Community Engagement at Sheridan. "Pairing skilled and enthusiastic students, backed by supportive faculty, with Brampton Fire provides an exceptional learning experience, makes meaningful contributions to our campus communities and strengthens our relationship with Brampton Fire in how we are collaborating to improve the safety and well-being of students and residents in the community."
Learning with one foot in industry
Sheridan's Advertising and Marketing diploma stands out amongst other similar postsecondary programs in its adoption of a 360-degree approach. Students aren't siloed into account management, media buying, strategy or creative streams, but instead gain a myriad of skills to take with them into their careers.
The capstone course for which the partnership was developed is new to the Advertising and Marketing diploma's curriculum. "Our program's advisory council made up of industry professionals identified that this course could benefit from vital real-world experience for its students," says Yvonne Dineen, professor, and student advisor in Sheridan's Pilon School of Business. "It's an opportunity for students to apply all of their learnings in an environment where they can take risks and receive mentorship but with one foot in industry." Simulating industry process, Brampton Fire's team of eight community engagement and education representatives met with students for a two-hour creative brief meeting, sharing first-hand accounts of fire incidents, and responding to questions. From brief to pitch presentations, Brampton Fire was an invested client partner, enhancing the experiential opportunity for students.
"Students have a good pulse on what's going on around them. They are passionate and not afraid to take a stance. These are prized attributes in developing an awareness campaign for fire safety." - Chief Bill Boyes
"Employees from Brampton Fire gave me a full-scale view of how to work with clients," says student Chad McLetchie. "It taught me to be better prepared to take notes during client meetings, know the right questions to ask, how to conduct myself and work with deadlines." Mahnoor Hasan Bilgrami adds: "They were the ideal clients. They welcomed our ideas and answered all our queries in detail. Even though they had some strict parameters to work within as a government organization, we never felt that we had to stifle our ideas in any way."
Outcomes with real-world impact
The capstone course and its project work were all completed remotely since all of Sheridan's business students are learning online during the COVID-19 pandemic. Teams planned and rehearsed virtually. "Having to do a pitch through a screen was a new experience," says Bilgrami. "But many industries are operating virtually now so the experience definitely helped in making us more comfortable presenting in this new normal."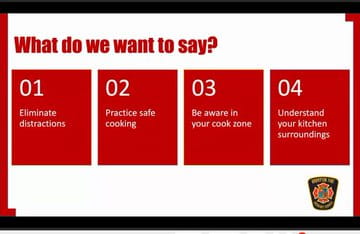 Nervous energy was present on the day of the final pitch presentation to the Brampton Fire team, but with rehearsals and lots of practice opportunities in hand, the teams delivered. Teams presented creative that included catchy, memorable hashtags, strong visuals and experiential community events that spark fear and empathy with an educational and informative tone.
"They demonstrated a good grasp of the core challenge, built a compelling narrative around the gravity of the issue and showed competence in customizing content for multiple platforms," says Chief Boyes. "They also made the information relatable to a diverse youth population."
Modou Cessay, who was responsible for leading his group's pitch presentation, came to learn the value of a strong delivery. "You need to find ways to stand out," he says. "Anyone with the right amount of practice can read out information from the slides, but it's the person who makes the presentation come alive that really leaves an impression on the audience."
The Brampton Fire team is now consulting with students to fine-tune the concepts presented and working toward rolling out creative in the coming months.
---
Learn about Sheridan's Advertising and Marketing Communications Management diploma.
Connect with Sheridan's Director of Community Engagement to discuss partnership opportunities.
Read about Sheridan's off-campus housing supports for its student community.