Working from home during COVID-19: Sheridan AVP shares four keys to success
With many of us now confined to our homes due to COVID-19, we're being forced to suddenly reinvent how we work and learn.
Can that make it difficult to maintain a similar level of productivity as you're accustomed to? Absolutely. But it's far from impossible, according to Kevin Pashuk, Sheridan's Associate Vice President – Information Technology.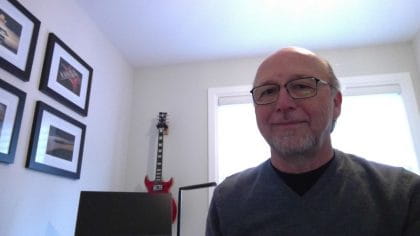 Pashuk speaks from experience. In 2003, he was a founding director of the Northern Ontario School of Medicine, which relied on a fully distributed learning model to reach urban, rural and remote communities stretching from Thunder Bay to Sudbury. "We learned quite quickly how to leverage technology to both administrate and teach quite well when people weren't geographically in the same place," Pashuk says. "And we were using technology that would be considered antique right now."
Seventeen years later, here's Pashuk's advice on remain productive while working and learning from home throughout the COVID-19 crisis.
1. Maintain a consistent work routine
---
When you're no longer working in the usual office or classroom environment, it can be easy to be distracted. That makes it critical to set some clear boundaries, both for yourself and for others. Find a quiet area of your home where you can work undisturbed and set definitive hours for when you'll begin and end your day. "It's like having a social contract with your family: this is my work time, and this is where I'm working," Pashuk says.
Conversely, if you're going to expect others to let you work during your designated hours, you need to make yourself extra available to them when you're not working or learning. "If your partner is working from home as well, make the same allowances for them," Pashuk says. "Share household responsibilities, and crank up the volume on your engagement at home."
2. Stay connected with your team
---
If you're an introvert, you might not mind missing out on those morning meetings. But they're now more important than ever. "For those who are on the other end of the spectrum, these are especially difficult times," notes Pashuk. "A community that we work so hard to develop into a team is suddenly pulled away again, and there's less-than-clear messaging about what's next — because people really don't quite know what is next."
Using team chat applications — such as Microsoft Teams, Zoom or Slack — can also help with establishing goals and expectations for the day, increasing accountability and keeping projects moving. You don't need to be a social media superstar to master them, either. "When it comes to learning and leveraging these tools of communication, now is a really good time to do it," Pashuk says, "because it's going to help us when we go back to our typical ways of execution and operations."
3. When things are slow, use work time for self-learning
---
If you're caught up on your work or waiting for further instructions, make sure to resist the temptation to resume your favourite series on Netflix. "We've been encouraging the concept of using time you've blocked out for work to learn a skill that you can use when you get back to the office," Pashuk says.
The web is full of courses and tutorial videos about virtually everything you can imagine, and some of them are even free. Sheridan provides its employees with access to LinkedIn Learning (formerly Lynda.com), which features courses covering a wide variety of topics in the business, creative and technological spaces. Or, if a course feels like too big of a commitment, you can simply get up to speed on the latest developments in your industry by reading articles, watching videos or listening to podcasts.
4. Don't sit in front of a screen all day
---
More time at your desk doesn't necessarily equal more productivity. In fact, many researchers have concluded the opposite is true. According to a 2019 study by the Draugiem Group, the ideal work-to-break ratio is 52 minutes of work, followed by 17 minutes of rest.
Recharge your brain throughout the day by stepping away from your computer and doing something that takes your mind off work or studies — such as going for a walk, stretching, meditating, reading or chatting. And when you are working, remember that you don't always need to be sitting at your desk, either. Walk around or fold laundry when you're on a phone call, or write lists on a pad instead of typing them into Notepad or Word. "There are a lot of things you can physically do that are tactile and get you moving, and your brain works better that way," Pashuk says.
---
Written by: Jon Kuiperij, Marketing Copy/Content Writer at Sheridan.