Technical Production staff, students ensuring that the shows can go on
During a time in which the COVID-19 pandemic has crippled the ways many of us work, learn and live, the H-Wing basement at Sheridan's Trafalgar Campus still buzzes with activity. Sewing machines whirr, tablesaws whine and hammers ring out as students and staff build sets for the four shows that will soon be performed in Macdonald-Heaslip Hall.
"If anybody in the world is well-positioned to keep working," says Sarah Zeilstra, co-ordinator of Sheridan's Technical Production for the Performing Arts Industry advanced diploma program, "it's us, because of the nature of what we do."
What they do, whether it's assembling outdoor rinks for the NHL's Centennial Classic or preparing a stage for community theatre, is find ways to ensure that the show can go on. In this case, it's being one of the few post-secondary programs of its kind to offer an in-person learning component during the pandemic, a feat that has required plenty of creativity, flexibility and resilience.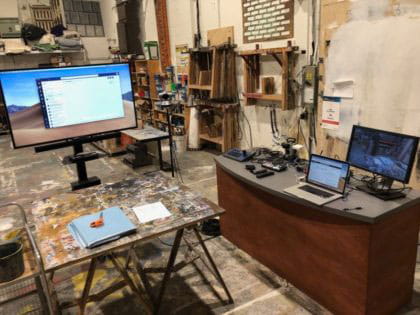 "We're teaching what we can remotely, and then anything practical is being done on campus," Zeilstra says. "We've also had to manage our expectations of what we can achieve."
Still, plenty of work is getting done.
Program technologist Bill Zeilstra installed multiple-camera setups in the paint, props and wardrobe studios that allow students to closely observe their professors' demonstrations from a distance (similar to what's been done in Sheridan's Honours Bachelor of Illustration degree), even enabling one international student to continue her studies remotely from Shanghai.
Faculty and students have also found a way to house four different Honours Bachelor of Music Theatre Performance productions within Macdonald-Heaslip Hall (normally, two of the four would be held in the Studio Theatre across campus) and set up audio and video equipment to record the shows in lieu of a live audience.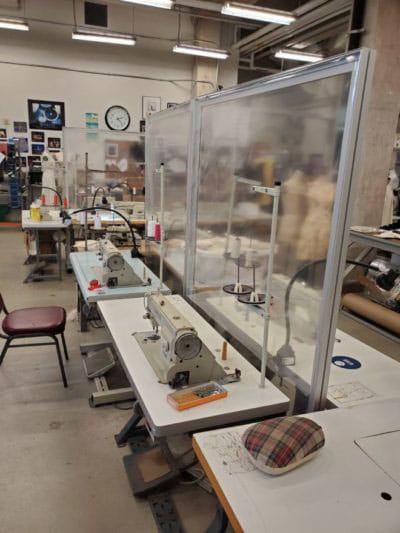 "Our students have never touched video cameras of this caliber before," Bill Zeilstra notes, referring to the equipment that has been borrowed from the Honours Bachelor of Film and Television program. "But they're learning to work with a customer service mindset, trying to prepare for whatever the directors may want."
Despite the challenges, student retention has been sustained across all three years of the program. "Honestly, it's been a lot better than everyone thought it would be. It's more streamlined and we've been able to communicate with our professors really well," third-year student Tanner van Vliet says. "There has always been that knowledge and expectation that every single day in our industry will be different. Now, we're learning to work in extremes."
Pressing forward with in-person learning during the pandemic hasn't come at the expense of student safety, either. In fact, health and wellness may never have been more of a priority in the program. In addition to reducing class sizes to comply with COVID-19 occupancy limits, installing plexiglass dividers between workstations and ensuring that tables and equipment are sanitized nightly, staff has also emphasized the importance of monitoring mental health through the fall semester.
"There's a general sense of calm amidst the chaos… It's okay to say, 'No, I need space' and to give yourself time to breathe."

– Tanner van Vliet
"I think there's a general sense of calm amidst the chaos," says van Vliet, one of seven student representatives who regularly organize virtual events outside of class to boost engagement and morale. "Yes, we're here to work, and we have to get things done because these shows will take place in a couple of weeks. But it's okay to say, 'No, I need space', and to give yourself time to breathe when you've been working really hard while having to wear a mask."
"What's most important is the achievement of learning outcomes for these students," Sarah Zeilstra adds. "If everybody can feel like they belong in this world, this program, this environment, then we're doing well. Everything else is a bonus."
---
Pictured at top of page: Students and staff prepare sets in Sheridan's Macdonald-Heaslip Hall. Photo provided by Sarah Zeilstra.
Written by: Jon Kuiperij, Marketing Copy/Content Writer at Sheridan.