To interning and beyond: A summer animating at Pixar
From Toy Story to Turning Red, Pixar Animation Studios has created films that have warmed audiences' hearts for decades.
With touching storylines and stunning visuals, it's no wonder aspiring animators around the world dream of working for such a renowned studio. For fourth-year Honours Bachelor of Animation student Liad Treger, that dream came true when he landed an internship at Pixar as a 3D animator during the summer of 2021.
Animated films often bring feelings of nostalgia for Treger, having grown up watching classics such as The Pagemaster, Fantasia, and The Brave Little Toaster. He recalls being mesmerized as a child by the magical world these animated films created but never considered it as a career until later in his life.
Before coming to Sheridan, Treger studied piano for over 12 years and toured as a professional dancer in Israel. But a few years into his dance career he started to feel as though something was missing. Around the same time, Treger's brother was interested in the animation program at the Bezalel Academy of Arts and Design and invited him to attend their open house. It was an eye-opening experience, and Treger began to see the possibility of a career in animation.
"I realized that animation included everything I loved: movement, musicality, drawing, and more," said Treger. "That's when I decided to apply to Bezalel Academy to study animation." While in the program, Treger saw his passion for animation start to outgrow the small industry in Israel and knew that he had to start thinking about working abroad. Soon enough, he was on his way to Canada to study animation at Sheridan. During his third year of the program, he applied for an internship at Pixar.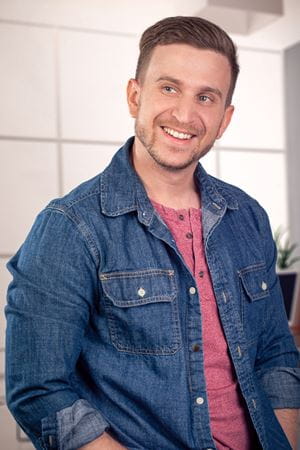 Before Treger secured his internship, he didn't think he would end up working for his dream studio. "I never thought I would get accepted to Sheridan College or Pixar," said Treger. "When it came to applying for my internship at Pixar, my friends had to convince me to send in my application 10 minutes before the deadline. I wouldn't have submitted it otherwise."
Beginning a new role at any company can be nerve-wracking, and Treger's experience was no exception. At the beginning of the work term, he focused on how the experience would develop his skills as an animator. Later, he realized that it could offer him something much more valuable.
"I was always fighting to develop the best, most original and creative ideas to impress others. When I couldn't, I was disappointed with myself," he recalled. "Once I let go of that drive to impress others, I realized I enjoyed the process a lot more."
During his remote internship, Treger worked on personal animation assignments given to him by animators from the studio, who acted as the interns' instructors. Pixar instructors provided interns with technical support, as well as guidance and feedback on assignments.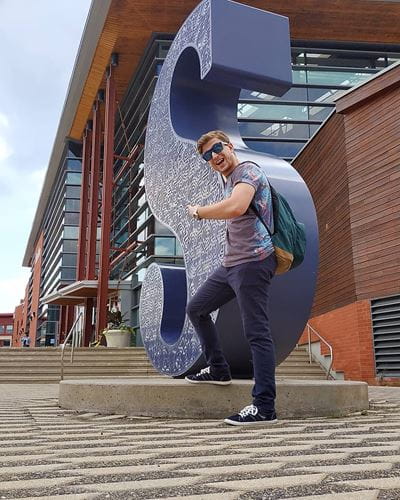 As an animator, explained Treger, you need to get comfortable showing your work and getting daily feedback. It's a process that can be intimidating for those new to the industry. Treger credits Sheridan for providing opportunities to develop his presentation skills as well as having a safe space for students to receive feedback on their work.
One of the many highlights from Treger's time at Pixar was having the chance to work with beloved Pixar characters. As part of an assignment, he used Toy Story characters to animate a scene where the character could only show their emotions through physical gestures, otherwise known as pantomime shots. "I decided to choose Buzz Lightyear," said Treger. "When I first got the assignment, I was super excited but found myself struggling to animate a scene that was both creative and unique."
It wasn't until he shifted his mindset from impressing others to enjoying the process that he could come up with an idea for the assignment, noting that he was able to finish his projects at a much faster pace. "Don't be too harsh on yourself, and remember it's okay to ask for help. Failure is a part of our growth and the way to success."
Despite the internship taking place remotely, everyone was made to feel part of the Pixar family. Interns were encouraged to reach out to their colleagues across departments to build a sense of community, and were invited to attend production meetings. They also had the opportunity to socialize with others from the studio each week through Zoom meetings and gatherings held in an interactive virtual space called "Gather Town," which featured a digital replica of Pixar Studio's main campus building.
Pixar also went the extra mile and organized a one-on-one meeting where Treger had the opportunity to speak with Israeli animators from the studio. "What was so nice about the one-on-one meeting, besides being able to speak in my native language, was that I felt like we shared the same experience—the sacrifices, the fears, the successes, and the will to do everything you can to make your dreams come true."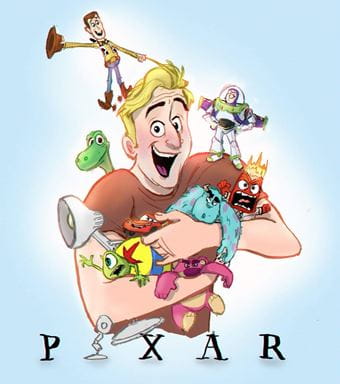 As an international student, connecting with animators from similar backgrounds and lived experiences was a special moment for Treger. "They reassured me that the fears I had of not being good enough were normal and everyone else goes through the same thing."
Pixar has a long-standing history of recruiting Sheridan students and alumni, with several Animation graduates going on to build successful careers with the studio, including, Kristen Lester ('04), Trevor Jimenez ('07), and Academy Award-winners Domee Shi ('11) and Alan Barillaro ('96).
Treger will be graduating from the Honours Bachelor of Animation program at Sheridan this April and will be joining Sony Imageworks as an Associate Animator beginning in June.
As Treger embarks on the start of his career path, he wanted to share advice for current and future animation students who are considering following in his footsteps: "When I started my internship at Pixar, I focused a lot on doing my best work and creating the best portfolio. However, I ended up with something much more valuable for life, which I will carry to my career. The result is important but not as much as enjoying the process itself. If you enjoy it, people will enjoy it too. Otherwise, why are we doing it? Believe in what you do, and you will get there; you ARE what you think."
---
Written by Marianne Sy-Lucero and Harriet Murray