Alumnus Tibor Madjar offers support to help Sheridan community build websites through Hocoos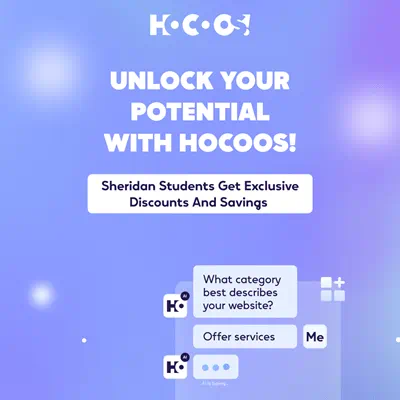 Sheridan Student Union, Sheridan Alumni and EDGE, Sheridan's incubator for purpose-driven social entrepreneurs, are partnering with alumnus, innovator, and Academy Award winner Tibor Madjar to help students harness AI to build websites.

Students, alumni and members of Sheridan EDGE can now take advantage of Hocoos – an AI website builder. By answering eight simple questions, users can get Hocoos to turn their basic information into a customized website.

Madjar is a Co-Founder of Hocoos, a tool Sheridan community members can use to showcase their work to potential employers, create a digital space for their portfolios, or for those who may be starting up entrepreneurial ventures.

"At Sheridan, students are creating all sorts of projects. Ideally, I would want all of them to be able to build their own websites to showcase their work and have the opportunity to learn about this entrepreneurship tool," he says.

Madjar graduated from Computer Animation in 1999 and throughout his career he has made significant contributions to the entertainment and technology sectors. In 2014, he won an Academy Award for scientific and technical achievement for conceiving and designing Mudbox - a 3D sculpting software used to create detailed characters and environments in films including Lord of the Rings, King Kong, Avatar, Life of Pi, The Dark Knight, and The Curious Case of Benjamin Button. He is also the Co-Founder of PayPro Global, one of the world's leading eCommerce partners, which now supports 25 languages, more than 110 global currencies, and over 70 payment methods worldwide.

Sheridan students can access Hocoos for $30 per year to create a Hocoos Premium website. Visit the SSU's page to learn more.

EDGE student members will be able to create 200 free Hocoos Premium websites, and EDGE non-student members receive a 50% discount off the Hocoos Premium website rate.
For Sheridan alumni, a 15% discount off the Hocoos Premium website rate is available. Learn about the offer for alumni.