Oscar winner Tibor Madjar launches AI-driven website builder. His next project: a robot painter
Supreme Sorcerer, Archwizard and Ruler of the Hocoos Republic- that's how Tibor Madjar (Computer Animation '99) describes himself on his LinkedIn profile. The monikers are an endearing reminder of the Academy Award winner's work in The Lord of the Rings – a saga seeped in sorcery and witchcraft. They are also a bold statement about his latest venture Hocoos: a website builder that he believes "works like magic."
Madjar is the Co-Founder of Hocoos, a platform that almost instantaneously creates business-ready websites with AI-generated content, including text, captivating design elements and powerful images. Hocoos doesn't need its users to be tech savvy: just answer eight questions and get your own spot in cyberspace to tell your story, showcase your work, write a blog, or maybe make some money by selling your products online.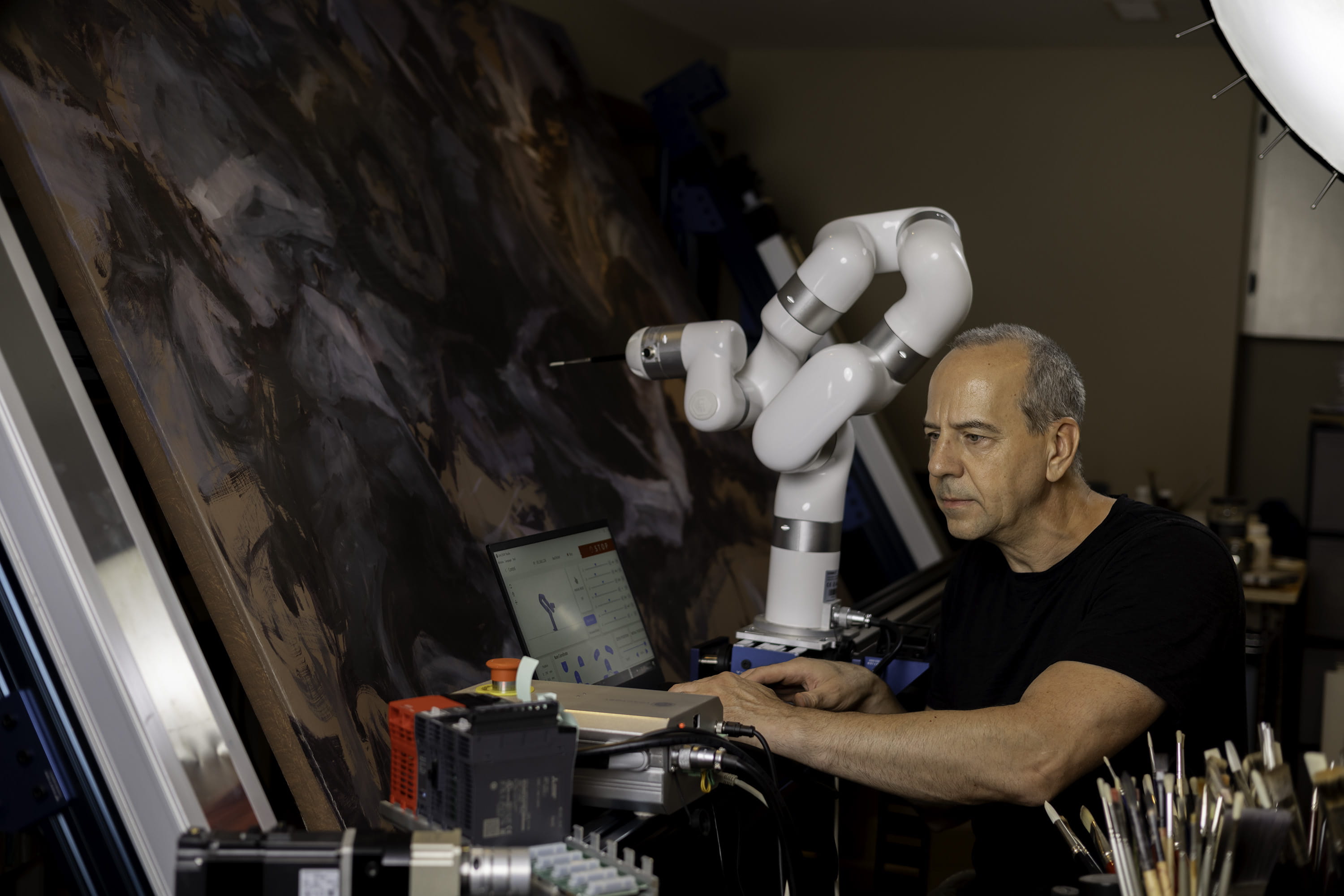 Tibor Madjar (Computer Animation '99) working on his current passion project, a robot painter.
Hocoos, which has free and premium versions, has been generating close to 1,000 websites each day ever since its soft launch in April. It is seen as a gamechanger in the digital media-driven environment, where having a professionally built website is a prerequisite for career success.
Madjar says Hocoos is of particular importance to students who want to showcase and sell their products online as a step toward launching their own businesses – something he realized after he found his own daughter, a Sheridan student, trying to set up a website to sell the jewellery she designs. "A website is a great tool for entrepreneurs. Ideally, I would want all students to be able to build their websites and sell what they create online."
This is not the first time Madjar has been driven by a passion to simplify processes and procedures to work his magic and create a product that spurs progress through innovation. In 2014, he won the Academy Award for Scientific and Technical Achievement for the concept and design of Mudbox , a software that introduced artists to 3D digital sculpting in film production. In 2016, he co-founded PayPro Global, a highly successful e-commerce provider for selling software, digital goods, and subscription products online. He is currently working on a robotic arm that will not only allow artists to create floor-to-ceiling paintings but will also mix colours to get just the shade they envision.
A passion for fixing and building things
A Computer Animation graduate from Sheridan who goes on to win a top award for science and technology, launches a business in e-commerce, and is building a robotic arm: Madjar says there is a logical explanation for his multi-faceted career, going back to Serbia when he was in Grade 5.
"That's when I got obsessed with building electronics and my father gave me a book which had projects for teenagers. From then on, for almost nine years, I did project after project, fixing and building things," he recalls.
"A website is a great tool for entrepreneurs. Ideally, I would want all students to be able to build their websites and sell what they create online."
The rewards his projects reeled in included a TV which he repaired on the condition that he would keep it if he could make it work. Not yet 16, he designed and built a welding transformer from scrap metal so that he could weld together a workbench. In his town where rolling blackouts were frequent, Madjar's house would often be the only one to have a running TV and bright lights, drawing on the electricity he had produced from a car battery he had converted to 220 volts.
Madjar came to Canada in 1988 with the hope of studying electrical engineering, but the program required English language skills which he didn't have. From a family of Hungarian artists – his uncle was a well-known Serbian landscape painter – Madjar had learned painting from the books he had at home. After a few years in Canada doing small jobs, he joined the Ontario College of Art & Design (OCAD). "I got in because art doesn't not require any language," he says.
Waitering in the restaurants of downtown Toronto to support himself, Madjar graduated from OCAD but did not see his art education alone fulfilling his goals. "I had a wakeup call when as a waiter, I went to the bank and noticed on the screen that they had categorized me as a semiskilled laborer. This made me rethink my life and find a direction," he recalls.
Sheridan program allowed creativity, innovation
He then decided to join the Computer Animation program at Sheridan to return to what he loved most: independent projects that allowed him to use his creativity and passion for innovation. Before taking up the program, he tested the computer animation software, then newly made available on Windows, at home. "I thought, 'I don't have to love it, but can I do it?'"
Madjar says he ended up loving the program, met his future wife at College, and over a year after graduation, he joined WETA Digital as a Modeler and moved to New Zealand to work on movie projects including The Lord of the Rings series, I, Robot, King Kong, X-Men: The Last Stand, and Fantastic Four: Rise of the Silver Surfer.
While creating models for horses in The Lord of the Rings, Madjar found the traditional clay modelling process to be extremely time-consuming, labour intensive, and often unreliable. The clay models created in New Zealand had to be shipped to Canada for scanning and could produce disappointing results during animation.
"AI is part of my life now. I'm using it every day because I have this little home project here, building a robot painter for artists. I'm not a programmer and I am programming this robot, constantly taking the help of AI."
"It was time-consuming to clean up the scan, and this workflow was holding back the rest of the teams. It also created security-related issues because we did not want the design to hit the internet months before the movie got released. We needed to tighten up the ship," he says.
For King Kong, the team worked for a year to try and get Kong right. "We had one model which went for scanning, and it was not possible to tell how it would look in different poses. We worked with clay models for a year, but still we had no Kong," he recalls.
Frustrated with the clay modelling workflow, Madjar and two of his coworkers hired two Hungarian software engineers to work on a new digital tool that'd make the process much simpler and efficient. That led to the creation of Mudbox, the software which gives artists the ability to digitally sculpt 3D models.
Mudbox marked a turning point for the animation industry. Film and gaming studios, and many other industries that until then were reliant on clay modelling shifted to Mudbox. "It opened up a lot of opportunities for smaller studios to compete with larger studios as the whole process became much cheaper. The US Mint adopted it and a US military contractor started using it to create virtual environments for training personnel," he says.
Madjar received the Academy Award for Mudbox, which was later acquired by Autodesk, an American multinational corporation. The tool that he had developed, using his creativity, curiosity, and problem-solving skills, became the gold standard in 3D modelling at the time.
"I now want to update my electronic skills and I also want to learn more about mechanical engineering, robotics, programming, and AI. The point is for me to learn."
While marketing Mudbox, Madjar had realized that e-commerce wasn't easy to navigate for users like him, who had neither the expertise nor the time to run a business online. Once again, he was propelled by the desire to ease a process and make it user-friendly through innovation, and he decided to launch an e-commerce platform.
"I started PayPro Global because when we created Mudbox, I had to figure out how to accept credit cards and cheques online so people could purchase it over the Internet, and how to deliver the licence keys. It was all new to me because I was a traditional artist. I wanted to create a platform that would help people like me," he says. Paypro Global, of which he is a Co-Founder, is now in its 15th year with Madjar as its President.
A new chapter begins in innovation
The advent of AI and its use in Hocoos has opened up a new chapter in Madjar's journey as an innovator. He is now programming a robot painter – an AI-driven robotic arm that will create wall-size oil paintings. These days, he spends most of his time tinkering in his basement, where he has a three-metre-wide structure that can carry the robotic arm; a CNC machine on which he makes the aluminium parts he needs for the arm; and a few 3D printers.
"AI is part of my life now. I'm using it every day because I have this little home project here, building a robot painter for artists. But you know my background is art. I'm not a programmer and I am programming this robot, constantly taking the help of AI. This arm will be able to paint and change the brushes and everything," he says.
Asked if he has patented the robot painter, Madjar says his objective in undertaking the project is to gain more knowledge and also to inspire his kids. His son is already involved with the project, working to perfect the colors for the painter.
"Whatever useful I've learned in my life, I've learned from personal projects. I now want to update my electronic skills and I also want to learn more about mechanical engineering, robotics, programming, and AI. This is the prefect project for this. The point is for me to learn."
---
Banner photo: The color science work being done by Tibor Madjar's son Skye to analyze the quality of oil paint for the robot painter . (Photos courtesy Tibor Madjar)