Sheridan welcomes students back to class on campus and online
A focus on wellness, a flexible approach to academic delivery, and updated vaccination procedures and accommodations are among the priorities Sheridan has put in place as it begins the start of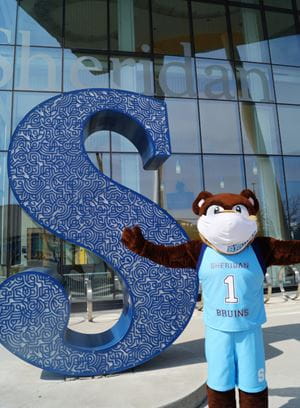 term.
This fall, Sheridan welcomed back more than double the number of full and part-time students on campus than last fall.
In preparation for the upcoming term and to meet evolving public health and safety protocols, Sheridan has updated its vaccine proof and accommodation procedures, introduced new learning opportunities, and refined its platforms for student support and social engagement.
Students attending class on campus will now be able to book individual study spaces, use athletic facilities, access in-person tutoring and library spaces, and more. Sheridan has also enhanced its outdoor spaces for more flexible student use through the installation of tents and outdoor furniture. Specialized study spaces such as labs and studios have also been redesigned to allow a more comprehensive return to campus.
"We're looking forward to welcoming more students back to our campuses and continuing to enhance the learning experience for all students," says Dr. Janet Morrison, Sheridan's President and Vice Chancellor. "The plans we've established for the safe re-opening of our campuses this fall align with the guidance we've received from the Ministry of Colleges and Universities. Program decisions were made after careful consultation with academic teams based on pedagogical requirements and ensuring the best learning experience possible during this challenging time."
Below are some of the highlights from Sheridan's planning for Fall 2021:
Vaccination procedures
As
announced on August 17,
Sheridan is requiring anyone who comes to campus after September 6 to demonstrate that they are fully vaccinated.
In addition to campus Health Centres, vaccines are available through mobile GO-VAXX buses in early September at its Davis and Trafalgar campuses.
More information on vaccination procedures and accommodation can be found on the
Return to Campus page
on the Sheridan website.
Frosh and orientation week


Virtual new student orientation ran from August 30 – September 3, offering students more opportunities to get to know their community, online and in-person. New students participated in orientation events hosted by upper-year students and staff to help them prepare for classes, meet new friends, and get to know their new Sheridan community.
Students also participated in program-specific sessions to meet their new professors and future classmates.
To kick off the academic year, the Sheridan Student Union is hosting several virtual Welcome Week events over the first week of classes.
To cultivate a more vibrant on-campus experience, Sheridan hosted in-person outdoor events during the first week of the term (as permitted by public health guidelines and COVID-19 safety protocols).
Well Series
New and returning Sheridan students can expect a range of programming to support their academic success, career development and well-being.
Sheridan's signature
Well Series
– a suite of programs to support students throughout their time at Sheridan - includes highly interactive workshops and virtual events. The Start Well and Transition Well programs are tailored specifically to new students, along with academic success supports embedded in first-year courses and virtual communities through Learn Well.
These programs work together to help familiarize students with the key tools and services needed for their classes, allow them to get to know their new community, and guide them through key transitions during their studies and on to their careers with Work Well. The latest addition to the Well Series, Arrive Well, is designed to help incoming international students transition to Sheridan's learning environment. The new program is set to launch later this fall.
Adam Pottle – Sheridan's new Writer-in-Residence
Multi-talented artist Adam Pottle has
begun his term
as Sheridan's 2021-2022 Creative Writing & Publishing (CW&P) Writer-in-Residence. The award-winning author holds a PhD in English literature with a particular interest in Canadian literature, poetry, disability studies, fiction, and horror. His work explores the beauty of Deafness and disability.
Pottle's year at Sheridan will include visiting and contributing to writing and publishing classes, leading virtual workshops, and providing creative leadership and mentorship on behalf of the Creative Writing & Publishing program and Sheridan.
Flexibility for learners
Sheridan's academic delivery approach for the Fall 2021 semester seeks to deliver a high-quality experience for Sheridan's learners, as directives from the province and our regional public health offices continue to be fluid.

The upcoming term continues to prioritize options for all learners, to allow access and flexibility to students who are not attending class on campus. Each delivery plan is guided by strong contingency measures that will allow Sheridan to respond to shifting public health regulations if needed – particularly given the continued threat of variants and low vaccination rates in young adults.

"Our professors and staff are exceptional; they are prepared for this period of change and transition," adds Morrison. "With the continued progress in the global and local vaccination effort and the further lifting of restrictions, we are very optimistic that the Winter 2022 semester will see many more students and employees return to campus."
---
Sheridan's Return to Campus page is the primary resource for information regarding Sheridan's response to the COVID-19 pandemic and procedures for the return to campus. More information can also be found on Sheridan's extensive COVID-19 FAQ page.