Premier Ford announces new investment in Sheridan's pre-apprenticeship programs
Premier Doug Ford, together with Ministers Prabmeet Sarkaria, Monte McNaughton and Ross Romano, visited Sheridan's Davis Campus today to announce over $550,000 in funding for Sheridan's Pre-Apprenticeship Programs. The investment will create placements for an additional 50 students in Sheridan's General Machinist and Industrial Mechanic Millwright pre-apprenticeship programs.
"Over the next five years, one in five jobs created will be in the skilled trades," said Premier Ford. "We need more skilled workers to help us build the roads, transit and infrastructure that we need, both now and in the future."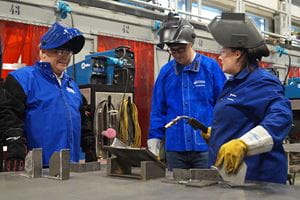 The announcement took place in Sheridan's purpose-built, 130,000 sq. ft. Skilled Trades Centre, which opened in 2017. The state-of-the art facility houses technology and equipment, 22 flexible classrooms, a learning commons, and dedicated workshops for Machining, Industrial Mechanic Millwright, Welding, Tool and Die, Plumbing and Electrical programs. Over 1,700 students are currently enrolled in training programs in the Centre.
Minister Sarkaria, Associate Minister of Small Business and Red Tape Reduction, and MPP for Brampton South, noted that Ontario is facing a significant shortage of skilled labour. "The reality is that an aging workforce is driving this shortage. Over the next ten years, the Canadian construction industry will need roughly 300,000 skilled workers."
"In an economic environment where the competition for talent is global and young people are looking for stable, meaningful and prosperous work, the skilled trades offer financially secure and rewarding careers," said Dr. Janet Morrison, Sheridan's President and Vice Chancellor. "That's why Sheridan invested $47.5 million in this state-of-the-art facility, and is committed to building on our proud history of teaching skilled trades."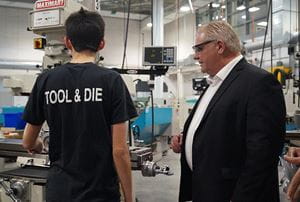 Carly Myers, a Professor of Skilled Trades at Sheridan, spoke about her journey to the trades. "It wasn't until after attending university and holding various jobs that I began exploring my options in the skilled trades - I discovered welding and it turned my life around. Working in the skilled trades challenged my creativity, my intellect, my workmanship and I can't complain about the pay. I now find myself at Sheridan in the most rewarding career I could ever have imagined," Myers said.
"Sheridan's dedicated professors represent the diversity that the skilled trades must embody to be viable in the future," said Dr. Morrison, noting that Myers' colleague, Anna Strachan, was the first woman in Canada to be appointed as a Professor and Program Coordinator for Precision Manufacturing Programs.
Pre-Apprenticeship training programs are publicly-funded, last up to one year, and often combine classroom training with an 8 to 12-week work placement. Learn about these programs. Find information about Apprenticeship programs at Sheridan.
---
Pictured at top of page (from left to right): Daniel Liao, Associate Dean, Sheridan's School of Skilled Trades, Hon. Monte McNaughton, Minister of Labour, Training and Skills Development, Hon. Prabmeet Sarkaria, Associate Minister of Small Business and Red Tape Reduction, Sheridan's Chancellor Hazel McCallion, Hon. Doug Ford, Premier of Ontario, Hon. Ross Romano, Minister of Colleges and Universities, Dr. Janet Morrison, Sheridan's President and Vice Chancellor.
Pictured above left (from left to right): Premier Doug Ford, Minister McNaughton and Carly Myers, professor of welding at Sheridan.
Pictured bottom right: A Sheridan tool and die student demonstrating equipment to Premier Doug Ford.