Work-integrated learning takes many forms at Sheridan
Work-integrated learning (WIL) is a vital component of the Sheridan student experience. Hands-on, applied experience complements students' in-class learning and helps prepare them for future employment. At Sheridan, WIL comes to life through apprenticeships, field placement/experience, mandatory professional practice, cooperative education and internships. A new WIL Hub at Sheridan, funded in part by the Government of Ontario, aims to enhance such opportunities and improve access to WIL for all students. Since its establishment in early 2018, the WIL Hub team has helped coordinate a new co-operative education option for entrepreneurs and an interdisciplinary project with arts students to reimagine a campus space.
Co-op has been an integral part of many Sheridan programs for more than three decades. Now, student entrepreneurs have an opportunity to work on their own business venture while completing their co-op requirements. The initiative, funded in part by the Government of Ontario, is called Co-op on the EDGE and is hosted at the Entrepreneurship Discovery and Growth Engine (EDGE) at Hazel McCallion Campus in Mississauga.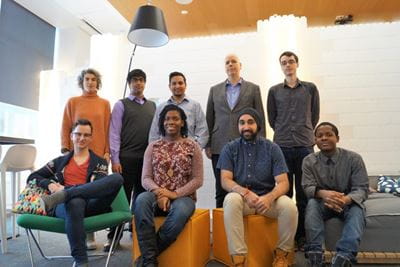 Six students began their Co-op on the EDGE placements in January 2019. They're required to dedicate 35 hours a week to their ventures, attend Leap Lab sessions – focused on topics like market research and finessing a sales pitch – and participate in consultations with EDGE mentors.
The Co-op on the EDGE placement will culminate in a pitch event at which the six students present their ventures to EDGE mentors, staff and industry partners. Success isn't measured by the student's readiness to launch their business, but how their ventures have developed throughout the experience. "Experiential learning in non-traditional settings is something we're exploring at Sheridan in order to embrace the shifts we're seeing in the workforce and economy," says Cory Latimer, Manager of Co-operative Education.
Elsewhere at Sheridan, a group of 11 students from various Faculty of Animation, Arts and Design (FAAD) programs participated in a WIL opportunity that centered around creatively reimaging a Trafalgar Campus space. Also funded in part by the Government of Ontario, and with the guidance of FAAD professors and guest artists, the students drew from their respective disciplines of study and proposed designs for a wayfinding kiosk and app, a moss wall, digital frames and displays for student and alumni artwork and an accessible bench and media table.
"When students get the opportunity to take what they learn in a classroom and apply it in a workplace setting through WIL, they're not only able to express their creativity and practice their skills but are being productive members of our communities and employment sector," says Matt Rempel, Associate Dean Career Education and Co-Curricular Learning at Sheridan. In March 2019, the accessible bench and media table called Connect was installed in the SCAET building for public use.
Sheridan students have a long track record of being recognized for excellence in work-integrated learning by national and provincial organizations. In March 2019, it was announced by Co-operative Education Work Integrated Learning (CEWIL) Canada that once again a Sheridan student, Lawrence Young, was named its Co-op Student of the Year. Education at Work Ontario (EWO) also announced that Lawrence Young received its Co-op Student of the Year honours while Sheridan student Cristina Pereira won the inaugural provincial Work-Integrated Learning Student of the Year award.
---
Pictured above left (from left to right, back row first): Director of Entrepreneurship and Changemaking Renee Devereaux, Aswad Mirza, Mohammed Patla, Professor Garrett Hall, Julien (Garret) Arpin, Learning and Development Intern Aaron Badgerow, Co-op on the EDGE program coordinator and EDGE mentor Chris-Beth Cowie, Gursimar Anand and Igbinosa (Iggy) Idahosa.