Sheridan Student Wins Silver Medal at Skills Canada Competition
Sheridan student Jake Doan, representing Team Ontario, took home a Silver medal in the Industrial Mechanic Millwright (IMM) category at the Skills Canada competition, held last week in Edmonton, Alberta. As one of nine national competitors, Jake participated in four three-hour challenges over two days: turning on a lathe, pneumatics, stainless steel tube bending and laser shaft alignment.
Jake will now move onto a four-day competition against a competitor from Quebec at a neutral site, at a time and place to be decided by Skills Canada, to determine who will represent Canada at Worldskills Kazan in August 2019.
"Everyone at Sheridan and especially all of Jake's supporters at the School of Skilled Trades and Apprenticeship are incredibly proud of Jake's accomplishment at Skills Canada. Providing our students with education of the highest quality that prepares them for successful careers in their selected professions is our goal, and successes such as Jake's are big wins that keep us focused on that goal," said Dave Wackerlin, Interim Vice Dean, Faculty of Applied Science and Technology. "A podium finish in the Industrial Mechanic Millwright category is a special moment, as no skilled trade represents the ideals of Sheridan's polytechnic education more than IMM, which requires participants to be innovators and problem solvers, making solutions to open ended industrial problems 'on the fly'. Congratulations, Jake, and best of luck at your next competition!"
"Jake had to bring his "A" game to the Skills Canada National IMM competition, and he did. His calmness throughout certainly helped, especially in the last rotation on Tuesday afternoon," said Craig Brazil, Tech Chair IMM Competition Skills Canada and Sheridan STC faculty. "His diligence in making sure what he had done was right, allowed him to accumulate points in each of the four challenges which led to his Silver medal."
The Skills Canada National Competition (SCNC) is the only national, multi-trade and technology competition for students and apprentices in the country. Every year, more than 500 young people from all regions of Canada come to SCNC to participate in over 40 skilled trade and technology competitions. By providing a forum where Canadian youth can compete at the national level, SCNC provides hands-on work experience related to skilled trade and technology careers. Through these competitions, Skills/Compétences Canada also seeks to raise awareness about skilled trade and technology sectors to Canadian youth and their influencers. Jake won Gold at Skills Ontario last month in order to represent Team Ontario at SCNC Edmonton.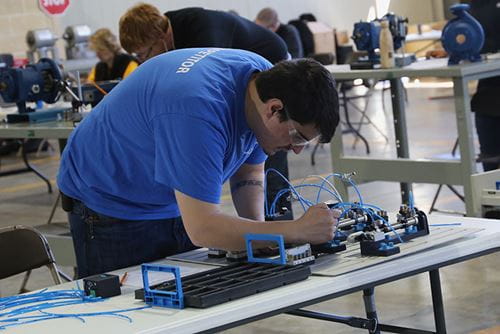 Pictured top right: Skills Canada Industrial Mechanic Millwright competition competitors, judges and sponsors. 2nd from left: Jake Doan, Silver medal winner, Industrial Mechanic Millwright category.
Pictured bottom left: Jake Doan, Silver medal winner, Industrial Mechanic Millwright category, competing at the Skills Ontario competition in May 2018.