Northern Ontario practicum a valuable experience for Practical Nursing student
After a three-year hiatus due to the COVID-19 pandemic, Sheridan's Northern Nursing initiative resumed this summer with a new partnership with Sault Ste. Marie's Sault Area Hospital.
Practical Nursing student Blandina Boateng spent 12 weeks in the northern Ontario community for her pre-graduate clinical placement, not only experiencing life in a different part of Canada but also learning how to care for a diverse population in the hospital's surgical ward.
"One of the patients I worked with was an Indigenous person who carried special rocks that he believed provided good luck and protection. Another was a survivor from a residential school," says Boateng, an international student from Ghana. "I learned how important it is to have an open mind and not to impose anything on others. If a patient wants things a particular way, allow them to just be and ask questions to learn more about why they prefer it that way."
"I learned how important it is to have an open mind and not to impose anything on others."

– Practical Nursing student Blandina Boateng
"Whatever community nurses go into, they need to be aware of the clients that they're serving. A plan of care in Brampton may not be the same as a plan of care in Sault Ste. Marie," adds Lisa Hughes, Sheridan's Clinical Practicum Coordinator. "Exposing students to different situations and clients provides opportunity for so much new learning."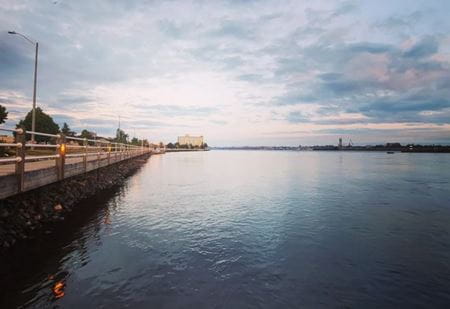 Boateng was also impressed by the resources and new technology at Sault Area Hospital, the collaborative spirit of the staff and the warmth of the community. She declined a job offer from the hospital because it wasn't the right fit for her at the moment, but says she may eventually return — and she also recommended the area to a family friend who is now studying nursing at Sault College.
The Northern Nursing initiative began in 2019 when a pair of Practical Nursing students completed 12-week practicums at the Lady Dunn Health Centre in Wawa, a town of 3,000 residents located 225 kilometres north of Sault Ste. Marie. At the time, the students said working in a smaller hospital meant they were encouraged to take on more responsibility and were also able to forge meaningful connections with patients.
"We're planning to continue this program again next year," says Hughes, "maybe with more opportunities in more places."
– Pictured in photo is the Sault Ste. Marie Waterfront Walkway along the St. Mary's River, one of Blandina Boateng's favourite places to visit during her time in Sault Ste. Marie