A northern Ontario nursing experience
Where's Wawa?
The question was murmured throughout the room at an info session for Sheridan Practical Nursing students. A 12-week practicum had been announced, and the destination was revealed at the meeting as the northern Ontario town of 3,000 residents and stunning landscapes.
Wawa has a culture of water sports and hiking with its location on the shores of Lake Superior. The next biggest city is Sault Ste. Marie, about two and a half hours away along the Trans Canada Highway. At the entrance to the community is one of the most photographed landmarks in North America – a giant Canada goose. It's 28-feet tall so you can't miss it.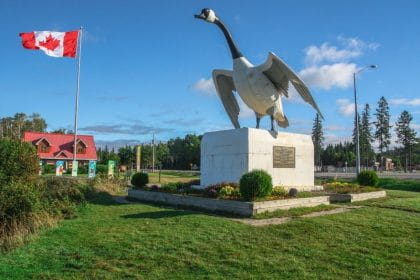 Although an unfamiliar locale for students Americo Aparicio and Marissa Weir-Cotnoir, as avid outdoorspeople it piqued their interest.
Aparicio was born and raised in Cusco, Peru and worked there as an adventure travel guide before moving to Canada. Weir-Cotnoir hails from Nova Scotia and spent time in the business sector. Both were drawn to nursing as a second career, looking for a profession that combines skill and compassion and helping others.
Mary Anne Vanos, program coordinator and professor at Sheridan, secured the placement opportunity with funding in part by the Government of Ontario upon learning of the diverse clinical experience students would be afforded at the Lady Dunn Health Centre.
The Centre is a community hub that services residents with an emergency department, palliative and long-term care facility, diabetes clinic, an Ontario Telemedicine unit and other in- and out-patient services. It's situated right on Wawa Lake – a six kilometre square body of water filled with trout and pike.
"There's something about Wawa that pulls you in." – Marissa Weir-Cotnoir
"Exposure to new and different healthcare settings gives students a chance to gain insight into different lived experiences of patients," says Vanos. It's something Aparicio and Weir-Cotnoir experienced throughout their time in Wawa. The town is home to French and Indigenous communities and with its location along the Trans Canada Highway, it's often a stop for Canadian and American tourists in need of medical attention.
The two also gained invaluable training with shifts in various departments at the Centre. And the close-knit staff meant they worked directly alongside nurses and physicians.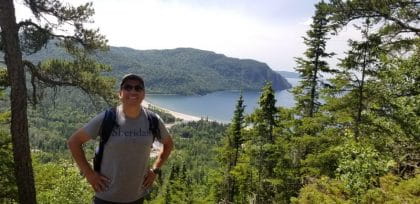 "It's not so common on practicums to interact with doctors," says Aparicio. "But at Lady Dunn they had more of a team approach, so you felt comfortable asking questions and received constructive feedback from everyone on staff."
Specific to the small-town nursing experience for Aparicio and Weir-Cotnoir was the challenge of upholding patient confidentiality. They had to quickly learn how to navigate well-intentioned inquiries from residents who had seen a neighbour's car parked at emergency or an ambulance parked outside a friend's home. "There's a core value in nursing of keeping patient info secure," says Aparicio. Weir-Cotnoir adds: "Word travels fast if something happens here. Everyone knows everyone."
Working in a small hospital also means that nurses tend to take on more responsibility as there's fewer resources. Things like serving food to patients and cleaning up – something typically handled by a different team at larger hospitals – became part of their shift. While a change from previous practicums, it also meant the students got to make meaningful connections with patients who were in the Centre for longer stays.
The students were set up by Sheridan staff with accommodations in the lower level of the Centre. While convenient, the students had to be mindful to go outside and take advantage of their tranquil surroundings after a 12-hour shift. In a town where most businesses close at 6 p.m. and no nightlife as a distraction, the students had to plan their grocery trips and activities accordingly. "You have to be mentally prepared to step outside your comfort zone, talk to strangers and participate in community activities to make connections, so you have things to do in your spare time," says Aparicio.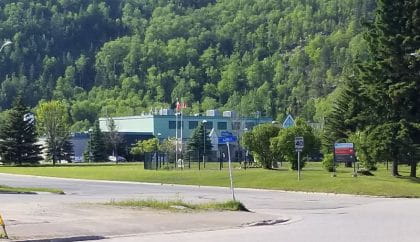 Aparicio and Weir-Cotnoir both acknowledge that the experience isn't for everyone. The application process that involved interviews with interested students aimed to ensure that the successful candidates wouldn't be homesick after a couple weeks in Wawa. "You need to be self-motivated because Marissa and I were the only two students there," says Aparicio. "You don't have your peers or instructors to consult with. You get out of the experience what you put in."
Like many of their colleagues at the Centre and other residents they met during their experience, Aparicio and Weir-Cotnoir both felt an understanding as to why those who visit tend to stay. "There's something about Wawa that pulls you in," says Weir-Cotnoir. Aparicio adds: "I felt at one with nature there and see why people come for a short time and 20 years later, they're still there."
Learn more about work-integrated learning at Sheridan.
Check out Sheridan's Practical Nursing program page.
---
Pictured at top of page: Lake Superior. Photo from Americo Aparicio.
Written by: Keiko Kataoka, Manager, Communications and Public Relations at Sheridan.