Charting new territory for Sheridan in the Skilled Trades
Industrial Mechanic Millwright (IMM) apprentice Jake Doan believes that skilled trades are sadly overlooked as an attractive career choice.
It's a field that blends creativity, precision and problem-solving in a hands-on environment and is ripe for employment opportunities across Canada. In fact, the third-year apprentice already has a job at Magna – a leading global automotive supplier with a location just north of Sheridan's Davis Campus in Brampton where he studies at the new, purpose-built Skilled Trades Centre. His tuition is free through a government Employment Ontario initiative, and he's traveled the world to compete in his trade on the Skills Competition circuit, most recently in Kazan, Russia as Sheridan's first-ever student to make it to a WorldSkills Competition.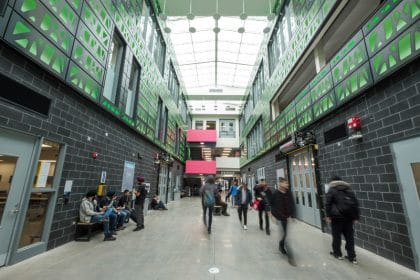 "In high school, the trades weren't promoted as an option," he says. "I recognize there's a stereotype around the trades as something you pursue only if you don't have the ability to get into a degree program. But in my experience, that's just not the case. In IMM, I'm dealing with technical math and high level problem-solving. It's a highly skilled profession. And right now, there's an opportunity to leave the program with an education and no debt with employers ready to hire you to apply your skills. That's not always the way with a university degree."
IMM involves the inspection, installation and repair of a range of industrial machinery. It's a vital role in industry, says Doan, when considering the potential loss of money and productivity if a large piece of a company's machinery goes down. It's a broad trade that includes work in plant maintenance, the automotive sector and in aerospace. Doan has his eye on the latter as a career goal.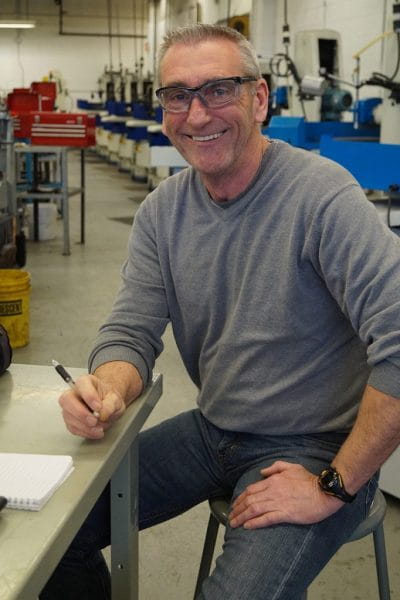 In celebration of the skilled trades and to showcase their value and students' abilities, skills competitions are hosted through the year at varying levels. Doan's journey to WorldSkills – or the Olympics of Skills as it's often referred to in the skilled trades community – began two years ago at the inaugural Sheridan Skilled Trades Competition. Winning gold in IMM, he became eligible to compete at Skills Ontario in Toronto. There, he also took home the top prize, leading him to represent Ontario at Skills Canada, where he won a silver medal. He then went on to Halifax for a run-off competition at the national skills event where he secured a spot on Team Canada for WorldSkills in August 2019 as one of 1,300 competitors from 63 different countries.
"I recognize there's a stereotype around the trades as something you pursue only if you don't have the ability to get into a degree program. But in my experience, that's just not the case."
Like an Olympic hopeful, Doan prepared rigorously for months with a trainer, IMM professor Brian Vintinner. "This was a tremendous opportunity for Jake and Sheridan's IMM program," says Vintinner. "Jake is a focused competitor who will no doubt be an asset as an industrial mechanic." Although requiring immeasurable hours to feel prepared for all competitions and at times feeling under immense pressure, the rewards outweighed the stress says Doan. A highlight of competing at such a high level is the opportunity to augment classroom learning and add new learning through hands-on experience on high-end equipment borrowed from external companies. Three months before WorldSkills for example, Doan hadn't ever explored pneumatics, and it was something Vintinner prepped him for to be able to complete tasks in competition in Kazan.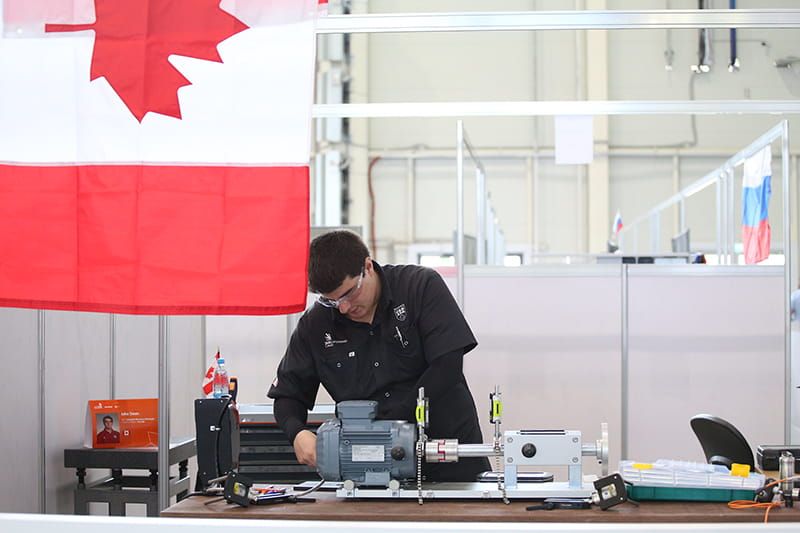 Vintinner is no stranger to WorldSkills, having trained a competitor in the past at another institution. "I was so thankful to have Brian's mentorship during this experience," says Doan. "It's a testament to how prepared I felt going to Russia that I felt less nervous than I did at the Sheridan-hosted competition with my peers." Another Sheridan professor, Craig Brazil, was also in Kazan. He's responsible for bringing IMM to WorldSkills in Brazil in 2015 and served as the Skill Competition Manager overseeing 12 Expert Judges for the discipline.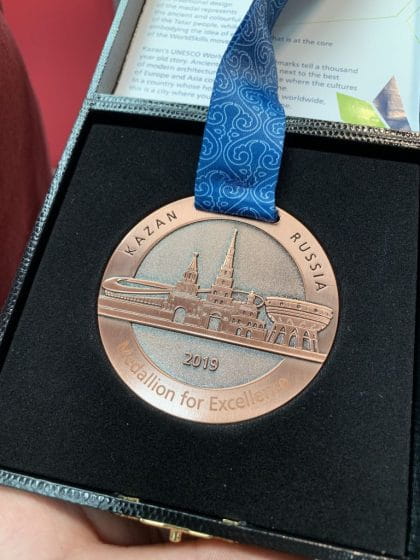 Preparations for WorldSkills took Doan and Vintinner all the way to Australia for a Global Skills Challenge. It was there that Doan saw how strenuously competitors from other countries prepare for the world event. Many dedicate 40 hours a week for a year leading up to the event, whereas Doan was balancing school and work alongside training. "Knowing this made it particularly impressive that Jake placed fifth and was mere marks away from reaching the podium," says Vintinner. "I was so proud to see how well he competed, handling the pressure of time on a world stage and knowing just how far he's come since his first competition." For an impressive score in his category, Doan was awarded a Medallion for Excellence.
"It was unforgettable," Doan says of the overall experience. "I expected it to be exciting, but it was on a whole other level." Vintinner agrees, particularly impressed by the scale and spectacle of the opening and closing ceremonies. The competition drew more than 250,000 people to Kazan as spectators, making it the city's second-most popular event ever next to the 2018 FIFA World Cup. It certainly hit the mark for showcasing the skills in a way that Doan and Vintinner believe the field deserves.
Learn more about the skilled trades at Sheridan and explore WorldSkills 2019:
---
Pictured at top of page: Apprentice Jake Doan with his Medallions for Excellence at the Skilled Trades Centre.
Written by: Keiko Kataoka, Manager, Communications and Public Relations at Sheridan.