Showing Sheridan spirit: Business students earn national Enactus award
Fail forward. Ideate. Co-create. These are some of the terms used in conversation at a typical Enactus Sheridan meeting. The official Sheridan College club – which also belongs to the Enactus Canada network of clubs in 77 universities and colleges across Canada - offers its members, business students, a collaborative and inclusive environment to put their learnings from class into practice.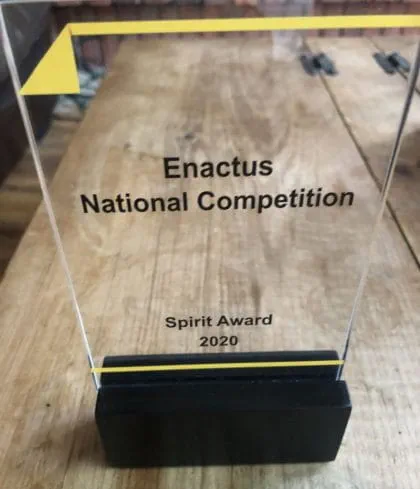 While developing their soft and hard skills through the development of socially-minded enterprises, members also get a taste for what's required for a project or venture to succeed before launching into industry. If Sheridan's robust business degrees are the entrée, Enactus Sheridan is the side. They're complimentary and pair well.
The meeting table around which Enactus Sheridan executives and 10+ members typically convene every week has been replaced by a virtual one due to the COVID-19 pandemic. But this hasn't dampened its members' spirits. In fact, Enactus Sheridan was awarded a Spirit Award for its participation in the annual Enactus Canada National Exposition in May 2020. The Spirit Award is presented to teams who have demonstrated great impact in their community while working within the Enactus judging criterion.
"Even if you don't have an entrepreneurial spirit, you can greatly benefit from being around people that do." - Garrett Hall
It's an honour that bears significance for the club, having recently undergone a transformation to focus on building camaraderie amongst members, purposeful productivity, and, as all of Sheridan's clubs strive to be: fun. "Becoming part of Enactus Sheridan allows you to act on your vision for a better world," says Diego Cortes, its new president, a final year business student and employee at EDGE – Sheridan's hub for entrepreneurship. He took the reins at the encouragement of Garrett Hall, a long-time Sheridan business professor, former business owner and EDGE mentor-in-residence.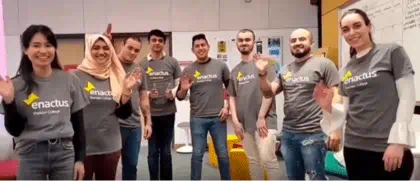 Hall has seen first-hand how valuable the Enactus formula can be. "The students we see come through Enactus are typically very ambitious, like-minded people," says Hall. "It's a great place to build ties, develop leadership skills, and use it as a learning platform and build up your portfolio before graduation."
Non-Fiction and Project Shareway were Enactus Sheridan's two entries into the Exposition. Non-Fiction is a platform for emerging artists to showcase their creativity and gain representation in Mississauga. It's also designed to connect young, emerging artists to mentors. Project Shareway is a ride-sharing service for students aimed at creating positive social outcomes for users and environmental impact by reducing the number of cars on the road.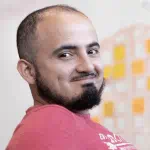 "Becoming part of Enactus Sheridan allows you to act on your vision for a better world." - Diego Cortes
Given the impact on the arts due to pandemic-related restrictions, Non-Fiction has emerged as an idea worth pursuing further for the club. Cortes is hopeful to incorporate it into Enactus Sheridan's plans for the year ahead. The club will pivot as many businesses have done to rely on social media and other digital platforms to deliver their mandate, which also includes organizing community initiatives and fundraising.
A bonus for Enactus Sheridan members is its alignment with EDGE, since its bread and butter is empowering social entrepreneurs. Enactus Sheridan students benefit from EDGE's slew of educational events and workshops, access to resources and its strong sense of community.
"Enactus Sheridan is like a sandbox," says Cortes. "It's a place to gather, experiment, build and re-build as a team, with a shared focus." Silos are broken down in the club. Whether students are studying human resources management, accounting, supply chain management or finance, they're welcome to join. "The interdisciplinarity of the club is one of its strengths," he says. Hall adds: "Even if you don't have an entrepreneurial spirit, you can greatly benefit from being around people that do. If you're in business, you're going to encounter these personalities in your work."
Enactus Sheridan is recruiting new members as they head into a new academic year. If you're interested in getting involved, check out their website and send an email to enactus@sheridancollege.ca.
---
Written by: Keiko Kataoka, Manager, Communications and Public Relations at Sheridan.