Sheridan's SIRT showcases Virtual Production Innovation Hub during ICFF Industry Days
Sheridan's Screen Industries Research and Training (SIRT) Centre hosted the Italian Contemporary Film Festival (ICFF) Industry Days on November 30 and December 1, 2021. This two-day hybrid event was held at SIRT's Pinewood Toronto Studios stage and brought together key stakeholders in the Canadian and Italian film industries for a series of presentations and networking opportunities.

The theme of the 2021 Industry Days was Scouting the Film Industry's New Landscape.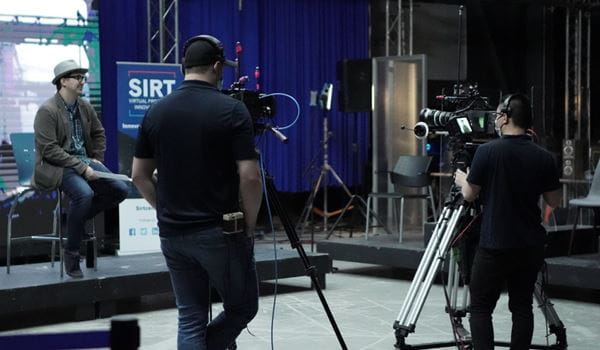 The conference brought together top minds from the Italian and Canadian film industries including Ezio Greggio, President of the Monte Carlo Film Festival; Vincenzo Guzzo, CEO of Cinémas Guzzo; Alan Barillaro, Academy Award Winner for Disney Pixar's 'Piper'; Iginio Straffi, CEO and Founder of Rainbow Studio; Ryan Beagan, VP Virtual Production at Warner Media; and many more.

SIRT Virtual Production Lead, Spencer Idenouye moderated the keynote presentation on Virtual Production and the Transformation of the Industry. This panel featured SIRT Production Lead, Jason Hunter who provided a live demo of SIRT's Virtual Production Innovation Hub and led a discussion on how this innovative platform will contribute to future industry growth.

During the panel, Warner Media VP of Virtual Production, Ryan Beagan announced WarnerMedia Access Canada's new partnership with SIRT to develop an industry-leading certificate program in virtual production delivered through Sheridan's Continuing and Professional Studies.
"Partnering with ICFF and hosting its Industry Days allowed us to demonstrate SIRT's innovative expertise to an international audience while bringing together likeminded stakeholders"

– David Dexter, Director, SIRT
Throughout the event, Industry Days attendees learned about Virtual Production, gained an international perspective on its growing use within the screen industry, explored a live virtual production set, and heard industry leaders discuss when to best use Virtual Production and why. Industry Days provided the opportunity for friends of ICFF, SIRT, the Italian and Canadian film industries to discuss film industry innovation, promote internationalization, make new connections and learn from industry leaders.

"SIRT is at the forefront of innovation and development within the filmmaking and media industries," said David Dexter, Director of SIRT. "Partnering with ICFF and hosting its Industry Days allowed us to demonstrate SIRT's innovative expertise to an international audience while bringing together likeminded stakeholders."
"A lot has changed in the entrainment industry in the past two years but, as was highlighted in the conference, the symbiotic relationship between studios and movie theatres remains intact," says Cristiano de Florentiis, ICFF Co-Founder and Artistic Director. "As a festival, ICFF looks forward to facing all the upcoming challenges and bringing people back together with new captivating events that aim to reconnect Italy and Canada".

Other panels presented included International Animation, Co-Production Italy-Canada, and The New Frontiers of Public Screenings. The Animation presentation included global animation industry luminaries who discussed how animation had been affected during COVID-19 and took a deep dive into the future of this multi-billion-dollar industry that captivates youth and adults alike. Networking sessions were also facilitated to promote enhanced connection and collaboration within the Canadian and Italian film industries.

To learn more about the 2021 ICFF Industry Days at SIRT, please visit:
https://icff.ca/industry-day-2021/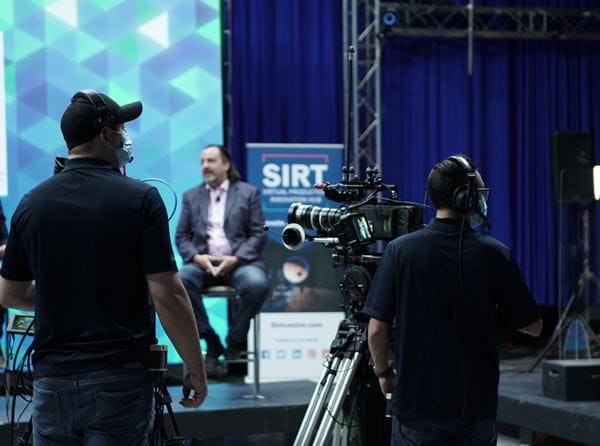 About the Italian Contemporary Film Festival (ICFF)
The ICFF, presented by IC Savings, is one of the most highly-anticipated cultural events of the summer in Toronto and across Canada. Having assembled a loyal base of nearly 50,000 attendees per year, the ICFF, established in 2012 as a non-profit festival showcasing less than 10 films, has transformed into a nine-day celebration of Italian excellence. Today, it is one of the leading and most successful festivals of its kind, and the largest Italian film festival outside of Italy. With special events highlighting the best of Italian food, wine, fashion, music, literature, architecture and industry developments, ICFF is committed to celebrating Italian heritage, and bringing together artists and entrepreneurs from around the globe and connecting them with our diverse audience.
---
Pictured: Sessions from the 2021 ICFF Industry Days, held November 30 - December 1 at the SIRT Centre at Pinewood Toronto Studios.