Bringing Black history close to home
For several years, Dr. Christian Knudsen (Interim Associate Dean, School of Social and Life Sciences and Professor of Cultural History), and Sean McNabney (Associate Dean, Faculty of Humanities and Social Sciences), have collaborated with the Canadian Caribbean Association of Halton (CCAH) for their annual Black History Month kickoff event at the Oakville Town Hall. Traditionally, a group of four students would create posters on different aspects of African-Canadian history, such as biographies, and events like the Underground Railroad.
This year, however, Dr. Peter Kikkert (Sheridan Professor of Public History) wanted to get the whole class involved. He created a project for his students that brought black history—and the racism experienced by African-Canadians in the 19th and early 20th centuries—close to home.
The Life and Times of Ira Junius Johnson project focused on the life of Oakville resident Ira Johnson, who fought in World War I. On February 28, 1930, he was threatened and attacked by the Ku Klux Klan for wanting to marry his white fiancé, Isabel Jones, on the day they celebrated getting a marriage licence. The KKK also took Jones away, and brought her to the Salvation Army, where she stayed in the aftermath of the attack. Despite this terrible incident, Ira and Isabel were married on March 22, 1930, and later had two children.
The students created 10 historical panels that told Ira Johnson's story, which debuted at CCAH's Black History Month kickoff. The panels were then moved to the Oakville Museum, where they were on display for two weeks.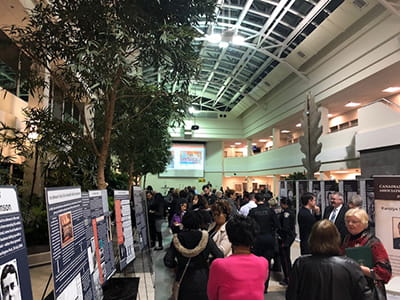 Kikkert chose the Ira Johnson story because it was both local and impactful. "As a public historian, I believe that a healthy community is one that understands its history, every aspect, both the good and the bad, and to me this was one of those aspects of history that had to be discussed, that should be part of the conversation in Oakville," says Kikkert.
Veronica Tyrrell, President of CCAH, says visitors were surprised that the story could happen in Canada and Oakville. "As I talked to people about it, it was hard for them to believe because no one thought that happened here in Oakville. It was history that not many people knew about because it's not in the history books, it's not taught in schools."
Adriano De Oliveira Montico, a first year Business Administration – Finance student who worked on the project, says the Ira Johnson story resonated with him because it connects to today's world events. "A project like this helps you to have a bond with the subject because it is something that still happens," he says. "It's maybe not as explicit as it was back then, but it's still relevant."
"Canada is a very open country, and welcomes immigrants every year. So it was very important for me to learn about Ira Johnson and what he went through," adds first year Business Administration – Accounting student Kim Gion, who also worked on the project. "Ira Johnson is not as well-known as we think, so we hope that through this project, we can encourage the community to learn more about him."
The students' project was well-received, and sparked conversations among those who visited the exhibit.
"As a public historian, I believe that a healthy community is one that understands its history, every aspect, both the good and the bad, and to me this was one of those aspects of history that had to be discussed, that should be part of the conversation in Oakville." – Dr. Peter Kikkert
"The feedback was phenomenal. People were so impressed, and it really did raise awareness of history, of what happened in Oakville," says Tyrrell. "I think that the students and the professor have to be commended. They did an excellent job in telling the story and editing it down so that it was easy to read and still very impactful. I was really proud to see that that they chose the story of Ira Johnson, and it was an awareness-raising piece for many people."
Projects like this also highlight the importance of local history, Kikkert says. He received feedback from his peers, students, and members of the community that they would like to see more local history. "When we're talking about our big national narratives, and we dive into Canada's history, sometimes local history can get put to the side or forgotten about – but from a community perspective, that's the history that really, really matters – it helps people understand their communities and the adjacent communities, and I think the message I've received is to deliver more of that."
Carolyn Cross, Curator at the Oakville Museum, says local history makes a city or town tangible and shapes the community. "When you get down to your local history you can identify with it so much more and it becomes so close to you. You can walk down the street where it happened. It's the physicality and the essence of what your community is. It's that connectedness and the dialogue and the ability to have conversations on that smaller scale that make it so rich."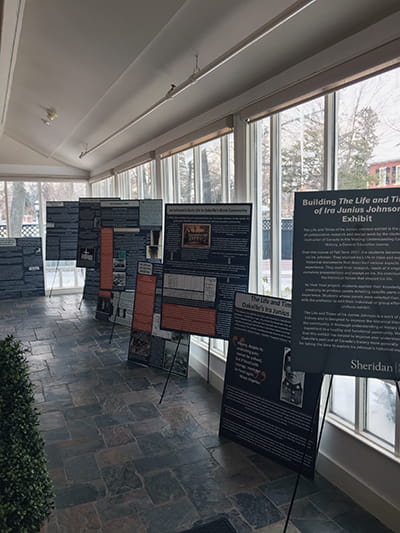 The exhibit was also viewed by over 680 visitors at the Oakville Museum for the duration of the exhibition, which ran from February 15-28, 2018. Cross says the museum received a lot of positive feedback from visitors, many of whom lingered at the exhibit and read each panel from beginning to end. "People would come in and they would take half an hour or more to read everything; they were enthralled with it and read every single word," she says. "An ambitious research project like the Ira Junius Johnson exhibit tells a very personal and human story which sparks curiosity and contemplation for visitors, and ultimately fosters compassion and enhances related emotional skills," Cross says.
The exhibit also impacted students personally.  "A lot of the students had never heard the story. A lot of them grew up in Oakville, Hamilton, Mississauga, and didn't know it existed, didn't know of Ira Johnson, didn't know there was a Canadian KKK, so it really did impact some of the students quite profoundly who grew up in these areas, and could name the streets where this was happening and they just had no idea," says Kikkert.
Gion says the project made her reflect on how fragile freedom can be. "As we know, Ira Johnson's wife was taken away by the KKK the night before they had planned to get married. This showed me that a person's freedom can easily be taken away," says Gion.  De Oliveira Montico adds "It has made me pay attention more to this subject, and take a closer look at how we are living each day. It opened my eyes to a lot of issues."
See the students' project here: https://curiosities.sheridancollege.ca/wp-content/uploads/2018/05/The-Life-and-Times-of-Ira-Junius-Johnson-Exhibit-Small.pdf
---
Pictured at top of page: Adriano De Oliveira Montico, first year Business Administration – Finance student.
Written by: Tina Dealwis, Digital Communications Officer at Sheridan.