Cpl. Kelly Scanlan's real victory came long before she won a gold meal in swimming at the Invictus Games, an international competition for wounded soldiers and veterans. Instead, it came through the training that got the 26-year-old to the podium, and helped her bury her physical and mental demons along the way.
"I kept looking back on the person from one year ago who was injured and struggling and I kept thinking … could she beat me if I put her in the pool today?" she says. "I knew she couldn't, and that's what I took as success. I knew that the Invictus Games, even before (I competed) in Toronto, had changed my life."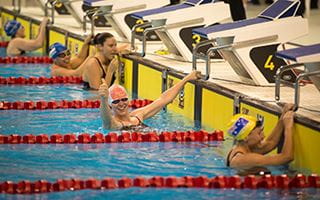 Scanlan first tore a ligament and a tendon in her leg as a teenager during military training exercises. She didn't realize how serious the injury was and, while deployed in Afghanistan, she pushed through the pain. Her condition worsened. By the time she came home, she couldn't walk properly and was watching her dreams of a military career evaporate. She had surgery and began physiotherapy. At the same time, she was having nightmares, suffering from insomnia, and was diagnosed with anxiety, depression and post-traumatic stress injury. She struggled to see a positive future, and studied at Sheridan during that time as part of her effort to find out what was next. When a friend encouraged her to sign up for Invictus, she found her purpose.
"I didn't realize how big Invictus was at first, but then you start training, and you know people are going to be watching," she says.
During the week-long competition, she participated in wheelchair tennis, cycling and swimming, where she won gold in breaststroke and a bronze medal in backstroke. Thanks to her work outs to prepare for the Games, she began sleeping better, and her pain started to dissipate. Her mental health began to heal, too. Now, as she moves past the Games, Scanlan is focused on her next goal – completing her firefighter training for the Milton Fire Department.
"When you're struggling the way I was, you don't see school, or a job or a family or adventure in your future."
"I feel really good about the future. When you're struggling the way I was, you just don't see school, or a job or a family or adventure in your future – it's just a blank," she says. "For the first time in a long time I can look ahead and see lots of different opportunities… between what the army taught me, what Invictus taught me, and what my other experiences have taught me, I'm finally in a good place to take this on."
Photos courtesy: Lyndon Goveas and Matt Charlton, Canadian Forces Morale & Welfare Services