Sheridan celebrating Black History Month with variety of free virtual events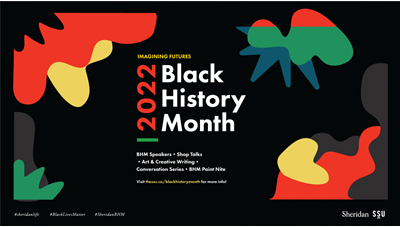 Sheridan is hosting a wide range of events in February in celebration of Black History Month, recognizing the many achievements and contributions of Black Canadians who have done so much throughout history to make Canada a culturally diverse, compassionate and prosperous country.
All members of Sheridan's diverse community are attending these free events, held in partnership with the Sheridan Student Union, the Canadian Caribbean Association of Halton, the Sheridan Black Students' Association and Sheridan's Alumni Relations team. Each event this month is focused on the theme of Imagining Futures, building on the evolution of the last two years to envision dynamic futures grounded in hope and realized by all members of our community.
Black History Month Event Schedule
Tuesday, Feb. 1: Black History Month Cooking Class
Chef and author Patience Chirisa — widely considered Canada's foremost culinary expert in pan-African cuisine — taught participants how to make the traditional African meal of sadza and grilled lamb chops on a student budget. During the virtual class, Sheridan Black Students' Association members also led a conversation about how we can imagine futures and make positive impacts in our communities.
Wednesday, Feb. 2: Black History Month Kick-Off Celebration
During a 90-minute celebration that was livestreamed from the Oakville Centre for the Performing Arts, various community partners delivered messages reflecting on the Imagining Futures theme. Award-winning director, poet and entrepreneur Akil McKenzie emceed the event, which was presented by the Canadian Caribbean Association of Halton (CCAH). The celebration also featured a keynote address by York University professor Mohamed Banda as well as musical performances by two-time Juno Award winner Sonia Collymore and the CCAH Steelpan Band.
Thursday, Feb. 3, Thursday, Feb. 10 and Wednesday, Feb. 16: Imagining Futures Coffee Chats
These 30-minute virtual coffee chats engage students in organic conversations with Sheridan alumni about creating positive change; improving equity, inclusion and justice in our communities; and how students can imagine futures and become changemakers in society. All chat sessions are moderated by Sheridan students and organized by Sheridan Alumni, the Student Leadership Development and Engagement Team, and the Sheridan Student Union.
Thursday, Feb. 3 — Ashleigh Montague (Project Management '16), co-founder of BLK OWNED — an organization that celebrates and promotes Black-owned businesses in the Greater Hamilton Area — spoke about her passions for entrepreneurship, community outreach and inspiring youth and young adults through initiatives that build skills, create opportunities and develop entrepreneurial minds.
Thursday, Feb. 10 — Shantay Parsons (Creative Industries Management '20), a production coordinator at Corus, podcast host and founder of the Black Creative Alliance, discussed how she combined her passion for social justice, equity and mental wellness to support the success of Black entrepreneurs and inspire future business owners and professionals.
Wednesday, Feb. 16 — Author, storyteller and podcast personality Tredel Lambert (Visual & Creative Arts '18) will share how he uses his work in the creative arts to create Black Heroes in History, break barriers in the comic book space and inspire young people to showcase their own imagined futures through art.
Thursday, Feb. 10: Inspiring Future Generations with Gyimah Gariba
In a discussion moderated by Peter Amponsah, Associate Dean of Sheridan's School of Community Studies, social change catalyst and proud Ghanian-Torontonian Gyimah Gariba (Animation '13) talked about how he's tapping into his West African roots to create social change and envision a dynamic future grounded in hope. Gariba is the creator and executive producer of Big Blue, an animation series for Guru Studio in which the two main characters are Black siblings helping take care of the planet. Gariba hopes the series will inspire Black Canadian children to become part of the next generation of climate change activists and environmentalists, a space that is currently predominantly white.
Thursday, Feb. 17: BLACKS Career Conversation Series: Imagining Futures
Black Leadership, Ambition, Collective Knowledge and Success (BLACKS) is a career-conversation series in partnership with Black Mentorship Inc. (BMI) and Sheridan's Career-Integrated Learning, Student Affairs and Alumni Relations teams. This evening event will begin with a keynote speech by Dr. Chika Stacy Oriuwa, a physician, spoken word poet and advocate for racialized and marginalized populations whose work to make Canadian health care more inclusive prompted TIME magazine to name her one of 2021's next generation leaders. BMI founder Evangeline Chima will then moderate a discussion during which Black Sheridan alumni and students will share their experiences and success stories as part of a deep conversation about individually and collectively imagining futures that are dynamic, grounded in hope and promise a better tomorrow.
Thursday, Feb. 17: Black Sheridan Presents: Virtual Open Mic Night
All students and community members are invited to celebrate Sheridan's Black community by performing music, dance, poetry, comedy and more in a safe virtual environment that welcomes all talent levels. Special guests will be announced shortly before the event, which is hosted by the Sheridan Black Students' Association.
Tuesday, Feb. 22: Black History Month Cooking Class
Chef Patience Chirisa will return to conduct another virtual cooking class, this time teaching viewers how to make African peanut soup and mandazi (African donuts). Participants are asked to purchase their ingredients before the class to enjoy this delicious, budget-friendly meal.
Wednesday, Feb. 23 and Tuesday, Feb. 28: Celebrating Cuisine in the African-Caribbean Diaspora
Sheridan's Faculty of Applied Health and Community Studies will host a pair of evening events dedicated to discussion around the impact of colonization on African and Caribbean diaspora cuisine. The first will feature storytelling and a historical journey through African-Caribbean culture and food alongside live demonstrations by renowned inspired chefs, while the second will examine the future of cuisine in the Black community with a focus on food incubation spaces, Black food entrepreneurship and modern farming practices.
Thursday, Feb. 24: Black History Month Paint Night
Art therapy coach and holistic health practitioner Micah Nelson will lead an evening of painting, reflection and valuable conversation about Black History and our commitment to imagining futures. Participants are asked to supply their own canvas, brushes and paint.
For more information about Sheridan's Black History Month celebrations or to access a wide range of available resources, please visit thessu.ca/blackhistorymonth.