Mentorship unites youth and Sheridan volunteers in BIGS On Campus
Once you start volunteering, it's hard to stop. That's been the experience of Sheridan Faculty of Applied Science and Technology employees and seasoned volunteers Janet Bedard and Diana Wati, and is becoming a reality for first-time volunteer and second-year Police Foundations student Kyle Nicholson.
All three are participating in the inaugural year of Sheridan's BIGS On Campus Group Mentoring Program in partnership with Big Brothers Big Sisters Peel. The program, which transitioned online due to the pandemic, connects youth in Peel Region with Sheridan student mentors and includes activities that often feature Sheridan employees from various disciplines.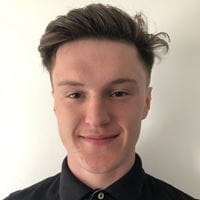 Since October 2020, Nicholson and seven other student volunteers met weekly with their youth mentees ages 10-12. Even in a virtual environment, Nicholson feels his role is making a positive impact on the two boys he's mentoring. "They seem engaged in our conversations each week, ask a lot of questions and are genuinely interested in topics we discuss," he says. "One thing that's surprised me about being a mentor is how much I've learned from my mentees."
"It's very rewarding to see their faces light up when they're done building. Connecting with youth early is so important so they don't rule out a future in STEM before they even understand what it entails." - Janet Bedard
Nicholson's motivation to get involved in the volunteer role was to gain experience that complements his learning and training at Sheridan toward becoming a police officer. "I felt that being a Big Brother would be a great way to show to future employers that I've worked directly with youth in the community," he says. "Bringing fun and creativity to the mentorship role is hopefully as beneficial for mentees as it is for me. What's more, Sheridan student volunteers receive a credit on their co-curricular record in recognition of their time and effort.
Bedard, Wati and their Sheridan colleagues Katie Rinas and Harris Huska planned and hosted interactive science and technology activities with mentees online. They compiled kits that were delivered to each students' home. Bedard's activity was a build-your-own solar windmill and Wati's, a baking soda and citric acid-reaction that can be used to power a race car.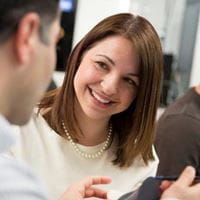 For Bedard, a professor, the ongoing appeal of volunteering is reinforced when she hears positive feedback from participants. One student in her session shared that she didn't think she was smart enough to pursue engineering but has since reconsidered. "It's very rewarding to see their faces light up when they're done building," she says. "Connecting with youth early is so important so they don't rule out a future in STEM before they even understand what it entails."
Wati, Chemical Laboratories Manager, echoes that sentiment. "Being a part of BIGS is a way to spark interest in sciences through fun, hands-on activities," she says. "Giving youth time to explore academics outside of a traditional classroom environment offers a fresh perspective on afield of study."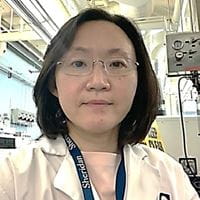 Both Bedard and Wati recall their own experiences growing up with very few female role models in STEM. "I want youth to see women working in science and technology and understand that there's a place for them in this industry," says Bedard. "We need more diversity across the board."
Nicholson is eager to follow in Bedard and Wati's footsteps as lifelong volunteers. He says: "It's been an amazing first term as a Big Brother and I look forward to many more!"
"BIGS brings together our internal and external Sheridan community around the common goal of increasing access to postsecondary education for youth in our home communities who experience barriers," says Karen LeMoine, Director of Community Engagement and Stakeholder Relations at Sheridan. "It's an opportunity for youth to connect with the postsecondary experience in a way that's engaging and not intimidating."
The BIGS program is one element of the newly minted Youth Amplified initiative. Youth Amplified is Sheridan's way of giving back and giving forward to its local communities. It's Sheridan's commitment to making the power of education accessible for young people.
Research shows that higher education is linked to more fulfilling work, upward social mobility, long-term earnings, better health, well-being and prosperity – both individually and community-wide. But it's not an equal playing field. Targeted strategies are needed to make meaningful change. Youth Amplified's partnerships to date include Big Brothers Big Sisters, Home Suite Hope, Eclypse Youth Centre, Black Boys Code and Art House.
LeMoine says: "We have generous, talented students and employees with a range of skills who are well poised to positively influence the trajectory of youth in our communities. It's exciting to see what work we can do together through Youth Amplified."
Learn more about Youth Amplified including ways to get involved.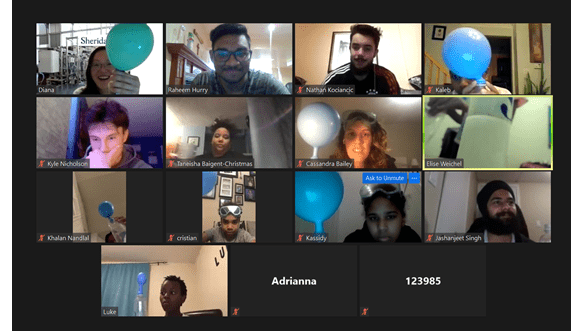 ---
Pictured above (top right): Sheridan Police Foundations student and BIGS On Campus mentor Kyle Nicholson. Pictured above (top left): Sheridan Faculty of Applied Science and Technology professor Janet Bedard. Pictured above (lower right): Sheridan Chemical Laboratories Manager Diana Wati. Pictured above (lower left): Screen shot of mentors and mentees from Sheridan's BIGS On Campus program in a session led by Diana Wati.