Gerontology research project improving care of South Asians living with dementia
Prior to joining Sheridan's Social Service Worker – Gerontology program, Jasleen Kaur already had experience caring for a person living with dementia.
She just didn't know it at the time.
"When I would visit my grandmother back home in India, she'd sometimes mix up names or information, or she might ask the same questions again and again," recalls Kaur, an international student from Punjab. "My family didn't consider it to be anything serious. We just accepted that this was a normal part of aging."
So do many others in India and neighbouring countries such as Afghanistan, Bangladesh, Pakistan and Sri Lanka. "There's a general lack of understanding and recognition of dementia in South Asian culture, largely because most information and research about dementia is Western-oriented, doesn't consider people who don't speak English proficiently or is housed in academic journals and isn't widely accessible," says Dr. Ferzana Chaze, a professor and researcher in Sheridan's Faculty of Applied Health and Community Studies who emigrated from India to Canada in 2004.
"South Asian culture also has many intergenerational households in which older adults live with their families, meaning there's more interaction between people with dementia and people who aren't primary caregivers."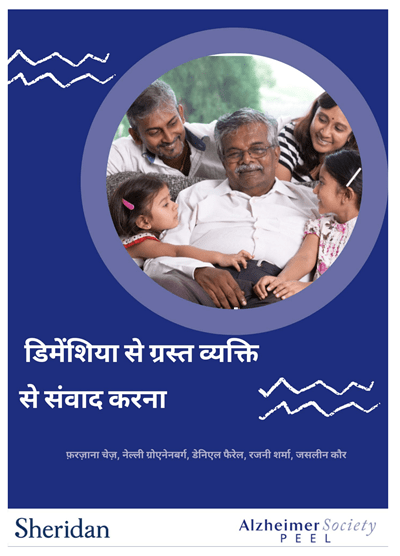 To help address that issue, Chaze, fellow professor Nellie Groenenberg, Kaur and SSW – Gerontology graduate Rajni Sharma have collaborated with Alzheimer Society of Peel Public Education Coordinator Danielle Farrell to create a toolkit of resources and guidelines specifically for members of the international South Asian community. In addition to being available in Hindi and Punjabi, the toolkit uses language and situations that are culturally relevant to demonstrate the ideal ways to relate to people living with dementia.
The eight scenarios in the toolkit include an elder's reluctance to bathe, challenging behaviour, anger, lying, having trouble sleeping, repetition, misinforming/misremembering, and living in the past. Kaur and Sharma created examples of negative and positive interactions in each scenario — accompanied by reasons why — based on their own classroom learning, personal interactions with family members and field placement experiences. After being vetted by the Alzheimer Society of Peel, the scenarios were translated into Hindi and reviewed for context and grammar by more than 20 volunteers from Peel's South Asian community.
"This wasn't just professional, it was also personal. The passion behind the research was quite unique, coming from a place of wanting older adults in all of our communities to have a better quality of life."

– Sheridan SSW – Gerontology program coordinator and professor Nellie Groenenberg
"Every member of our team has a relative who lives with dementia, so this wasn't just professional, it was also personal. The passion behind the research was quite unique, coming from a place of wanting older adults in all of our communities to have a better quality of life," says Groenenberg, who has more than 20 years of social work experience and has done extensive research into the use of expressive arts with persons living with dementia.
"There's a lot of misinformation — almost mythology — around dementia that folks become shadows of their former selves and it's all doom and gloom, but that's not the case. This is not a death sentence. The person is still here. We're trying to find ways to make sure people's personhood is still recognized and appreciated."
'This was definitely groundbreaking'
Interacting With Persons With Dementia In South Asian Communities, shared on SOURCE (Sheridan's Institutional Repository) as well as the Alzheimer Society of Peel website, has already received hundreds of downloads from across Canada, the United States and South Asia. More than 700 others have listened to an audio version of the toolkit that was recorded in Punjabi and features voices of seven Peel community volunteers, one of whom also provided music and helped edit the final version.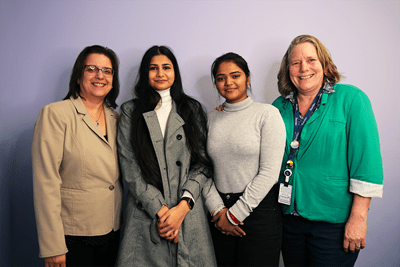 "A lot of people have told us this is a great resource," says Chaze. "We've learned that there is a real thirst for information that is relevant both culturally and linguistically. Even though we recognize there are limitations in terms of language and the work wasn't completely done by professionals, this was definitely groundbreaking. We are quite proud of it."
Those sentiments are echoed by the students, who enjoyed the opportunity to work as paid researchers through funding from Sheridan's International Work Study Program while also helping improve quality of life and relationships for older adults in their culture. "Being a South Asian, I can deeply understand the situations (that people often) confront due to their lack of awareness," Sharma wrote in a student researcher testimonial. "This experience has empowered me to keep spreading the knowledge through my skills and abilities across South Asian communities."
And Kaur is now enjoying more positive interactions with her grandmother.
"When she starts repeating questions to me, I now understand why. Rather than calling attention to it or getting angry, I'll just repeat myself," Kaur says. "Having contributed to this project feels amazing. So many people in South Asian communities don't know what dementia is, and these resources might help them be a better person to their parents or grandparents or any person with dementia."
Top photo is a screenshot from the Interacting With Persons With Dementia in South Asian Communities toolkit. Pictured in second photo are (left to right) professor Dr. Ferzana Chaze, SSW – Gerontology graduate Rajni Sharma, SSW – Gerontology student Jasleen Kaur and professor Nellie Groenenberg.